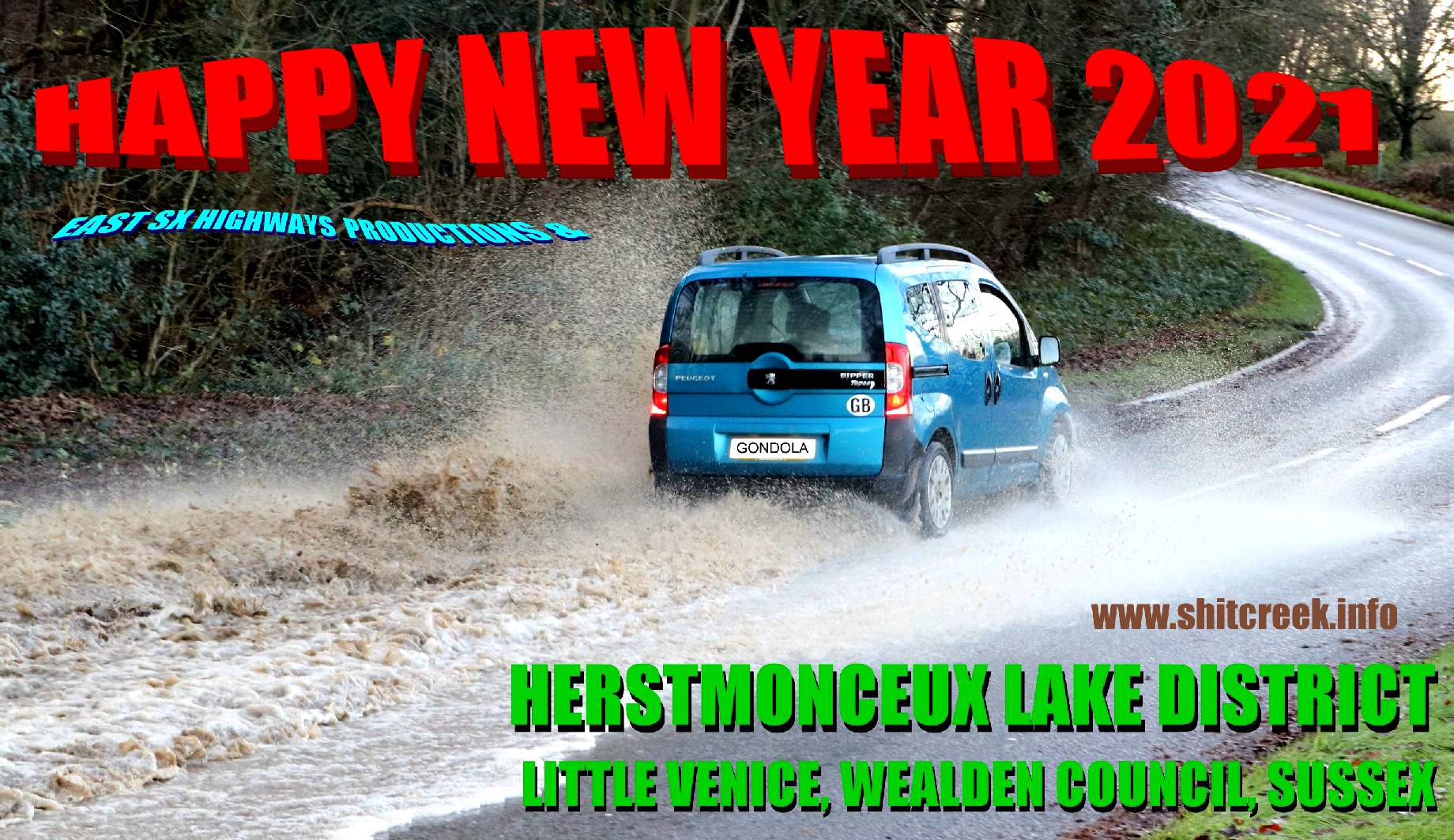 THE NEW LAKE DISTRICT - Seasons best from the Lake District of Wealden, known locally as 'Little Venice.' The Council's agenda to turn this area into a water attraction appears to be working beautifully. By building brick houses as fast as they can go, they are helping to raise the temperature of the planet, so helping desert areas such as the Sahara to increase as a sandy tourist attraction in Africa. Also a boon for Egypt and tourists visiting the Pyramids.
From reading Wealden's planning agenda of build, build, build - it's a win, win situation if you like it hot. They'll be breaking out the gondolas, presumably, giving one away free to each person buying a house in this location, to help the locals make the most of their new watery environment. Eventually roads could become canals, with operatic music mandatory from local hostelries.
Interestingly, this artificial lake feeds a RAMSAR site, so we hope they are taking precautions to filter out the harmful hydrocarbons from washing the underside of the passing vehicles. Oh, yes, another benefit to motorists is the free chassis clean. Though Wealden officials may start charging, once this service really gets going as another form of Community Infrastructure Levy to top up the officer's pension fund. Not forgetting those enhanced payoffs for early retirement, after each cock up as hush-money. Cheaper than a gagging order by half.
Thank you Wealden Council. What would we do without you. We are sure those benefiting from your actions in desert areas, and the polar bears in the Arctic, would also like to thank you. Perhaps in the afterlife - and sooner than you think with anthropogenic efficiency.
Herstmonceux is rapidly becoming known as Little Venice. Flooding now seems to be a feature of the newest suburbs sprouting like fungus from the village center. To complement the brown cliffs, another major tourist attraction, Wealden Council, working in partnership with East Sussex Highways, seem to be converting this area into a replica of the famous (sinking) Italian city.
To make things more interesting and conjure up the authentic smell of the canals, Herstmonceux High Street floods from time to time with shit that is being pumped uphill by Southern Water. Presumably, when there is a blockage, or something of that ilk to cause problems. The special effects extends to Windmill Hill, where they also enjoy a taste of old Italy.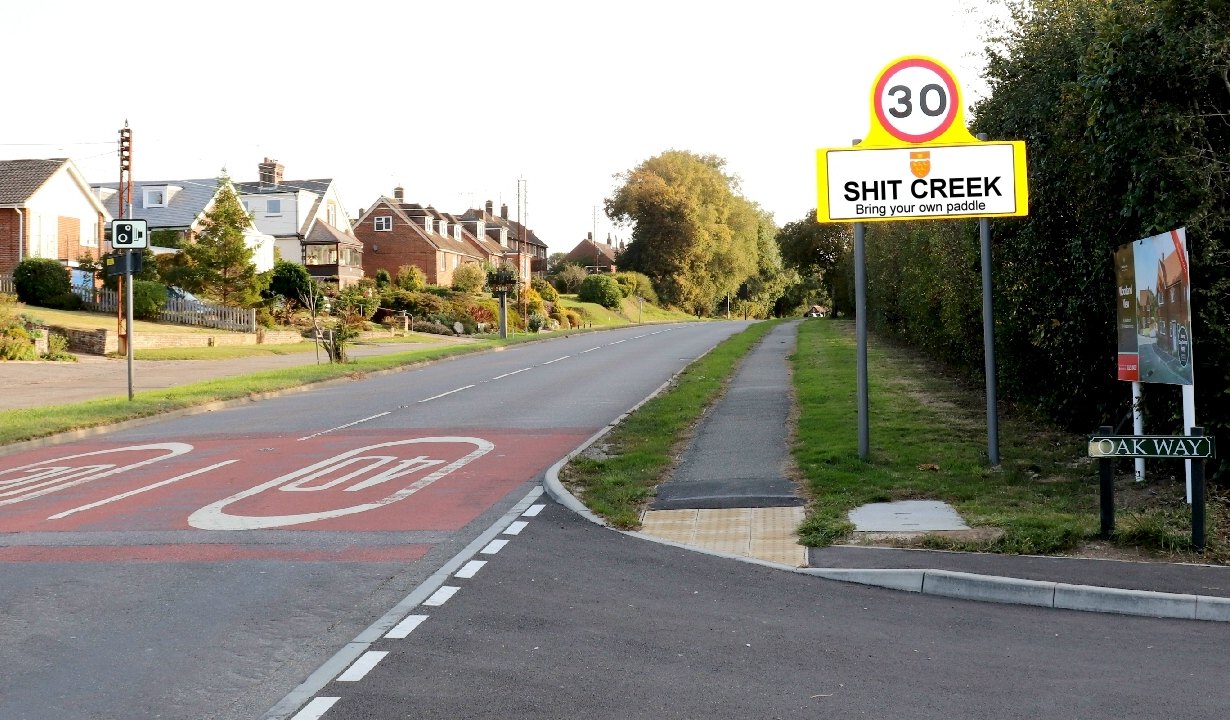 A DRY DAY - If you think the flooding at the western end of the village e bad, at the other end of the village developers Latimer (formerly under Clarion Group ownership) Developments are planning to poison herons, mallard ducks, moorhens, frogs and fish in Lime Pond, as part of surface wash from pesticides and untreated hydrocarbons. It is alleged that they hope that in doing it slowly, they will avoid prosecution for killing this wildlife. It is alleged that the bulldozers of Southern Water have already displaced badgers in the field adjacent to Chapel Row, where it appears they have constructed the pumping station known locally as Shit Creek, without the benefit of planning permission, in that conditions were not complied with prior to development taking place. It appears that a high level of collusion may have taken place to undermine the planning system and due process. Where Southern Water were developing land not in their ownership, or where (perhaps) the land had been sold on, contrary to usual 106 agreement controls preventing such actions. Normally land under development cannot be split off.
Oh what fun and frolics. No need to go to Thorpe or Paultons Parks to experience their water rides, just hop into your car and enjoy the splash thrill as your trusty steed gets wet. Play dodgems too, as you slew across the road to avoid deep shit, taking you into the path of oncoming traffic.
This scene is a regular occurrence, set to get deeper and wider with each new brick-built home tipping southern England into the Channel and raising the temperature of planet earth.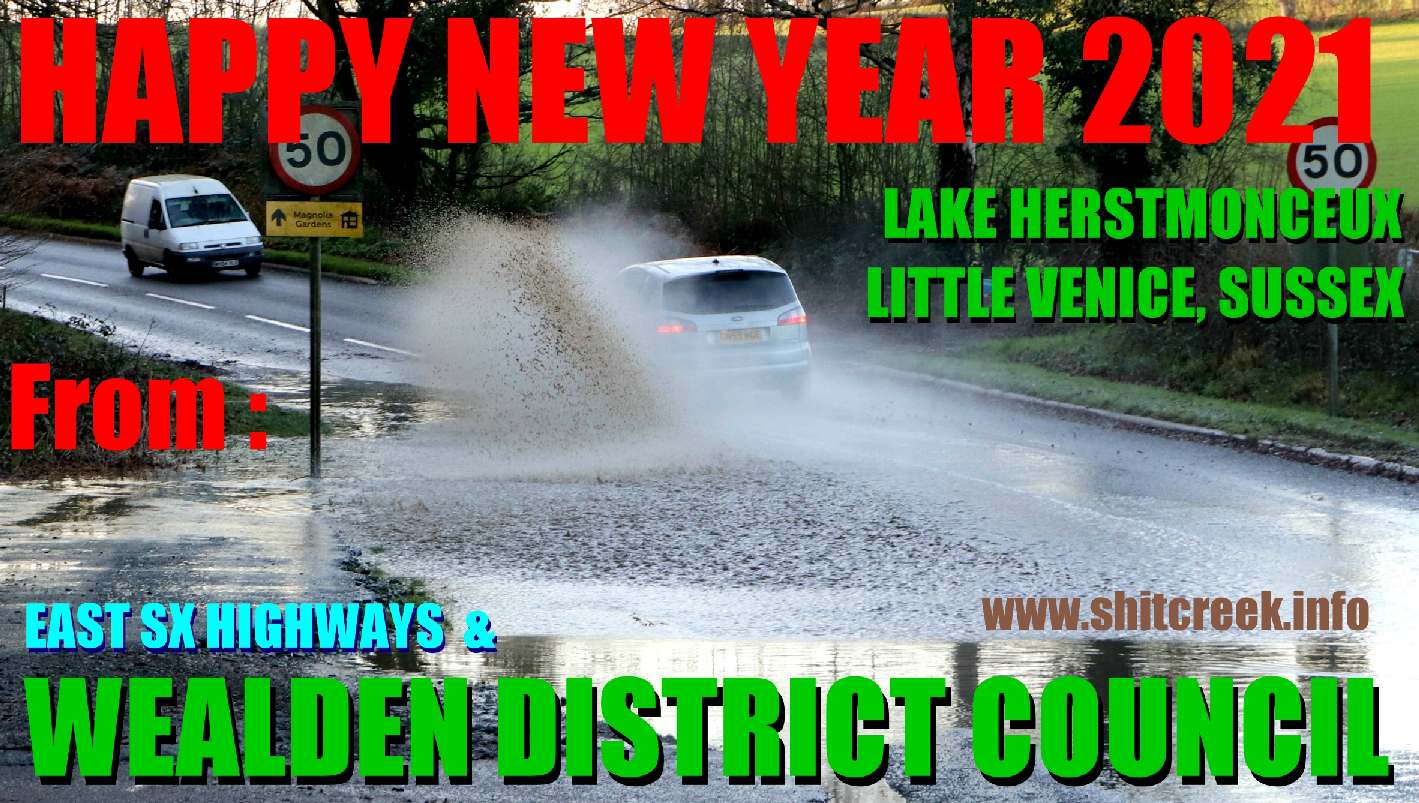 So cheaper heating bills and warmer summers all round. And, flooding is not that bad, just learn to adapt to the climate change with waders, and gondolas. We imagine the sales of amphibious vehicles will rocket.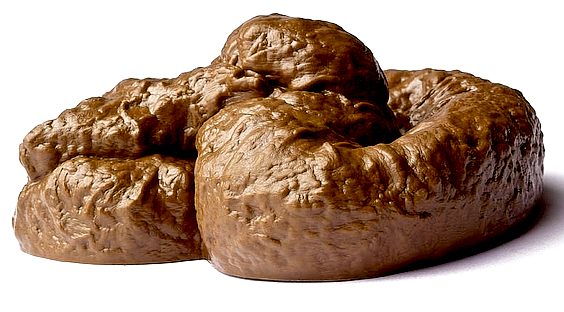 LINKS & REFERENCE
https:/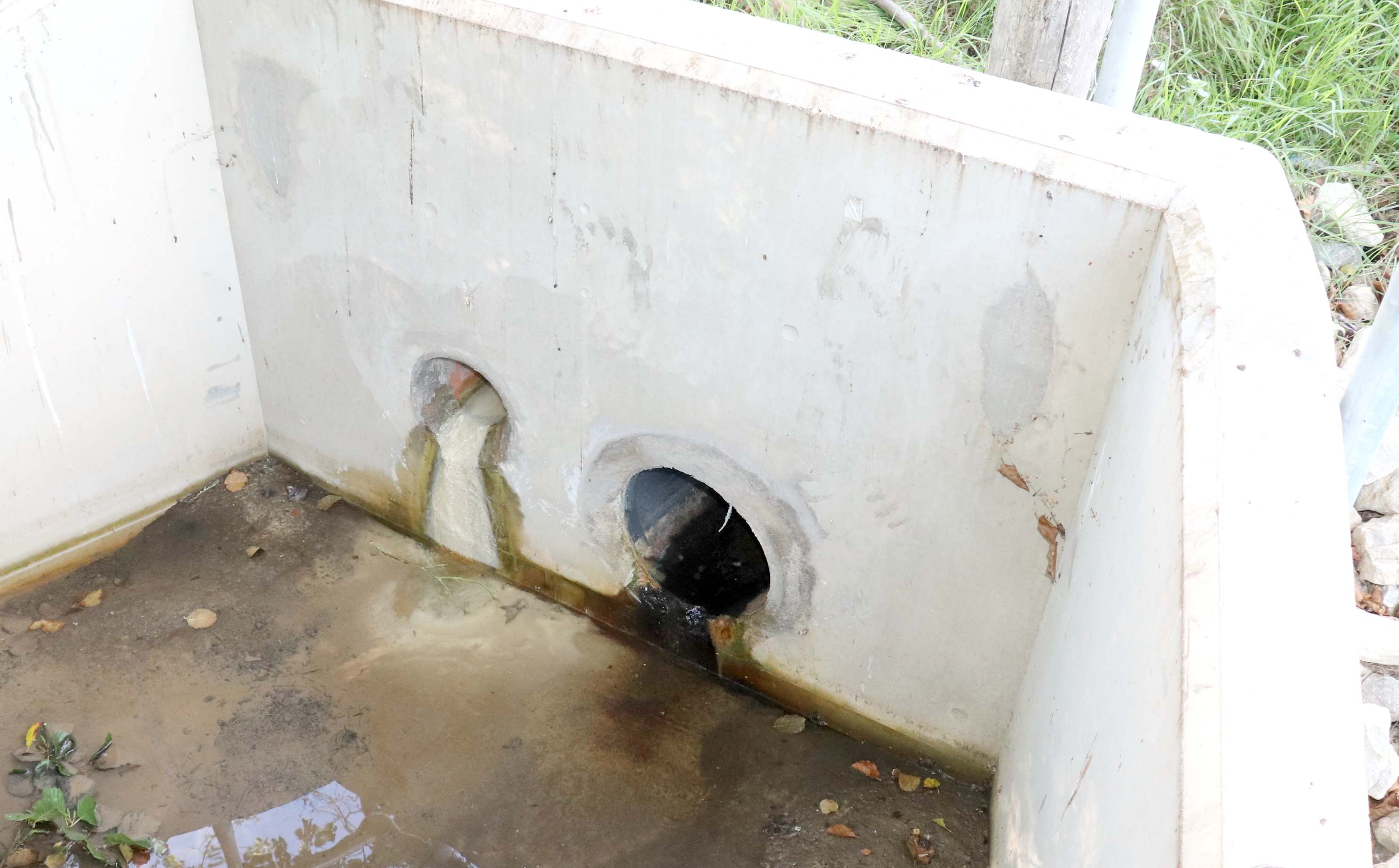 WHAT'S BROWN AND SMELLS OF SHIT? - That's right, decisions like granting permission for the dip near Lime Wood. This is a pipe emanating from the arse end of the development just past the village hall on Hailsham Road (A271), Herstmonceux, heading towards Hailsham. Wealden and Herstmonceux Parish councils have granted permission for another bunch of housing to feed crap onto the adjacent RAMSAR Site of Special Scientific Interest.