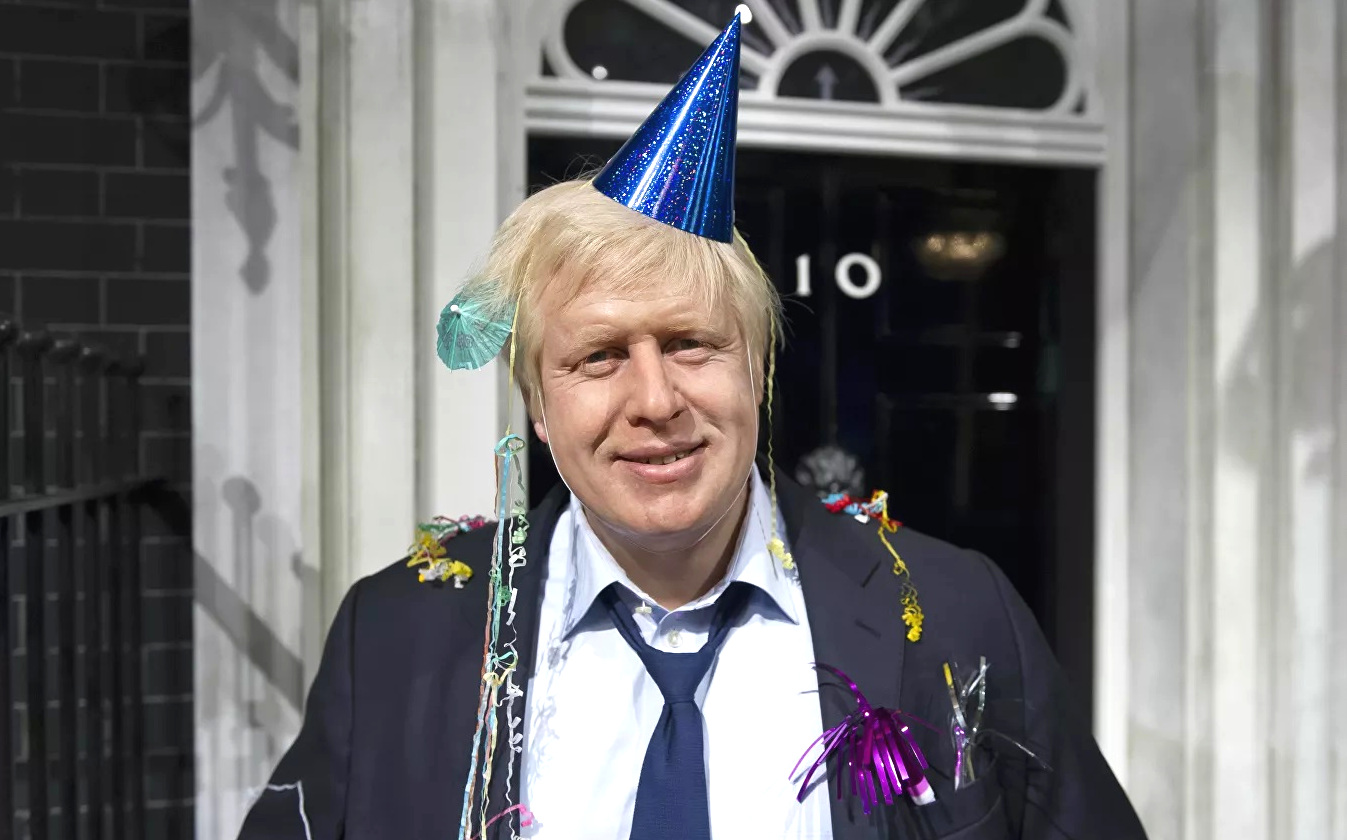 DOWNRIGHT DANGEROUS - It is alleged, or rather, has become increasingly likely that on the 18th of December 2020, a Christmas party was held at Number 10 Downing Street, during a tier 3 Covid 19 lockdown. And now he wants compulsory Covid jabs for NHS staff, in violation if their Human Rights, sparking protests on the streets of London. Haven't we been here before with Maggie Thatcher and the Poll Tax?
This revelation, supported as it seems by a staff training video, featuring the delightfully honest, Allegra Stratton, has really set the cat amongst the pigeons, with everyone diving for cover. Oh come on, everybody did it. The idea was to control the peasants and ease our mucked up NHS, where we've squandered taxpayer's money on dozens of schemes that have turned out to be more bullshit than Bojo had expected of his cronies. Like the Drax biofuel generating station, based on tree planting as a carbon offset. Who thought up that one? Doesn't anyone know that trees take a lot longer to grow, than this power station consumes them. Then there is Hinkley Point and Sizewell C. Doesn't anybody in the Cabinet know nuclear power is more expensive than renewables, and what about radioactive waste management, that is impossible to say is safe - for hundreds of thousands of years. It never was, and never will be. All the corporations will cease to exist. Leaving the taxpayer footing the bill. So, how come Sizewell and Hinkley Point were even considered, and what about that subsidy, making electricity more expensive for the consumer?
With so much corruption in the Conservative Party, and yes, a Part Time Parliament, it must be said, though they'd rather you didn't, what difference will one little end of year get-together make? It's not the end of the world. Well it was for those victims of the Whuhan virus - oh yes and thanks for that Xi. Those people who died while we lived it up, would have gone anyway. Now how about that consultancy fee and a cushy little job when I retire from politics, using all my old school chums to pave the way for juicy contracts. So, it's only right that I should get a backhander and hush money. As long as it looks legal. It's like pirating films and music, everybody does it. You should see my collection.
HOW DID BREXSHIT EVEN BEGIN ?
Well, in 2015, the Conservative general election victory activated a manifesto pledge to hold an in-out referendum on the UK's membership of the EU.

David Cameron had made the promise at a time when he was under pressure from Eurosceptic backbenchers and when the Tories were losing votes to UKIP. Most political commentators agree that given a free hand, he would not have wanted to hold a referendum.

Having called the vote, Cameron vowed to campaign with his "heart and soul" to keep Britain in the bloc. Several members of his own cabinet campaigned to leave.

Despite contradictory polling in the run-up to the vote, on 23 June most commentators expected the UK to stay in the EU. Even as the count was underway, UKIP's Nigel Farage said it looked as if "Remain will edge it".

However, the Leave campaign won by 51.9% to 48.1%, a gap of 1.3 million votes. Having played his hand appallingly, he cornered himself, Cameron did the decent thing and announced his resignation the following day. Something Bojo would never have done. He'd have just shrugged it off, and said: "Lets not argue about that, let's get on with the job." Cameron was famous for 'U' turns. He was also known as Chameleon Dave, for his ability to change colour on demand. Meaning, adapt to new policies, though opposing them previously, to blend into the general policy acceptance. Boris is very similar in this respect. No actual policy backbone, just a willingness to appease public and media opinion, in turn flowing from party support.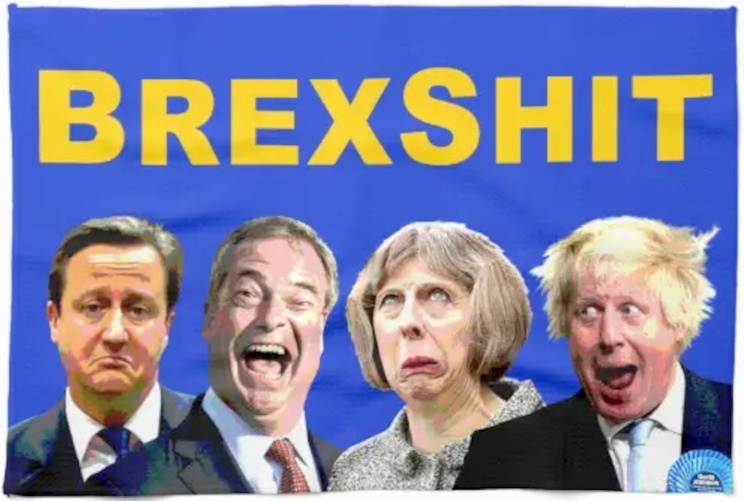 Following Cameron's resignation, a dramatic Conservative leadership battle saw Michael Gove and Boris Johnson destroy each others' campaigns, paving the way for former home secretary Theresa May to claim the top job, but she was not adept at poker playing, or prone to bluffs.

On 15 January 2019, Parliament overwhelmingly rejected the 585-page treaty by a record margin of 432 votes to 202.

On 24 May 2019, Theresa May officially announced her resignation as prime minister. In an emotional statement, she said that she had "done her best" to deliver Brexit and that it was a matter of "deep regret" that she had not succeeded.

The subsequent leadership election saw former foreign secretary Johnson storm to victory to become the new PM ahead of high-profile Tory candidates including Gove, Sajid Javid and Jeremy Hunt.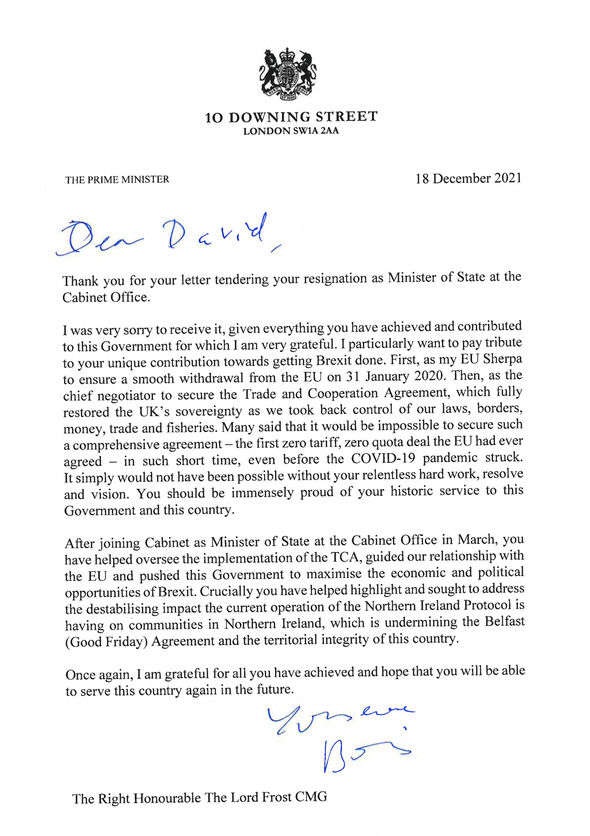 BREXIT NEGOTIATIONS CONTINUE INTO 2022 - DAILY EXPRESS 23 DECEMBER 2021 - Brexit outrage: Boris to 'CAVE' to EU as PM confirms 'interim' deal plan - leaked letter

In a letter seen by Express.co.uk the Prime Minister, who has handed responsibility for Brexit negotiations to Foreign Secretary Liz Truss after the resignation of Brexit Minister Lord David Frost on Sunday, admitted talks over Northern Ireland were not close to reaching a resolution. He said: "As things stand neither Northern Ireland nor the UK more broadly gets any say on the way EU legislation is imposed on Northern Ireland. "Unfortunately, the negotiations are not yet close to delivering outcomes which can genuinely solve the problems presented by the Protocol."

Dr Timothy Bradshaw, a constituent who wrote to the Prime Minister to put him on the spot over the Northern Ireland Protocol, the mechanism which seeks to prevent a hard border on the island of Ireland by leaving Northern Ireland in the EU's single market for goods, said the response has left him concerned Mr Johnson was ready to "cave in" and "abandon Brexit" completely.

Dr Bradshaw, who is a theological lecturer and Anglican clergyman, contacted Mr Johnson via his parliamentary email address on December 17 to press him on the protocol.

Critics claim it has resulted in a hard border down the Irish Sea and are alarmed at the Government's apparent acceptance that the European Court of Justice (ECJ) will have a role in settling disputes, something which was widely reported last week.

He wrote: "Does our Government not see the grotesque contradiction of giving military support to the EU states, while the EU is waging war without fighting against Northern Ireland and annexing it economically? We are defending a hostile agency.

"This is another example of Whitehall being subverted into an EU support mechanism, colluding with its plan to turn Northern Ireland into the next Kosovo."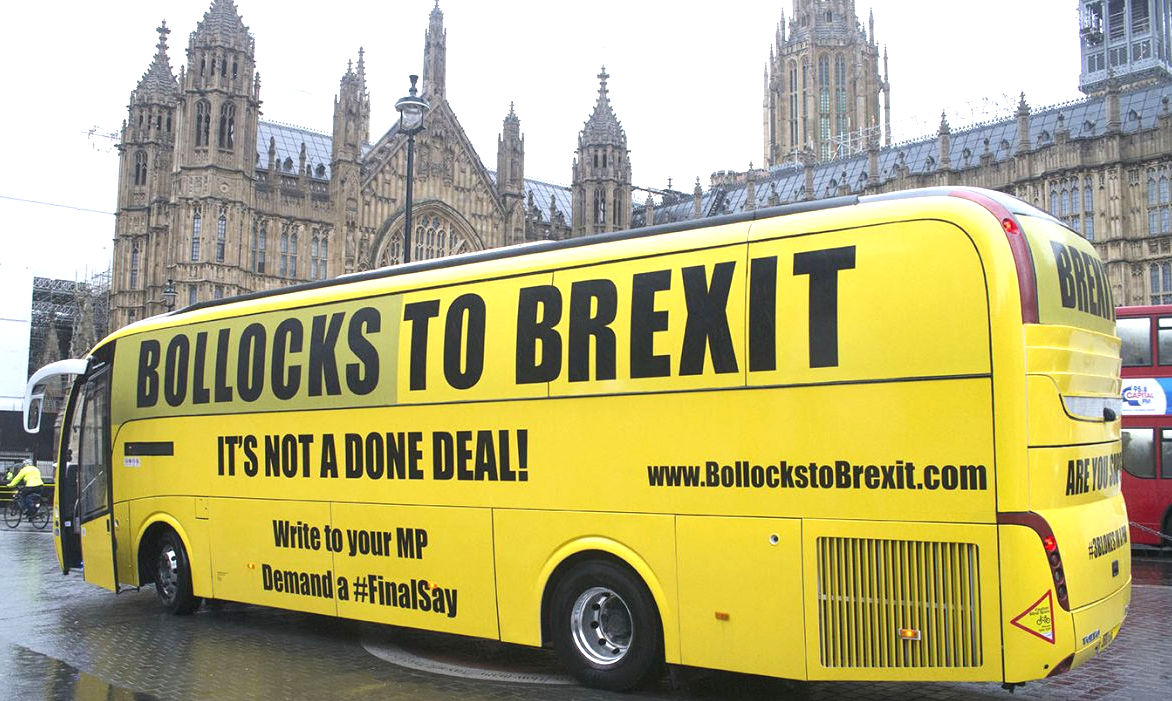 In his response, received by Dr Bradshaw on Tuesday, December 21, Mr Johnson said the EU's proposals only covered "certain areas" and would not do enough to ease the burdens faced by people in Northern Ireland nor would they "create the conditions for genuinely cross-community support".

He added: "Our preference would be to reach a comprehensive solution dealing with all the issues.

"However, given the gravity and urgency of the difficulties, we have been prepared to consider an interim agreement as a first step to deal with the most acute problems, including trade frictions, subsidy control, and governance."

Mr Johnson said: "I fully accept that such an agreement would still leave many underlying strains unresolved, for example, those caused by diverging UK and EU rules over time.

"It would therefore be inherently provisional in nature and would accordingly need to include mechanisms for addressing outstanding issues and resolving new concerns as they arise."

The UK had proposed a number of possible ways forward, but had not so far been able to make progress even on what the core elements of an interim agreement might be, Mr Johnson explained.

He continued: "It is disappointing that it has not been possible to reach either a comprehensive or worthwhile interim agreement this year.

"A solution needs to be found urgently early next year. For as long as there is no agreed solution, we remain ready to use the Article 16 safeguard mechanism if that is the only way to protect the prosperity and stability of Northern Ireland and its people.

"As you may know, negotiations will now be led by our new chief post-Brexit negotiator, Liz Truss, the Secretary of State for Foreign, Commonwealth and Development Affairs."

Dr Bradshaw told Express.co.uk: "It looks to me that the PM is betraying all his assurances to NI and yet again caving in, now that Frost has gone."

Referring to an acronym for "Brexit in Name Only" often applied to the withdrawal agreement negotiated by Mr Johnson's predecessor, he added: "This could mean we are getting back to May's BRINO and abandoning Brexit.

"Certainly Article 16 is dead - despite the robust claims that the UK will use it as its conditions have been met."

Lord Frost previously confirmed plans for an interim deal last week, days before quitting his post.

He said: "Our preference would be to reach a comprehensive solution dealing with all the issues.

"However, given the gravity and urgency of the difficulties, we have been prepared to consider an interim agreement as a first step to deal with the most acute problems, including trade frictions, subsidy control, and governance."

A UK Government Spokesman told Exprress.co.uk:"The Protocol is continuing to undermine the Belfast (Good Friday) Agreement and we have a responsibility to fix it urgently.

"As we have said before, it is essential that we resolve the most pressing issues now: the free flow of trade between Great Britain and Northern Ireland, subsidy control, and the role of the European Court of Justice.

"Even if we reach agreement on the most urgent issues, we would of course still need to agree a long-term arrangement to deal with the full range of issues set out in our Command Paper

"As the Foreign Secretary set out yesterday, our preference is for a negotiated outcome but we need to pick up the pace of talks in the New Year. If solutions cannot be agreed, we will use the Article 16 safeguard mechanism to protect the Belfast (Good Friday) Agreement."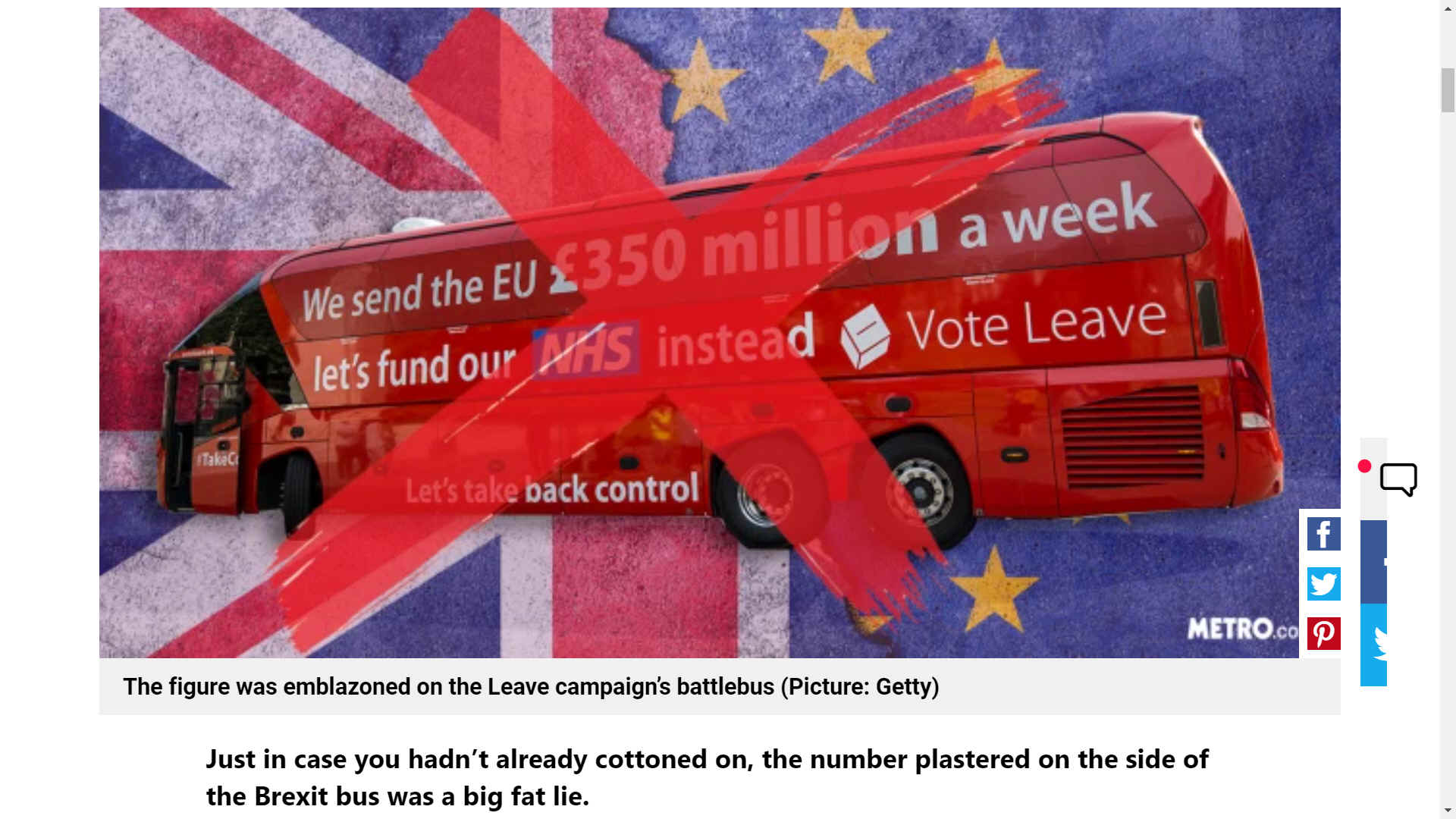 Johnson campaigned on the promise to leave the EU on 31 October and, once in Downing Street, continued to insist that he would rather "die in a ditch" than delay Brexit again.
Somehow, despite many scandals of a sexual nature, Boris has managed to cling onto Clowning Street, the debt centre of town. In the media, it is said, presumably allegedly, that he has fathered many children outside of wedlock, earning him the name Shagatha Christie. Seven siblings are reported. Though nobody knows about any other illegitimate happenings, and they may never have happened, such rumours though abound because of his party nature and suggested promiscuity.
Normally, that would call into question his morals. But because he was elected to deal with Brexshit, everybody turned a blind eye. Even the Queen, though she was lied to over proroguing parliament. It appears the Queen was loath to call yet another General Election, a typical reaction to a Prime Minister who was confirmed by the High Court to be incompetent. Rather, Her Majesty let him proceed to muck just about everything up. Even Flop26. Because, nobody in Europe, or the rest of the world were now taking Bozo seriously.
But he could be forgiven if he brought wealth to the table - for that is what criminal privateers were doing, when operating as Privateers under Queen Elizabeth the 1st. Unfortunately, almost everything Boris touches turns to crap. He is the exact opposite of Midas and Austin Power's Goldmember. He is Shitfinger, in a proposed James Bond style spoof that would certainly involve a Shaguar. Yeh Baby! Voila, his handling of compulsory Covid jabs for NHS workers. Never mind their human rights.
And surely, Bojo's heard that it is illegal to proliferate nuclear weapons, yet he has done a deal with Australia and the USA as to submarines and presumably Trident or other nuclear missiles. Perhaps that should be referred to the International Criminal Court, rather than the Tower of London?
BRITAIN GOT ANOTHER BUM DEAL - In electing a clown as Prime Minister, UK voters made one of the biggest mistakes in British history. Brexit was and is a disaster, costing pensioners an absolute fortune, as real world inflation halved the value of their savings, with timber, copper and other commodities doubling in price in 2021. What is in store for the UK next? Then there is the energy crises and nuclear power, with food prices rising. We feel sure that Dr Hannibal Lecter would like to have his old friend for dinner. It might be that some Conservative Party members might also want to join in the feast. Save a slice for us!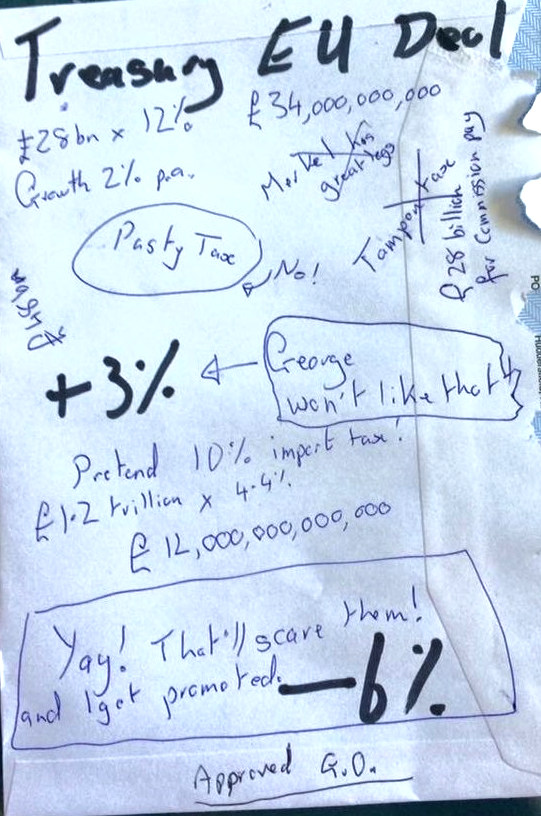 BOJO'S IN DEPTH EU CALCULATIONS - Well, nobody can accuse Mr Johnson of not doing his homework. As you can see he spent a lot of time taking out all the wrinkles in his plan, before getting out the red and white paint for his big campaign bus. His bid to reduce his carbon footprint by re-using the back of an old envelope, seems to have paid off. Except for pensioner's savings perhaps. Never mind, they'll soon be gone. Even sooner with Rishi Sunack as the axeman.
In a victory speech the next morning, he said Brexit was the "irrefutable, irresistible, unarguable decision of the British people", promising those who back his party: "I will not let you down."

On the 23 January, the EU withdrawal bill finally passed through all stages in Parliament and received Royal Assent. Johnson's new majority meant that its passage was relatively smooth, with no new changes clauses or amendments from MPs.

Six days later the European Parliament overwhelmingly approved the Brexit divorce deal, and at 11pm GMT on 31 January, the UK officially left the European Union after 47 years of membership. Downing Street marked the moment by beaming a virtual Big Ben onto No. 10 which chimed at the moment of departure.

The UK then entered an 11-month transition period in which to negotiate its future relationship with the European Union, which will end - barring an extension - on 31 December 2020.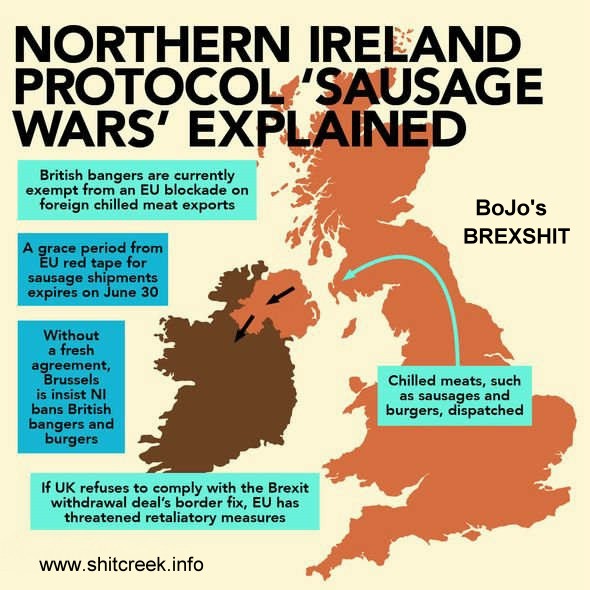 SIMPLE MATHS - As we know from Bojo's big red bus, he cannot add up. His weakness in the mathematics department has meant the UK losing valuable fish catches as potential exports, as well as bans on chilled meat exports to Europe, through Southern Ireland. It appears to us that Shagatha may have tripped over his dick again.
BREXIT SHIT - HORIZON EUROPE
The UK's scientific academics and R&D corporations have been denied inclusion in Horizon Europe, an innovation initiative worth around €100 Billion Euros. The EU have refused to countenance the UK in such research and development opportunities, thus costing Britain significantly, not only in monetary terms, but also being denied benefit from the research, leaving the UK in isolation in terms of technology. Where if you are not keeping up with developments, you are going backwards.
Boris seems not to have included such matters in his calculations as to the cost of Britain's exit from Europe - along with so much more - that had the electorate been appropriately informed, would then have been in a position to make a decision as to which way to vote.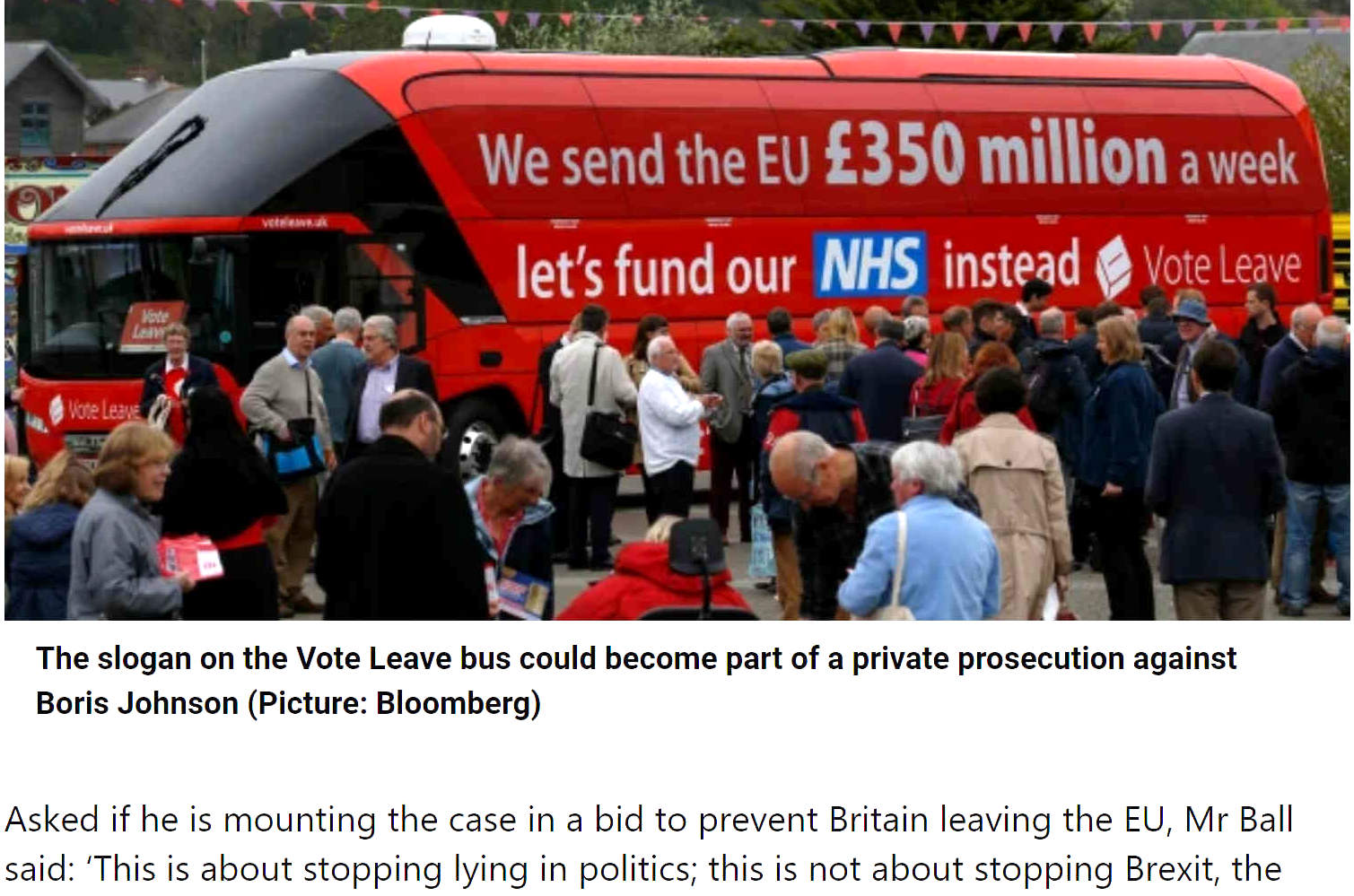 THE CIRCUS -MARCH 2020
Chancellor Exchequer

Priti Patel

Home Secretary

Dominic Raab

Foreign Secretary

Michael Gove

Chancellor D. Lancaster

Ben Wallace

Defence Secretary

Matt Hancock

Health & Social Care

Liz Truss

International Trade

Gavin Williamson

Education

Oliver Dowden

Culture

Alok Sharma

MP Reading West

Robert Jenrick

Housing, Local Gov.

Therese Coffey

Work & Pensions

Robert Buckland

Justice

Anne-Marie Trevelyan

International Dev.

Transport

George Eustice

Environment

Brandon Lewis

Northern Ireland

Alister Jack

Scottish Sec. State

Simon Hart

Welsh Sec. State

Baroness Evans

Leader Lords

Amanda Milling

Party Chairman

Jacob Rees-Mogg

Leader Commons

Mark Spencer

Chief Whip

Suella Braverman

Attorney General

Stephen Barclay

Treasury Sec.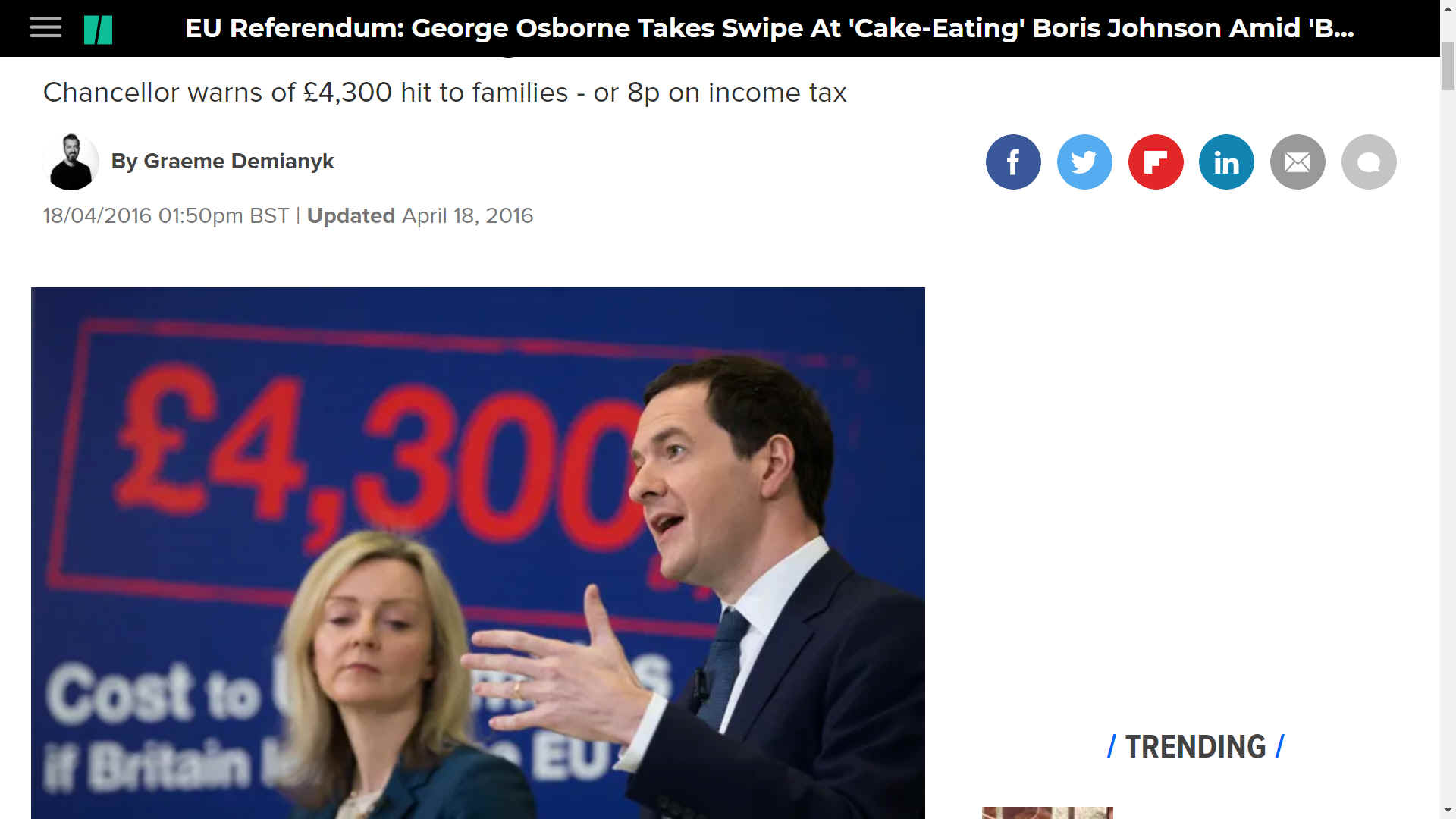 HUFFINGTON POST 18 APRIL 2016 - EU REFERENDUM: GEORGE OSBORNE TAKES SWIPE AT 'CAKE-EATING' BORIS JOHNSON AMID 'BREXIT' WARNING

Chancellor warns of £4,300 hit to families - or 8p on income tax

George Osborne has taken a swipe at Boris Johnson as he laid out a doomsday scenario if the UK-voted to leave the EU - warning income tax could go up 8p under "Brexit".

The Chancellor today presented the Treasury's analysis of the impact of voting to leave at the June 23 in-out referendum. The centre-piece claim, briefed overnight, is families would be £4,300 worse off.

The 200-page report, published today, goes on to say adopting a Canada-style trade agreement on leaving the EU would shrink the UK economy by 6.2% within 15 years - leaving a £36bn "black hole", or the equivalent to 8p on the basic rate of income tax.

Outlining the case at a speech in Bristol, Osborne had a jab at the London mayor and his potential Tory leadership rival, who is opposing the Government line by campaigning to quit the EU.

Johnson famously said his policy on cake was "pro having it and pro eating it".

In his speech, and in an early morning interview with Radio 4's Today programme, Osborne made a deliberate reference to the line.

He said:
"What is not honest and what is economically illiterate is to say we can have all the economic benefits of being in the EU and at the same time leave. That is having your cake and eating it."
The Treasury document sets out the three main alternative models for Britain on leaving the EU, namely the "Norway model", the "WTO model" and the "Canada model".

Under each scenario, the UK is significantly worse off.

The worst arrangement for the UK is the "WTO model", where Britain remains in the World Trade Organisation but without a specific agreement with the EU.

As the far right column indicates, GDP, the measure of economic activity, would be 7.5% lower by 2030, equivalent to a £45bn slump in tax receipts.

The other significant table relates to what the £45bn - or £36bn under the "Norway model" and £20bn under the "Canada model" - is the equivalent to.

The table suggests income tax would have to be hiked between 4p in the pound and 10p, and could represent more a hit bigger than the schools budget in England or half the money spent on the NHS.

But Stewart Jackson, Conservative MP and "out" campaigner, questioned the validity of the analysis.

Treasury analysts used a variety of sources for their analysis, including a text based on the impact of 1956 Suez Canal crisis.

Brexit-ers are also likely to point to just a passing reference to immigration - which will be debated fiercely - though the one passage that does essay the impact on the population suggests there could be an extra 3 million people in UK by 2030.

The Vote Leave campaign group dismissed the analysis.

Tory MP John Redwood said: "The Prime Minister was one of the senior advisers working in the Treasury while John Major's Government tried to keep this country in the EU's disastrous Exchange Rate Mechanism.

"The ERM destroyed jobs and caused misery for families across the country.

"The Remainers were wrong then, and they are wrong now - people should not trust their judgement on the EU."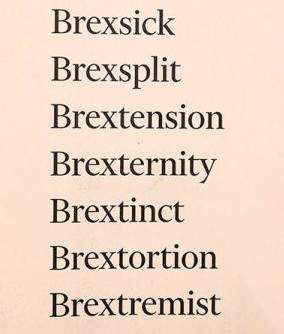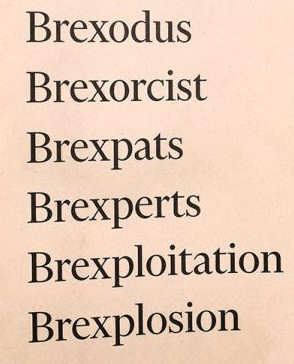 OTHER EXIT NAMES
Brexodus
Brexorcists
Brexperts
Brexploitation
Brexpulsion
Brexsick
Brextension
Brexternity
Brextinct
Brextortion
Brextremist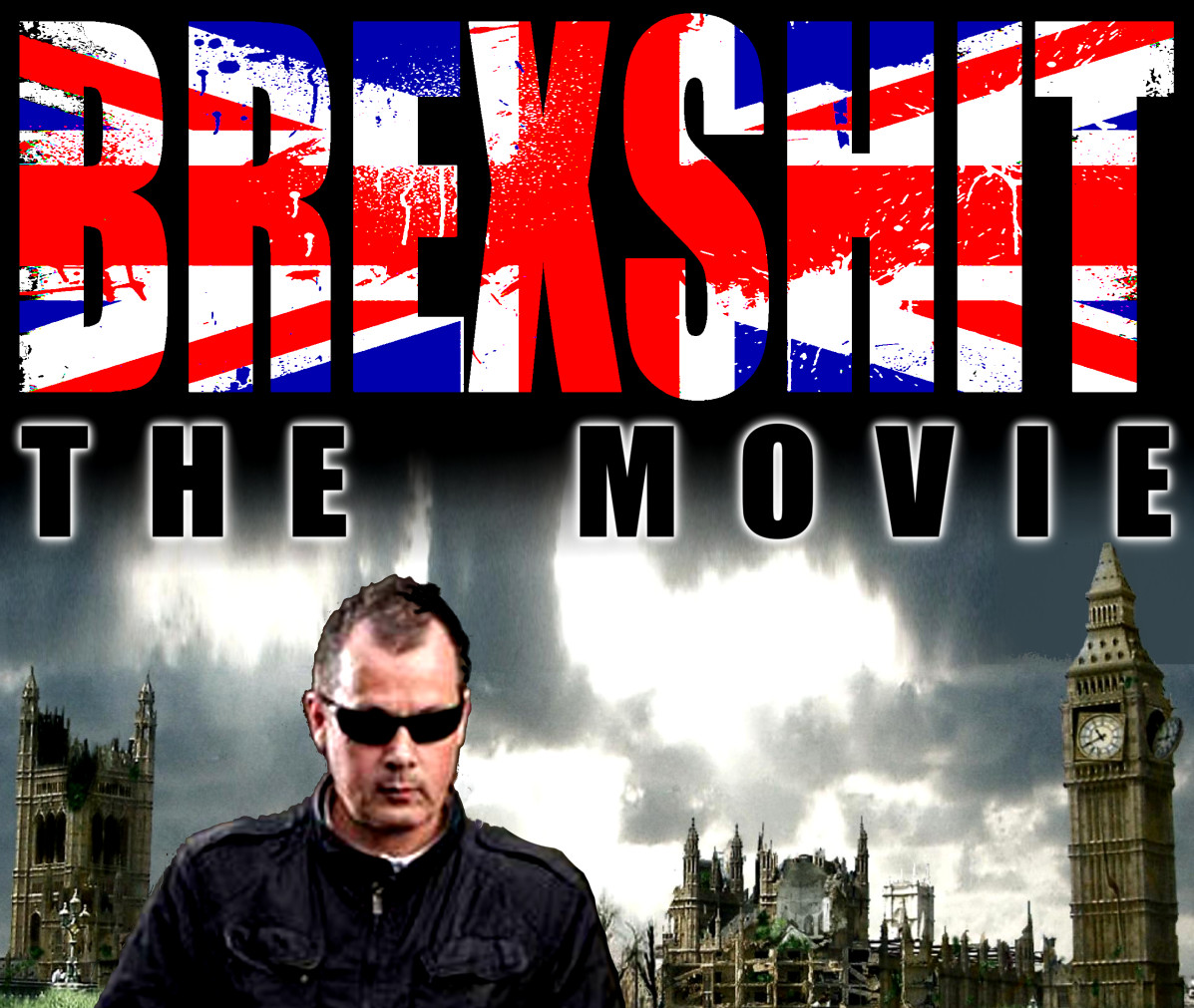 BOJO'S RADIOACTIVE AGENDA - Bojo will take all he can get in the cake eating department. He knows he has said one thing about renewables being the way forward. But he's also an inveterate liar who knows British citizens have short memories. Hence, as soon an another coal field or oil well comes about, he'll grab those - and nuclear power as well. Because, the man has no moral backbone. His mouth says exactly the opposite of what his head is thinking. That is how he has been public school educated.
PENSIONS and INHERITANCE TAX
One way of avoiding pumping up Income Tax, is to raise National Insurance Contributions, and claw back money from savings vested in property; taxing the avid saver on his or her deathbed, via a slice of their property or properties. Of course, that is a kind of inflationary policy in itself, where now you cannot keep what you've worked for in the UK. You'd be better off relocating your wealth, to a country that is fair and cares about the elderly. We hope the pensioners concerned make the necessary alternative arrangements, to preserve as much of a head-start as possible for their offspring.
Those who are retired, are defenseless against this fiduciary monster. Rishi Sunack knows that. He's picked on the most vulnerable in society, in a cowardly attack on the whole of their lives work. Knowing, they only have one life, and that it has been spent. We imagine those who voted for the conservative party are now wishing they'd voted in the Greens, or Liberal Democrats. Anyone but the Tories. Perhaps with Labour, also out in the cold. As their collective policies have helped Britain become debt laden with uncontrolled borrowing, against a shrinking economy.
The reasoning is obvious. The UK has become a two party state, with onlookers: Conserbourtive or Labourtive parties. Each one yoyo-ing policies during their terms of office, but still ripping off the electorate, as an underlying theme.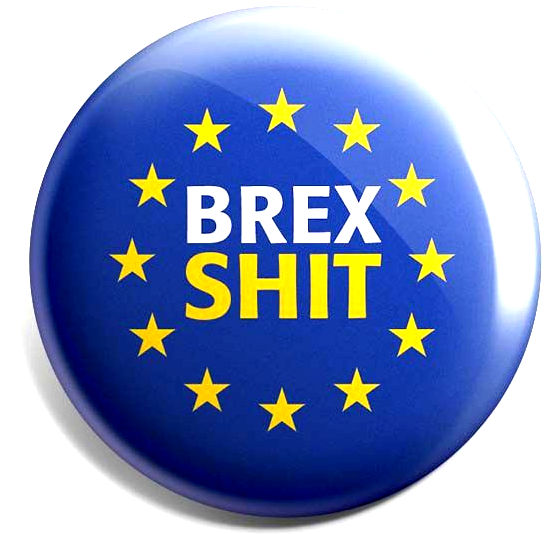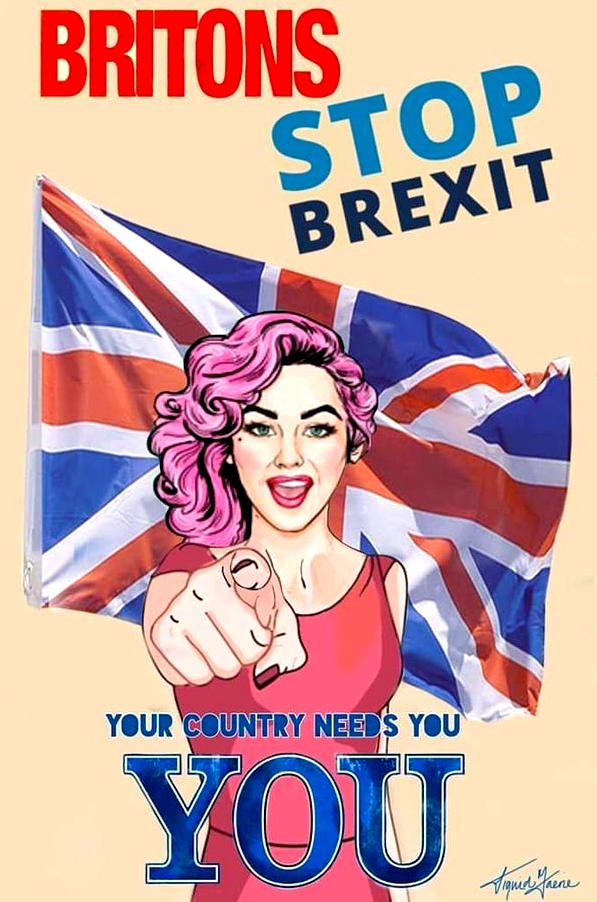 POTHOLE POLITICS
Conservative politics is based on delaying economic shortcomings by robbing Peter to pay Paul. Another example of which is over-paying for roads and only 5% of your hard earned taxes going to road building and repairs.
The problem with such policies, is it does not take long before a temporary fix, as in stealing the budget from one tax, becomes relied upon, and so politicians cannot tell the truth about what is costing what. In effect deceiving the voter - who also falls into the trap of accepting the cost of building and maintaining roads in X, when in fact it is Y. We say morally correct and honest accounting should reflect the real administrative costs of each department. Labour and Conservative politicians say keep the bastards in the dark - and feed them bullshit. You may agree that as things stand it is horseshit. Yes, politicians have many shades of shit in their repertoire.
That is why we have so many potholes: hence, pothole politics. The evidence for which on on the streets and highways in your area. In Sussex the busy A271, makes commuting to Hastings or Hailsham dangerous, where the tarmac is narrow and flooding is likely to increase. Why is it so bad? Because under Cameron, May and now BoJo, they are turning our villages into housing estates, without the proper highways infrastructure, including drainage. See Suicide Junction, as a prime example of planning madness.
DOWNRIGHT DANGEROUS - We pay our taxes but get no value for all our hard earned pounds. Don't forget that our income is taxed along with just about everything we buy. Even buying a house is subject to stamp duty and dying also costs money with death duties. Shit! How are they getting away with bleeding the electorate dry like this? Fuel is taxed, drinks are taxed (that's okay by us), and using roads is taxed. Then there is car tax of course. We heard they are thinking of taxing sex, based on the length of your Johnson. What you may have noticed, is that since Brexit, the roads have not improved. Nor has the NHS, so what was all that bollocks bravado the public actually swallowed.
LINKS & REFERENCE
https://www.huffingtonpost.co.uk/entry/george-osborne-treasury-brexit_uk_5714c297e4b0f22f0219d7ad
https://www.huffingtonpost.co.uk/entry/george-osborne-treasury-brexit_uk_5714c297e4b0f22f0219d7ad