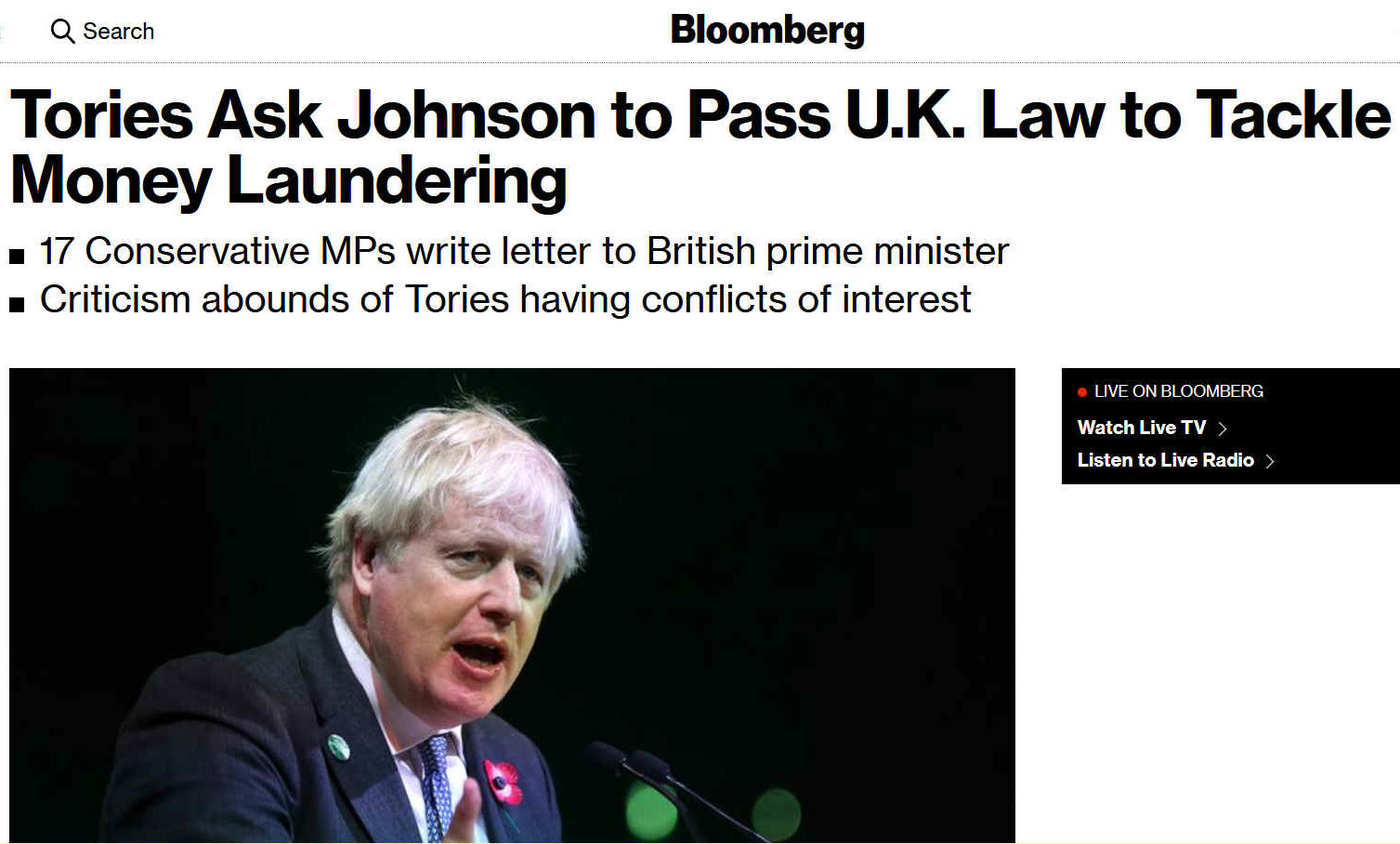 IS BORIS JOHNSON COVERING UP FOR DRUG LANDLORDS? - We think it may have been an election promise, but so far BoJo has singularly failed to prevent drug money being laundered with property purchases in the UK. We wonder if there is another reason for that? David Cameron was the same, talking about it, but doing nothing about it.
Anyone who knows even a little about the law, will known that a failure to investigate a crime, implicates those who fail in their duty, as per the Accessories and Abettors Act 1861, linked to the Magistrates Court Act 1980.

Section 8 of the Act, as amended, reads:

"Whosoever shall aid, abet, counsel, or procure the commission of any indictable offence, whether the same be an offence at common law or by virtue of any Act passed or to be passed, shall be liable to be tried, indicted, and punished as a principal offender."

SUMMARY OFFENCES - The Act does not apply to summary offences, but section 44 (1) of the Magistrates' Courts Act 1980 is to the like effect:

"A person who aids, abets, counsels or procures the commission by another person of a summary offence shall be guilty of the like offence... "
It appears to follow, that any failure on the part of any police force to properly investigate these matters, renders the force abandoning their duty, just as guilty as the perpetrators of the alleged crimes. Clearly, this calls into question the independence of our law enforcement agencies. The suspects should at least be interviewed under caution, computers and other mobile communication devices seized for forensic examination - and rather quickly - such to prevent devices that are potential evidence from going missing. Do we live in an accountable democracy, or don't we. Are we in effect, a police state. One of the leading cases, setting a common law precedent for misfeasance in public office, is that of R V Bowden 1995 Court of Appeal (98 1 WLR), that becomes malfeasance, once a police constable, or even chiefs of crime prevention, detection and prosecution such as, Cressida Dick, fail to do their duty. Most obviously a prosecution is in the public interest. No matter who the culprit is. Because, nobody is above the law. Not even Boris.
BLOOMBERG 12 NOVEMBER 2021 - Tories Ask Johnson to Pass U.K. Law to Tackle Money Laundering

17 Conservative MPs write letter to British prime minister
Criticism abounds of Tories having conflicts of interest

U.K. Conservative members of Parliament urged Prime Minister Boris Johnson to come good on a long-held government promise and pass a law cracking down on the use of U.K. property for money laundering.

Some 17 rank-and-file Tories wrote to the premier earlier this week asking him to prioritize legislation to tackle economic crime in the current House of Commons session, including the creation of a registry of overseas entities that own property in the U.K.

"Economic crime and illicit finance in the U.K. funds organized crime, terrorists and other malicious actors, undermines good governance and faith in our economy, and tarnishes our global reputation," according to the letter. Efforts to get signatures were spearheaded by Kevin Hollinrake, co-chair of the All-Party Parliamentary Group on Fair Business Banking.

The U.K.'s National Crime Agency has estimated that money laundering costs the U.K. some 100 billion pounds ($134 billion) a year, and as part of efforts to stamp it out, successive Tory governments have pledged to create a register that identifies the ultimate owners of U.K. property in cases where the land is registered to an overseas company or entity. While draft legislation was published in 2018, it's yet to be turned to law.

"The legislation is robust, has already attracted cross-party support, and just needs to be prioritized for Parliamentary time," the MPs wrote. "It will build on the international leadership the U.K. has shown on beneficial ownership transparency," they said, adding that it will also cut risk and due diligence costs for investors.

The call comes against a backdrop in which MPs themselves are under the microscope over their own behavior after a botched attempt last week by Johnson to overhaul parliamentary standards in order to spare his friend Owen Paterson from punishment after being found guilty of breaching rules on paid advocacy. There has been a steady stream of stories about MPs and their potential conflicts of interest that is eroding Johnson's own popularity.

PANDORA PAPER

Hollinrake's group and the APPG for Anti-Corruption & Responsible Tax, chaired by Labour MP Margaret Hodge, issued a statement on Friday saying that more than 40 cross-party MPs support the call to bring forward legislation.

"The recent Pandora Papers leak has once more placed Britain and our offshore tax havens right at the heart of the world's dirty money crisis," Hodge said in the statement. "The Government must grab this opportunity and urgently table legislation that will stop the abuse of U.K. property and companies for the purposes of economic crime. Transparency is vital as sunlight is the best disinfectant."

What the Pandora Papers Reveal About Offshore Wealth: QuickTake

Just last week, Business Minister Paul Scully gave a written statement to Parliament saying that the creation of the register "will strengthen our already impressive controls," and that legislation would be introduced "as soon as parliamentary time allows."

As well as publishing the draft legislation, the government is thinking of beefing up the role played by Companies House, which registers company information and makes it publicly available. Proposals include verification of the identity of people who manage or control companies and greater powers to query and challenge the information submitted to it.

"These are novel measures, and it is essential that the register strikes the right balance between improving transparency and minimising burdens on legitimate commercial activity," Scully's Department for Business, Energy and Industrial Strategy said in a statement. It said the government would "legislate in due course."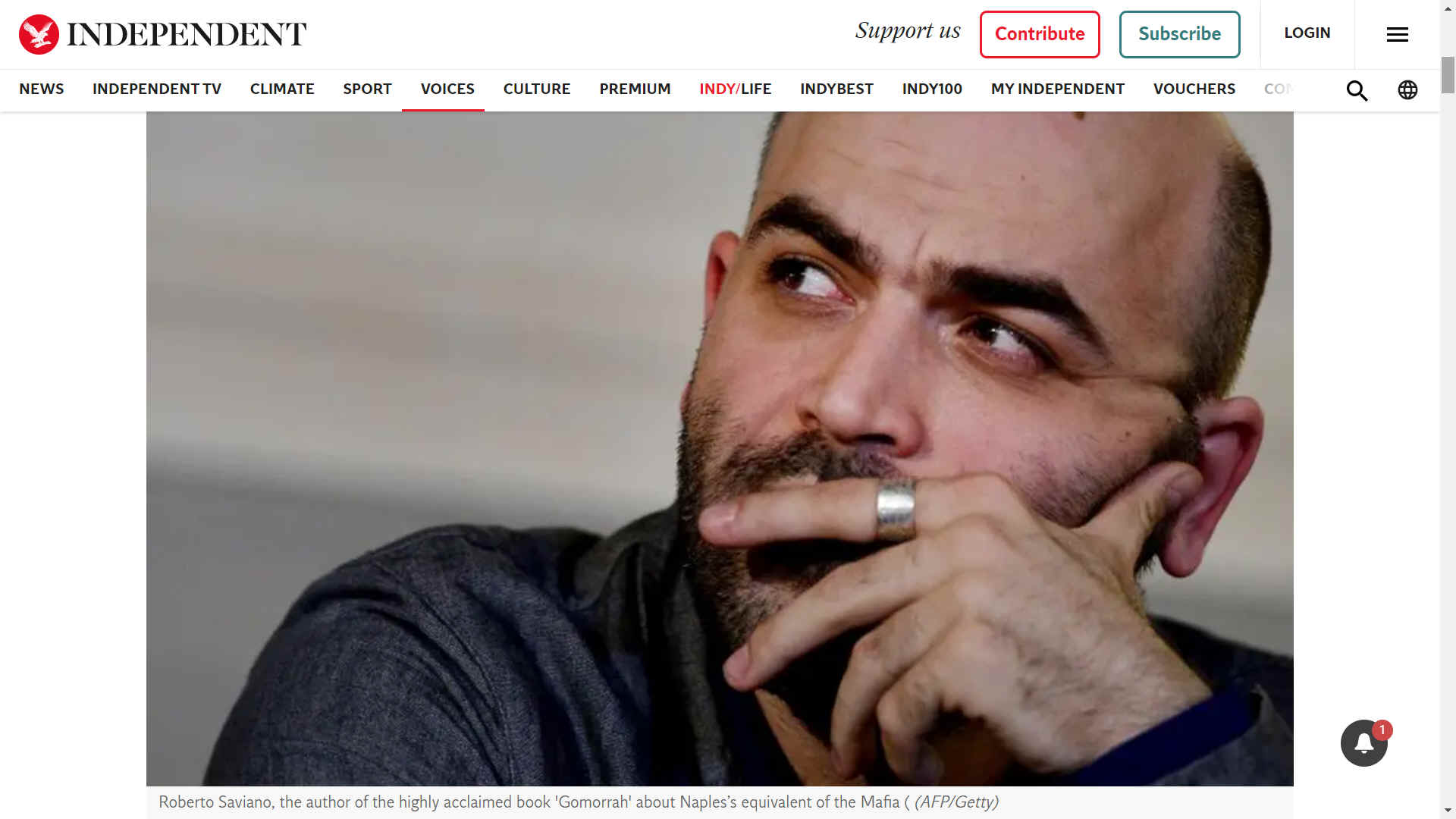 INDEPENDENT JUNE 2016 - When a mafia expert tells us Britain is the most corrupt country in the world, it's time to start listening
In London, the financial mafia don't take out death warrants on truth tellers, but powerful financial firms will destroy the lives and reputations of whistleblowers. Newsnight found they have a 100 per cent success rate.

Mafia expert Roberto Saviano was right this week when he said that it's Britain, rather than Afghanistan, the South of Italy or Nigeria, which is the most corrupt country in the world. The fact of the matter is that the British public think they are detached from the mafia problem and corruption, yet London is the drug money laundering capital of the world, and 90 per cent of drug cash ends up in the US and Europe via London.

In Saviano's native Italy, the Naples based Camorra have a warrant out for Roberto's life, after he exposed the inner workings of members of the mafia in his book Gomorrah. He is a man willing to risk his own life for truth – and we should listen.

In London, the financial mafia don't take out death warrants on truth tellers, but powerful financial firms will destroy the lives and reputations of whistleblowers without a moment's hesitation, ensuring they never work in the financial services sector again.

According to a 2012 Newsnight report from the BBC's Joe Lynam, these City firms have a 100 per cent success rate.

It turns out Britain's perceptions of corruption, which are based on the NGO Transparency Internationals global corruption perceptions index only measure perceived corruption based upon the abuse of public office for private gain, i.e. the payment of bribes.

I grew up in New Zealand, a country ranked 4th top in TI's index, above Great Britain in 10th. Comparatively, Britain generally, and London specifically, feels more corrupt than New Zealand. Britain's institutionalised corruption is grounded in the so-called "old boys' network" that runs the political establishment and controls the City of London.

John Key, a close political ally of David Cameron, and a former Executive at Merrill Lynch London, trading foreign exchange, is now Prime Minister running New Zealand, promising to turn NZ into the "Jersey of the South Pacific."

In other words, a tax haven, styled on Britain, and a node in the British-run network of global tax havens. While nepotism and subservience to finance capital is rife in Britain and its overseas dependencies, it is not illegal.

Many of the criminal corporate activities within the City of London which have dominated the headlines over the past decade are not classified as corruption by Transparency International.

Instead, the media and financial regulators refer to these institutionalised corporate crimes as "inappropriate conduct" or "mis-selling".

As an alternative metric for financial corruption, the Financial Secrecy Index developed by the Tax Justice Network instead ranks countries based on the number of tax havens and financial secrecy jurisdictions, with Britain and its spider web of crown dependencies and overseas territories including Jersey, Guernsey, Bermuda, the Cayman Islands and British Virgin Islands finishing top of the list.

What we need now is firm action from David Cameron, who talks a big game when it comes to transparency and accountability, yet has singularly failed to deliver it.

Rather than cleaning up the UK's global network of offshore secrecy jurisdictions and tax havens under British jurisdiction which allow criminal cash to flood into London property, instead Cameron is planning to privatise the UK Land Registry which tracks the (often foreign) ownership of UK properties.

An investigative journalist hired by 38 degrees found the four companies (General Atlantic, Hellman and Friedman, OMERS and Advent International) in line to buy up the UK Land Registry are all based in or have close links to the offshore tax havens of Jersey, Cayman Islands or Delaware.

Before we make London an unliveable city – something it's hurtling its way towards because of this culture of corruption and secrecy – we must hold the Prime Minister to account for the consequences of such decisions. He can talk about transparency until he's blue in the face, but actions speak louder than words.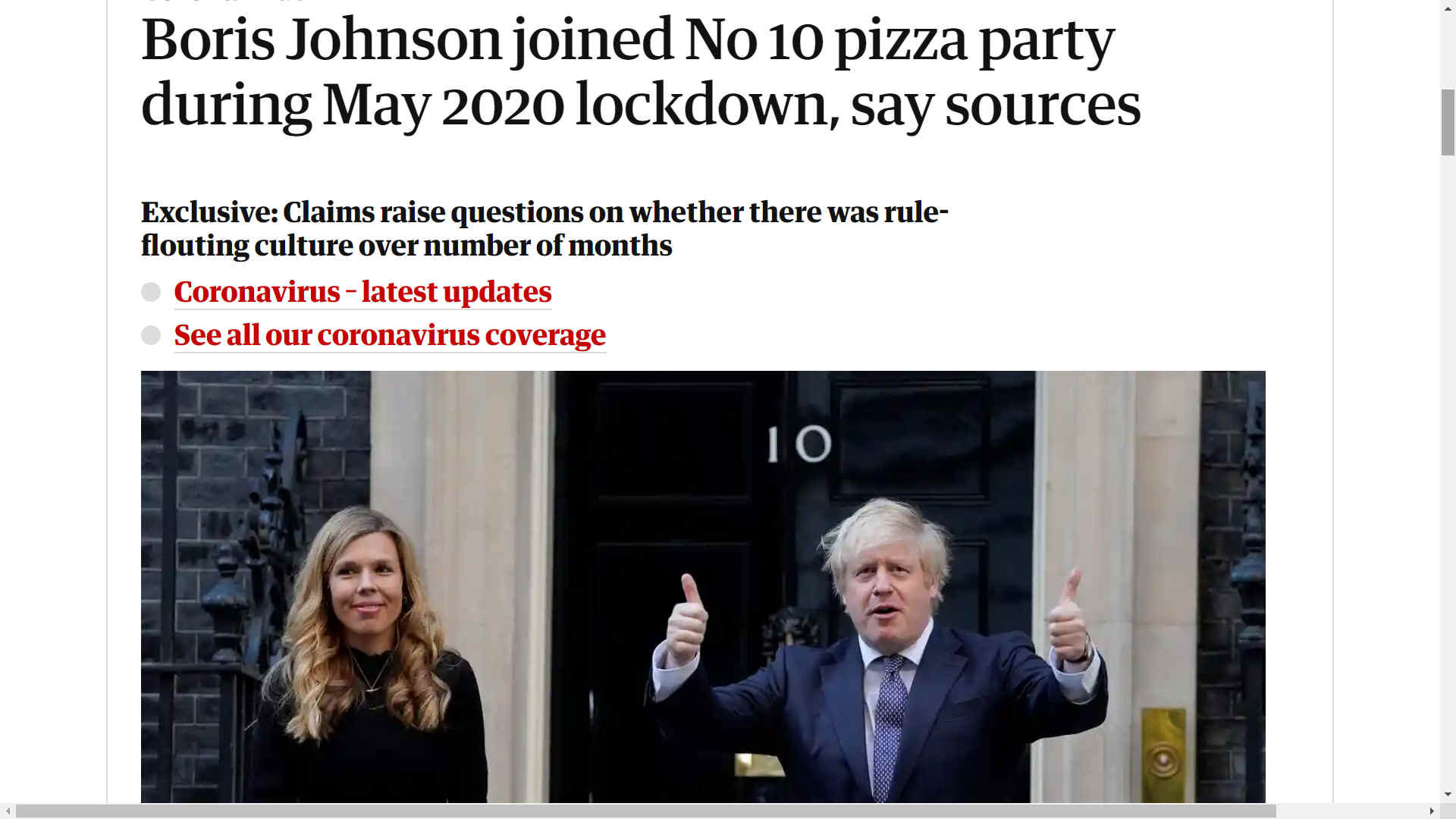 Somehow, despite many scandals of a sexual nature, 'Boris the Johnson' has managed to cling onto Clowning Street, allegedly, the most corrupt city in the world, apparently, decorated in gaudy gold flock wallpaper more suited to a brothel. In the media, it is said, presumably allegedly, that he has fathered many children, in and out of wedlock, earning him the name Shagatha Christie. Johnson by name, Johnson by nature.
Normally, that would call into question his morals. But because he was elected to deal with Brexshit, everybody turned a blind eye. Even the Queen, where she was lied to over proroguing parliament. But then she is or was patron of the Masons. Where you always protect a brother in difficulty, even if he's caught failing to declare conflicts of interest, against the MPs parliamentary code of conduct, or have to pervert the course of justice.
But Johnson could be forgiven if he knew what he was doing. Unfortunately, almost everything he touchess turns to crap. Like the UK economy and safeguarding of pensioner's savings. He is the exact opposite of Midas and Austin Power's Goldmember. He is Shitfinger, spawned of Thomas Crapper, taking a dump on British politics and the electorate. Including violating their Human Rights with compulsory Covid Jabs. It stinks of Thatcherism to us.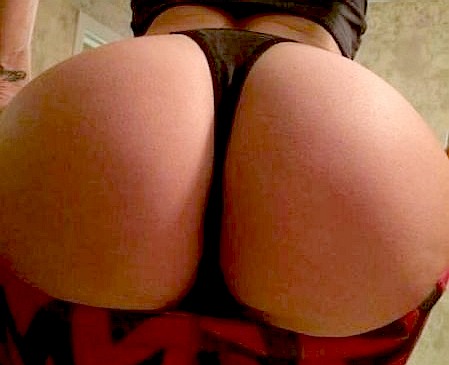 BRITAIN GOT ANOTHER BUM DEAL - In electing a clown as Prime Minister, UK voters made one of the biggest mistakes in British history. Brexit was and is a disaster, costing pensioners an absolute fortune, as real world inflation halved the value of their savings, with timber, copper and other commodities doubling in price in two years of Covid mishandling. Then there is the energy crises and nuclear power, with food prices escalating. We feel sure that Dr Hannibal Lecter would like to have his old friend for dinner. It might be that some Conservative Party members might also want to join in the feast.
THE MAFIA ? - MARCH 2020
Chancellor Exchequer

Priti Patel

Home Secretary

Dominic Raab

Foreign Secretary

Michael Gove

Chancellor D. Lancaster

Ben Wallace

Defence Secretary

Matt Hancock

Health & Social Care

Liz Truss

International Trade

Gavin Williamson

Education

Oliver Dowden

Culture

Alok Sharma

MP Reading West

Robert Jenrick

Housing, Local Gov.

Therese Coffey

Work & Pensions

Robert Buckland

Justice

Anne-Marie Trevelyan

International Dev.

Transport

George Eustice

Environment

Brandon Lewis

Northern Ireland

Alister Jack

Scottish Sec. State

Simon Hart

Welsh Sec. State

Baroness Evans

Leader Lords

Amanda Milling

Party Chairman

Jacob Rees-Mogg

Leader Commons

Mark Spencer

Chief Whip

Suella Braverman

Attorney General

Stephen Barclay

Treasury Sec.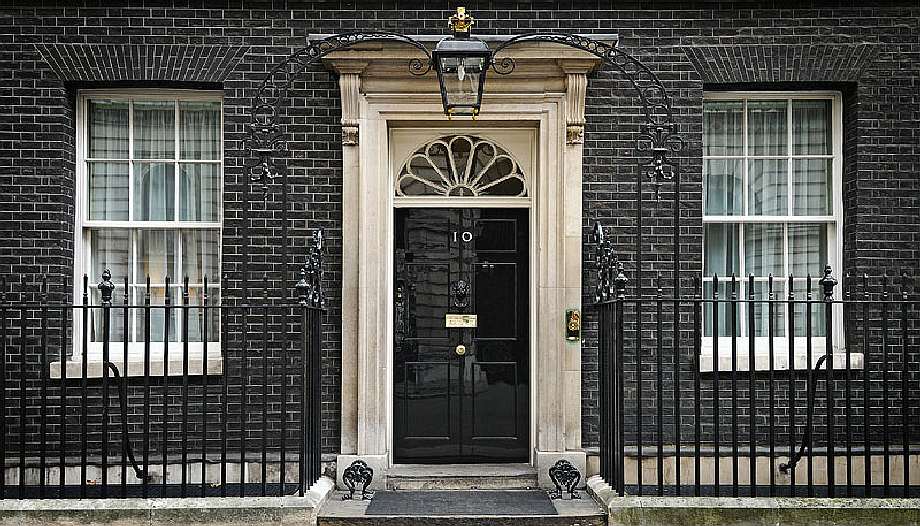 Conservative politics is based on delaying economic shortcomings by robbing Peter to pay Paul. One example of which is allowing drug money into the country to purchase the boom in executive housing, so perpetuating the renting society, and costing ratepayers a small fortune in council tax payments to those wealthy drug landlords who the Land Registry, in collaboration with our police forces, are doing nothing about. It stinks!
Another example of which is over-paying for roads and only 5% of your hard earned taxes going to road building and repairs. That is why we have so many potholes: hence, pothole politics. The evidence for which on on the streets and highways in your area.
In Sussex the busy A271, makes commuting to Hastings or Hailsham dangerous, where the tarmac is narrow and flooding is likely to increase. Why is it so bad? Because under Cameron, May and now BoJo, they are turning our villages into housing estates, without the proper highways infrastructure. See Suicide Junction, as a prime example of planning madness.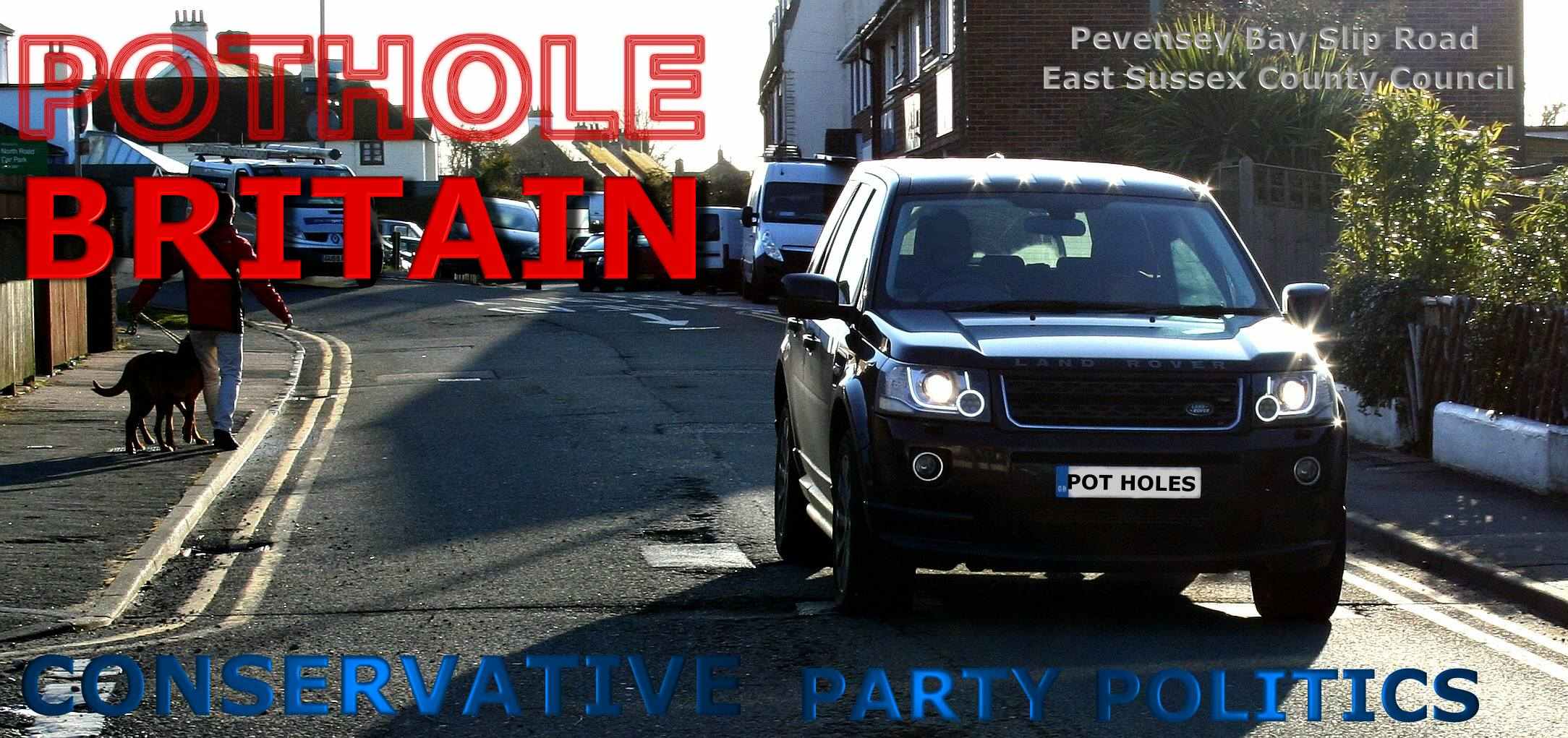 DOWNRIGHT DANGEROUS - We pay our taxes but get no value for all our hard earned pounds. Don't forget that our income is taxed along with just about everything we buy. Even buying a house is subject to stamp duty and dying also costs money with death duties. Shit! How are they getting away with bleeding the electorate dry like this? Fuel is taxed, drinks are taxed (that's okay by us), and using roads is taxed. Then there is car tax of course. We heard they are thinking of taxing sex, based on the length of your Johnson.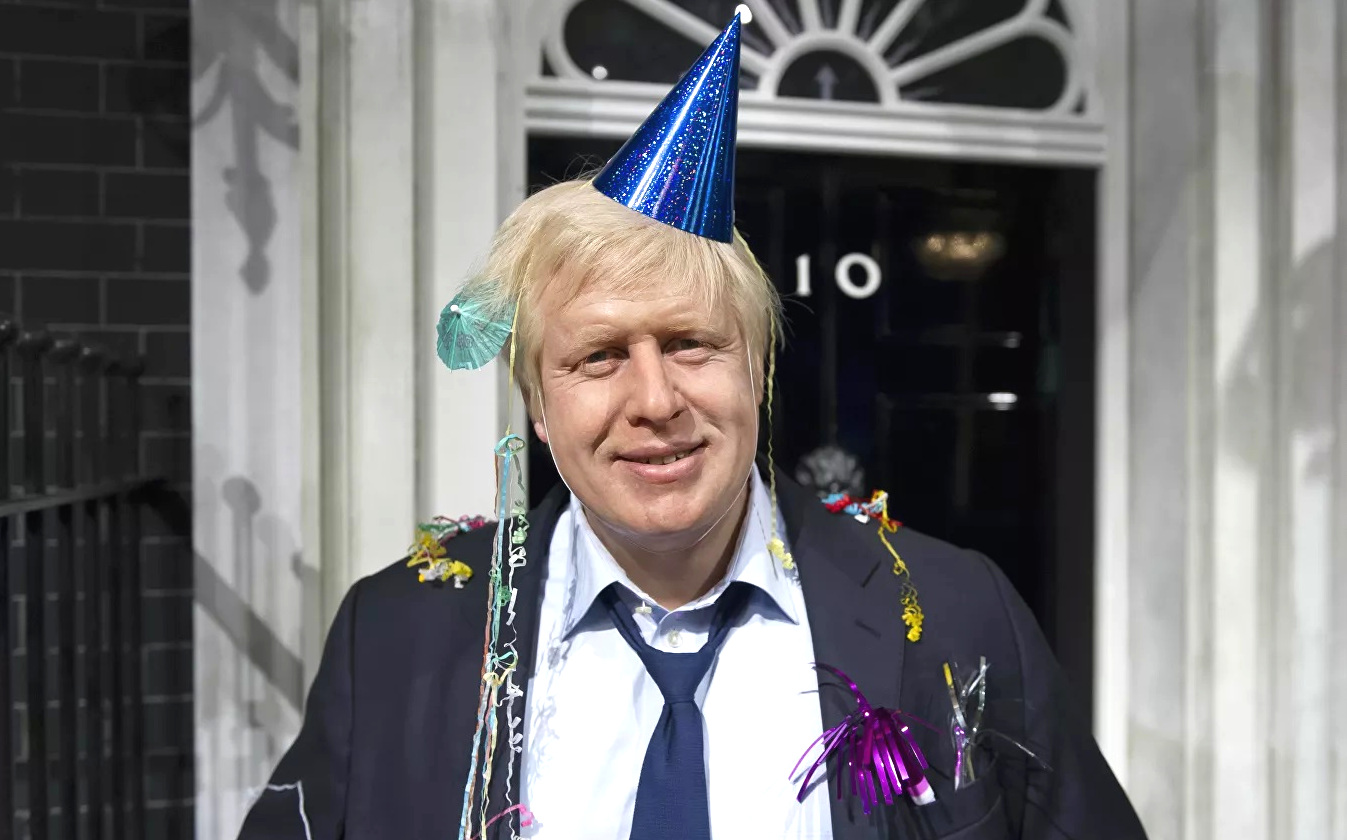 DOWNRIGHT DANGEROUS - It is alleged, or rather, has become increasingly likely that on the 18th of December 2020, a Christmas party was held at Number 10 Downing Street, during a tier 3 Covid 19 lockdown.
This revelation, supported as it seems by a staff training video, featuring the delightfully honest, Allegra Stratton, has really set the cat amongst the pigeons, with everyone diving for cover. Oh come on, everybody did it. The idea was to control the peasants and ease our mucked up NHS, where we've squandered taxpayer's money on dozens of schemes that have turned out to be more bullshit than Bojo had expected of his cronies. Like the Drax biofuel generating station, based on tree planting as a carbon offset. Who thought up that one? Doesn't anyone know that trees take a lot longer to grow, than this power station consumes them. Then there is Hinkley Point and Sizewell C. Doesn't anybody in the Cabinet know nuclear power is more expensive than renewables, and what about radioactive waste management, that is impossible to say is safe - for hundreds of thousands of years. It never was, and never will be. All the corporations will cease to exist. Leaving the taxpayer footing the bill. So, how come Sizewell and Hinkley Point were even considered, and what about that subsidy, making electricity more expensive for the consumer?
With so much corruption in the Conservative Party, and yes, a Part Time Parliament, it must be said, though they'd rather you didn't, what difference will one little end of year get-together make? It's not the end of the world. Well it was for those victims of the Whuhan virus - oh yes and thanks for that Xi. Those people who died while we lived it up, would have gone anyway. Now how about that consultancy fee and a cushy little job when I retire from politics, using all my old school chums to pave the way for juicy contracts. So, it's only right that I should get a backhander and hush money. As long as it looks legal. It's like pirating films and music, everybody does it. You should see my collection.
LINKS & REFERENCE
https://www.msn.com/en-gb/news/uknews/new-no10-party-revealed-as-boris-johnson-set-to-blame-aides-to-save-his-job/ar-AASQkiU
https://www.bloomberg.com/news/articles/2021-11-12/tories-ask-johnson-to-pass-u-k-law-to-tackle-money-laundering
https://www.independent.co.uk/voices/when-a-mafia-expert-tells-us-britain-is-the-most-corrupt-country-in-the-world-it-s-time-to-start-listening-a7057686.html
https://www.independent.co.uk/voices/when-a-mafia-expert-tells-us-britain-is-the-most-corrupt-country-in-the-world-it-s-time-to-start-listening-a7057686.html
https://www.bloomberg.com/news/articles/2021-11-12/tories-ask-johnson-to-pass-u-k-law-to-tackle-money-laundering
https://www.msn.com/en-gb/news/uknews/new-no10-party-revealed-as-boris-johnson-set-to-blame-aides-to-save-his-job/ar-AASQkiU