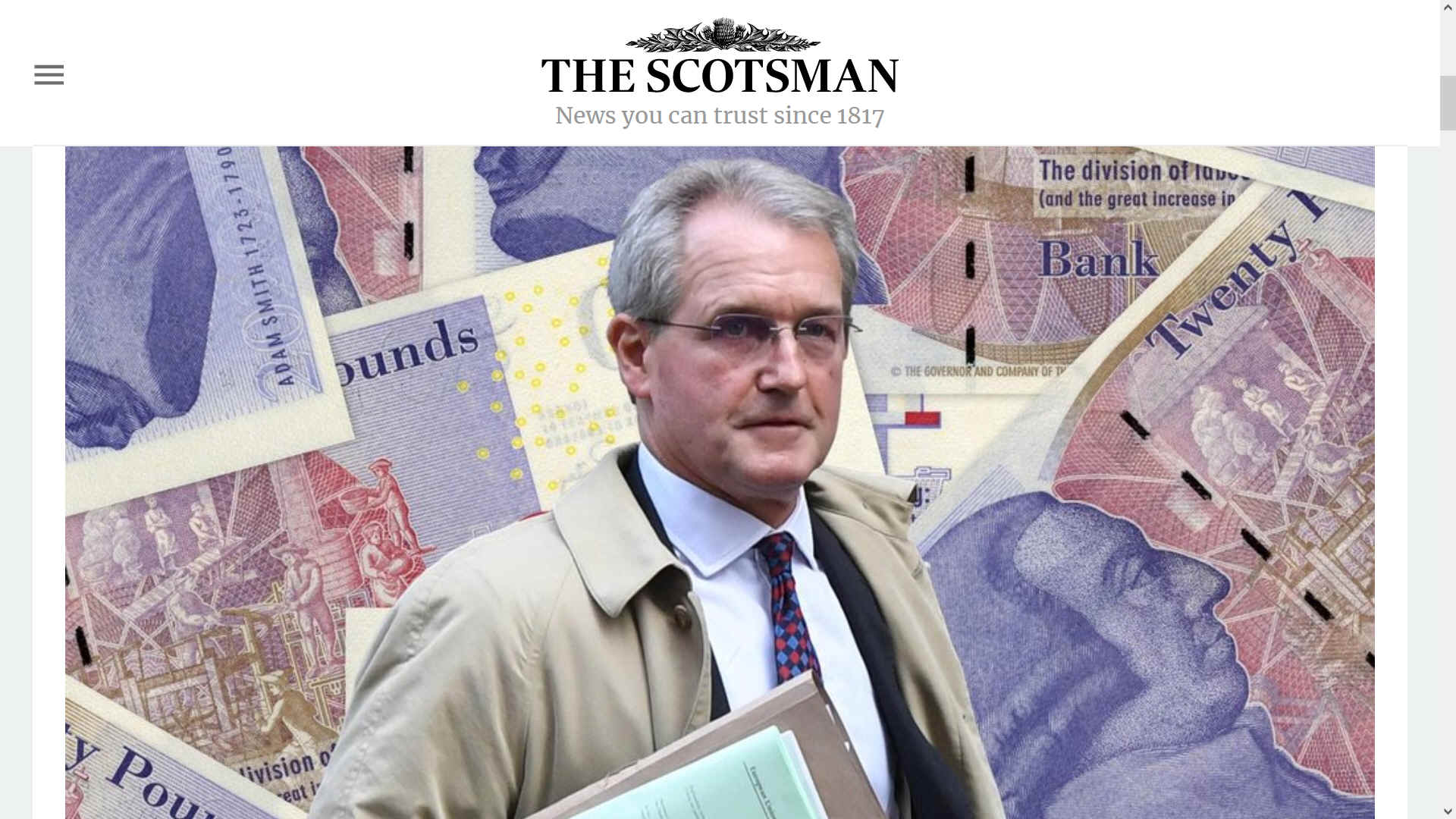 SLEAZE CENTRAL - Politicians cannot be trusted at any level, whether MPs or local Councillors. The temptations are simply too great and it's our fault for leaving the cookie jar open. We must put the lid back on. In a digital age where computers are used to monitor the internet, emails and telephones, to catch terrorists, we should have algorithms to identify conflicts of interest, with warnings flagged up the moment income exceeds declarations. The technology exists to translate signatures into data, but it has not been applied to white collar crime. Why not?
Obviously, misconduct like this in public officer is crime, and the money paid for such lobbying is proceeds of crime. The MP must surely be prosecuted. A job for the Metropolitan police and Dame Cresida Dick perhaps. See the Prevention of Corruption Act 1906, where:
An "agent" includes any person employed by or acting for another, and a "principal" includes an employer.

The "principal" is the person the agent is employed by or acting for.

Anyone working for the government counts as an agent. (s.1(3))

In 2002, Part 12 of the Anti-terrorism, Crime and Security Act 2001 extended this law for England, Wales and Northern Ireland internationally so that it could be exercised in cases where the agent and the principal had no connection with the UK. An equivalent change was made for Scotland by the Criminal Justice (Scotland) Act 2003.

A prosecution in England and Wales for an offence under this Act cannot be instituted without the consent of the Attorney-General, who can discontinue an investigation that is working towards a prosecution under the Act. Thus, the weakness in the system, is that the Attorney-General may be one of the perpetrator's cronies. And that goes some way to explaining the lack of prosecutions, where so many MPs are on the take.
THE SCOTSMAN 9 NOVEMBER 2021 - Tory sleaze row: What did Owen Paterson do? Why Tory MPs are facing 'sleaze' allegations amid second job fury

As debate continues over whether UK politicians should be able to have second jobs amid accusations of 'Tory sleaze', here's what you need to know about the scandal so far.

The political fallout over British Member of Parliament (MP), Owen Paterson, and his role at the heart of accusations over 'Tory sleaze' is continuing to rock the UK Government.

After being found to have engaged in paid advocacy for two companies, one of which received Covid testing contracts, Mr Paterson resigned as the Conservative MP for North Shropshire as the UK Government came under fire for attempting to rewrite MP standards.

But despite the MP's resignation, the Tory sleaze row appears to be far from over – with several other Conservative MPs criticised for having lucrative second jobs in addition to their MP's salary.

Here's what you need to know about the Tory sleaze row, what Owen Paterson did to cause the scandal and how much MPs earn for their role as constituency representatives.

Who is Owen Paterson and what did he do?

Owen Paterson is the member of parliament representing the English constituency of North Shropshire, a former Conservative MP and former Northern Ireland Secretary from 2010 to 2012.

In October, Mr Paterson was revealed to have breached MP standards and UK Parliament lobbying rules by allegedly abusing his parliamentary position to raise the profile and influence of two companies employing him as a consultant.

The revelations about Mr Paterson's breach of lobbying rules came to light following a report by Kathryn Stone, the UK Parliament's standards commissioner, which found him to have broken rules banning paid advocacy and lobbying for the interests of secondary employers.

Mr Paterson had been working as a paid consultant of clinical tech company Randox Laboratories as well as a meats company, Lynn's Country Foods, collecting an average £100,000 a year from employment with these companies in addition to his MP salary.

Randox was revealed to have been awarded a number of Covid testing contracts during the height of the coronavirus pandemic last year, with Mr Paterson claiming over £8,000 a month in a consultancy position for the firm – which he approached the Department for International Development and Food Standards Agency on behalf of several times.

Despite the House of Commons Standards Committee recommendation that Mr Paterson be suspended for 30 days, the UK Government supported a proposal spearheaded by Andrea Leadsom which attempted to block the MP's suspension by instead launching a review of MP standards rules.

After coming under fierce criticism from the public, opposition MPs and Conservative backbenchers, the government ditched its plans in a screeching U-turn and Mr Paterson resigned on Thursday afternoon.
How much do MPs earn?

Members of UK Parliament earn a basic annual salary of £81,932 as of 1 April 2020.

This salary is more than £50,000 more than the average UK full time salary for 2021 of £31,285, according to the Office of National Statistics.
Are MPs allowed to have second jobs?

According to parliamentary standards, MPs in the House of Commons are permitted to have second jobs in addition to their position as political representatives for their constituency.

These can range from working part-time as doctors, nurses or lawyers to consultants and advisors for corporate firms.

But there are restrictions on who can have a second job as an MP and how they behave with the job in question.

MPs who double as cabinet ministers working at the heart of government are not allowed to hold second roles.

And MPs are not allowed to present a conflict of interest with their second jobs or lobby the government on behalf of the companies employing them.

While lobbying is a common practice used by those outside government and parliament to gain political influence and attention for their goals, to use an MP to gain such influence is seen as undemocratic and exploiting the power that MPs hold in their political roles.

For this reason, MPs are required to state their earnings from employment, shareholdings, miscellaneous sources and property in keeping with transparency requirements.

Which MPs have been revealed to have high-earning second jobs?

The allegations of sleaze by MPs in the House of Commons has seen further revelations of the lucrative second jobs held by UK politicians.

Among those recently revealed to have been earning substantial amounts beyond their salaries is Sir Geoffrey Cox MP, who according to the latest register of financial interests will earn £400,000 a year for 41 hours of work with Caribbean-based law firm Withers.

Sir Cox's huge salary from Withers has come under added scrutiny as the law firm is appointed by the British Virgin Islands government.

Labour chair Anneliese Dodds criticised the role, writing in a letter to Mr Johnson: "It appears that your former attorney general is profiting from advising an administration accused of corruption and tax avoidance.

"It seems Sir Geoffrey took advantage of Covid-related parliamentary rules and flew out to the BVI to vote by proxy from the other side of the Atlantic.

"The irony is not lost on me that he arrived in the Caribbean on the day that those MPs who actually feel a sense of duty to their constituents were debating global anti-corruption standards."
MPs cannot be allowed to profiteer from democracy – Scotsman comment

Another English MP, Andrew Mitchell MP of Sutton Coldfield in Birmingham, was revealed in the latest register of financial interests to be earning more than £150,000 across multiple consultancy and advisory roles.

Since last March Mr Mitchell has received £39,600 in return for nine days' work a year as a senior adviser 'on African matters' to an investment bank called SouthBridge and £50,000 a year plus VAT as a senior adviser to private equity and venture capital firm Kingsley Capital Partners.

The Guardian reported on Tuesday (9 November) that more than a quarter of Tory MPs have second jobs totalling a combined amount of over £4 million.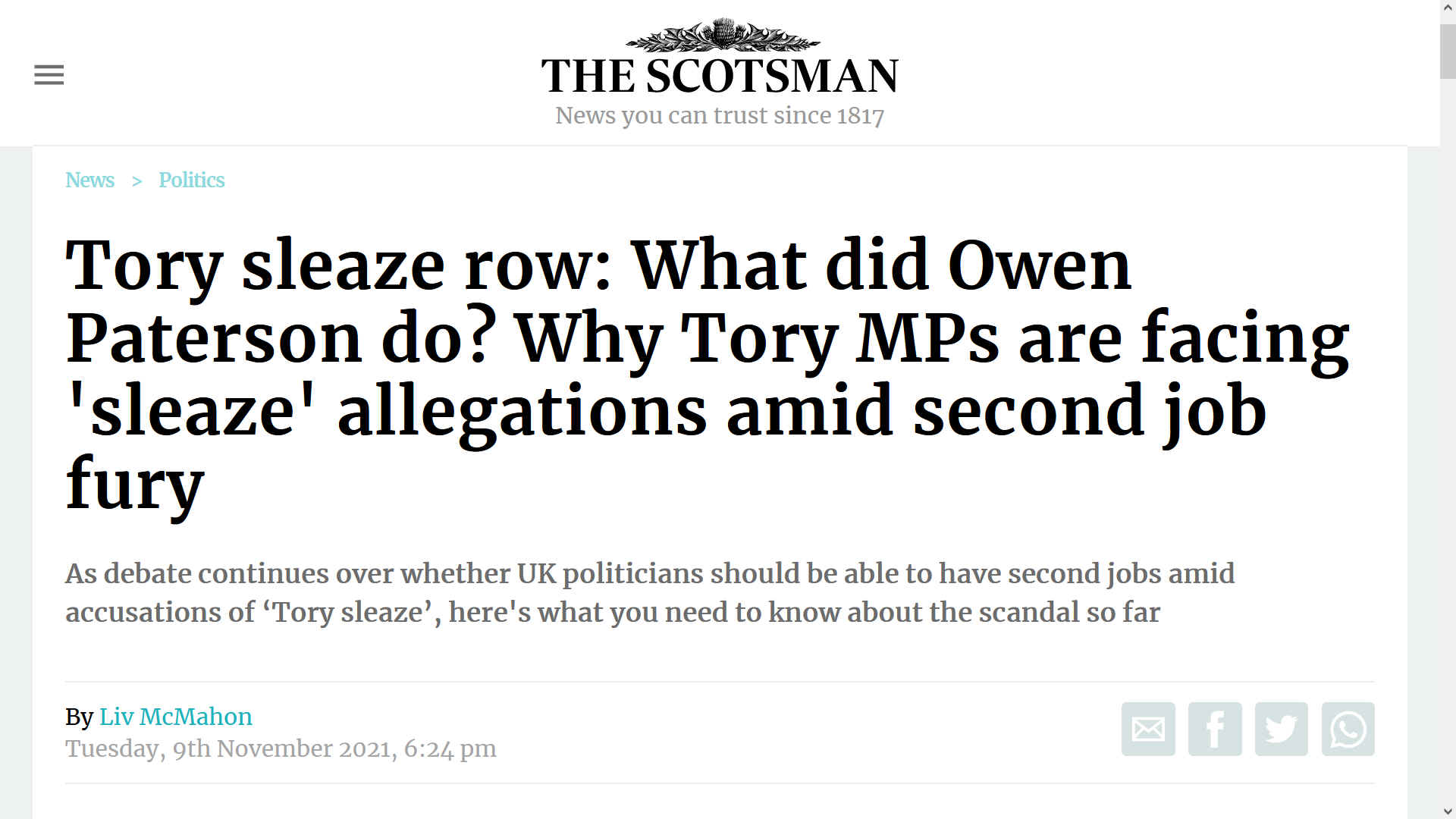 BRITAIN TAXPAYERS GET A BUM DEAL - You could be forgiven for thinking this was symbolic of the UK parliament, judging by the quality of the decisions and the massive squandering of public money. You'd be right. The UK is the most corrupt country in the world when it comes to laundering drug money. London is the center of sleaze with Whitehall and Buckingham Palace so dysfunctional, the UK has sunk to this level of corruption. It is high time we modernized and abolished the Constitutional Monarchy in favour of a Democracy based on a Written Constitution. That also means scrapping the honours system, that in some cases is a bribe for keeping mum. You cannot expect a 96 year old (born 21 April 1926) to keep up with all of this, having no legal or economic qualifications, and with ministers and civil servants likely to bullshit her at every turn.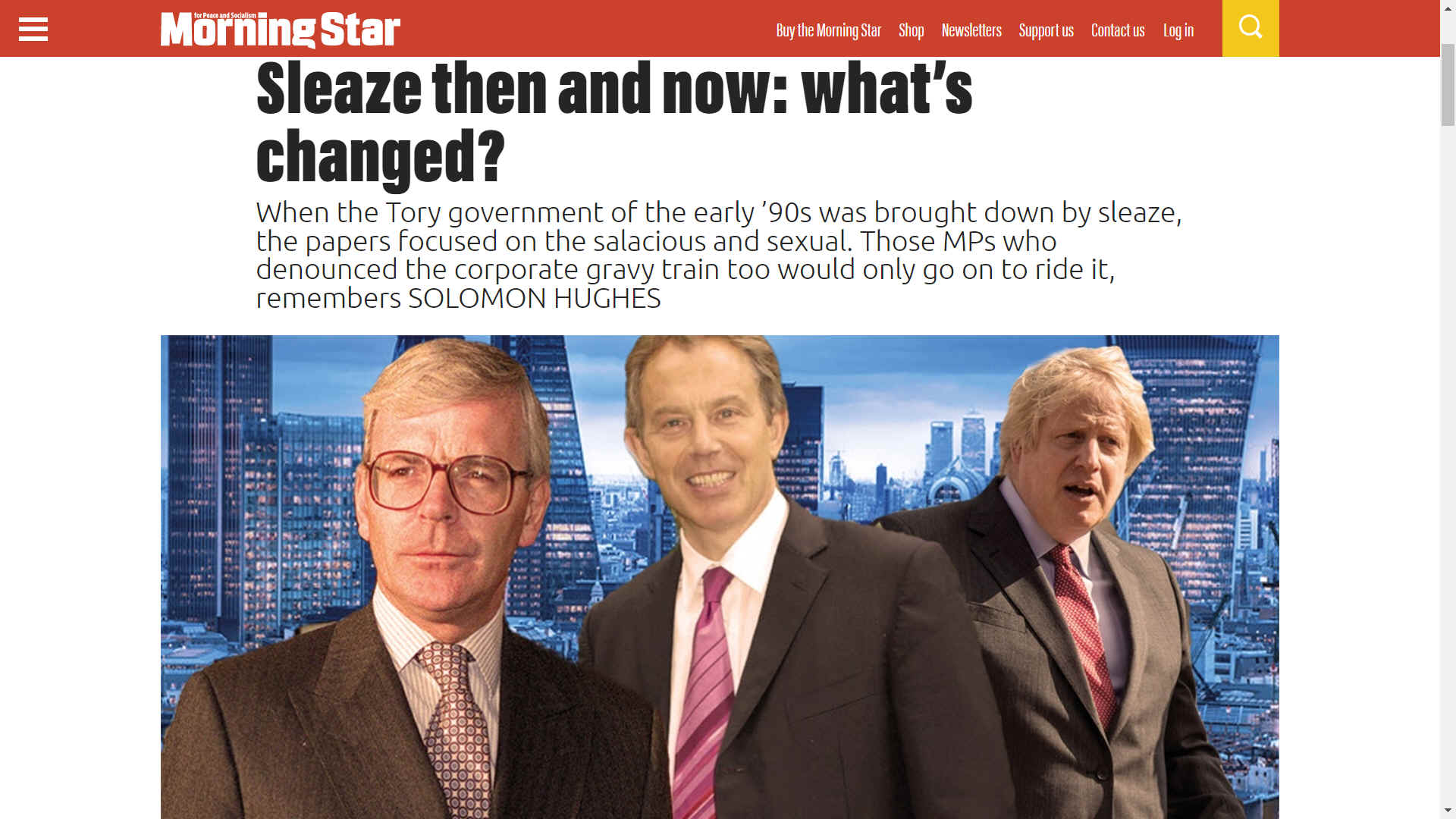 MORNING STAR - SLEAZE THEN AND NOW: WHAT'S CHANGED ?

When the Tory government of the early '90s was brought down by sleaze, the papers focused on the salacious and sexual. Those MPs who denounced the corporate gravy train too would only go on to ride it, remembers SOLOMON HUGHES.

BORIS JOHNSON'S problem with lockdown-breaking parties and other scandals is being widely compared to the "sleaze scandals" that helped bring down John Major in the 1990s.

In the words of an Express headline: "Tories on brink after 'build-up of sleaze' mirrors 90s downfall."

The many interlocking scandals contributed a lot to Major losing the 1997 election.

There is a good reason to compare Johnson and Major's "sleaze" problems — but it's not the comparison most pundits are making.

Major's "sleaze" scandal is remembered as all about MPs personal behaviour.

Major was trying to find a mission for his Tory government: he won the 1992 election, but economic times were hard and the new prime minister needed to have some kind of social dimension, to bolster the continuation of Thatcherite economics.

In 1993 he launched his "back to basics" slogan, calling for a "return to those old core values" including "self-discipline" and "respect for the family and respect for the law."

Because Major put "traditional family values" in his "back to basics" plan, many in the press saw this as a signal they could expose any MP who deviated from them — hence there where many "scandal" stories about MPs having affairs, being gay, or having unconventional sex.

Most of the stories were only "scandalous" in relation to Major making a push on "traditional morality" and the governments continued support for anti-gay legislation like Section 28.

So Major's "sleaze" is chiefly remembered as being about MPs' sexual exploits. But his scandals began with the exposure of a "cash for questions" operation, with MPs being paid by lobbyists to ask questions in the Commons. MPs' second jobs then also became a serious issue.

Then, as now, the newspapers preferred to talk about relatively apolitical personal behaviour sleaze of parties and affairs.

Sometimes this was because they seemed to have more human interest or eye-catching details — like the sad case of the one male MP who died dressed in stockings and suspenders with his head covered and an orange segment in his mouth, in what appeared to be auto-erotic asphyxiation gone wrong.

Then, as now, many newspapers preferred the stories about "moral" rather than "financial" failings because they didn't really like challenging big business

But the crisis was also driven by the more serious issue of big business buying favours.

Take for example a September 1993 Evening Standard article, "Blast for ex-Cabinet men in big company deals."

This too was part of the Major sleaze scandal. The Standard reported: "Six ex-Cabinet ministers — including former chancellors Nigel Lawson and Norman Lamont — were accused by Labour today of offensive deals taking them into the boardrooms of companies for which they were responsible in government."

The paper added: "In an outspoken attack, shadow chancellor Gordon Brown said the six had 'walked straight from the Cabinet room to the boardroom in an "I'm all right, Jack" Tory culture'."

Privatisation added to this scandal: industry secretary Norman Tebbit helped privatise British Telecom, then joined the British Telecom board.

Employment secretary Norman Fowler joined the board of security firm G4S which was given prison and prisoner transport contracts, even though they were then a laughing stock for allowing prisoners to escape.

Energy secretary Peter Walker privatised British Gas then joined the British Gas board.

Former chancellor Norman Lamont joined the board of Rothschilds, a bank that did very well from Tory privatisation.

Former chancellor Nigel Lawson joined the board of Barclays Bank, which had benefitted from deregulation.

Ministers cashing in and becoming corporate fat cats while wages and jobs were squeezed was a driving force in the sleaze scandal, then as now.

Brown used this sentiment, saying that ministers "cannot speak persuasively" against "boardroom excesses — which offend the British people's basic principles of fairness — because so many ex-Cabinet ministers are themselves among the beneficiaries."

Unfortunately, after Brown made political capital about denouncing Tory jobs-for-the-boys sleaze, the New Labour government elected on the back of disgust with Major did exactly the same thing, sometimes with the same firms.

Ex-home secretary John Reid joined G4S. Former health secretary Alan Milburn joined Bridgepoint Capital, the owner of health firms with NHS contracts. There were many more examples

Just the other day I was reminded by Thames Water's fines that former Labour minister Ian Pearson is on their board.

Labour had so many "ex-ministers' jobs" and "cash-for-access scandals" that Tory David Cameron made it part of his election campaign, with a 2010 speech denouncing the system: "We all know how it works. The lunches, the hospitality, the quiet word in your ear, the ex-ministers and ex-advisers for hire, helping big business find the right way to get its way."

Cameron declared the Conservatives rejected this because "we believe in competition, not cronyism."

But the 2010 Conservative-Lib Dem coalition and subsequent Tory governments jumped straight back into the process, with Cameron himself becoming one of the "ex-ministers for hire" as an adviser to financial firm Greensill before it went bust.

The coalition was a rare chance for Lib Dems to become ministers and also became a rare time for them to become ex-ministers for hire, with Nick Clegg becoming Facebook's top lobbyist and Ed Davey moonlighting from his MP job with both a City law firm and an energy investment firm.

Which brings us back to the current scandal, which has ended up focusing on personal behaviour at lockdown parties, but really began with the scandal of Owen Paterson MP lobbying for his employer Randox labs and another host of second-jobbing MPs in the news.

Looking back over 30 years, MPs taking jobs with and lobbying for corporations isn't a recurring scandal, it's a permanent scandal — the thing that waxes and wanes is press attention, not the practice.

It is driven by 30 years of privatisation, contracting-out and deregulation by both political parties, which give corporations and lobbyists extra incentive to hire MPs.

It won't be fixed by tweaks and codes of practice: only big changes in the underlying corporate-driven policymaking and outright bans on second jobs are likely to make a difference.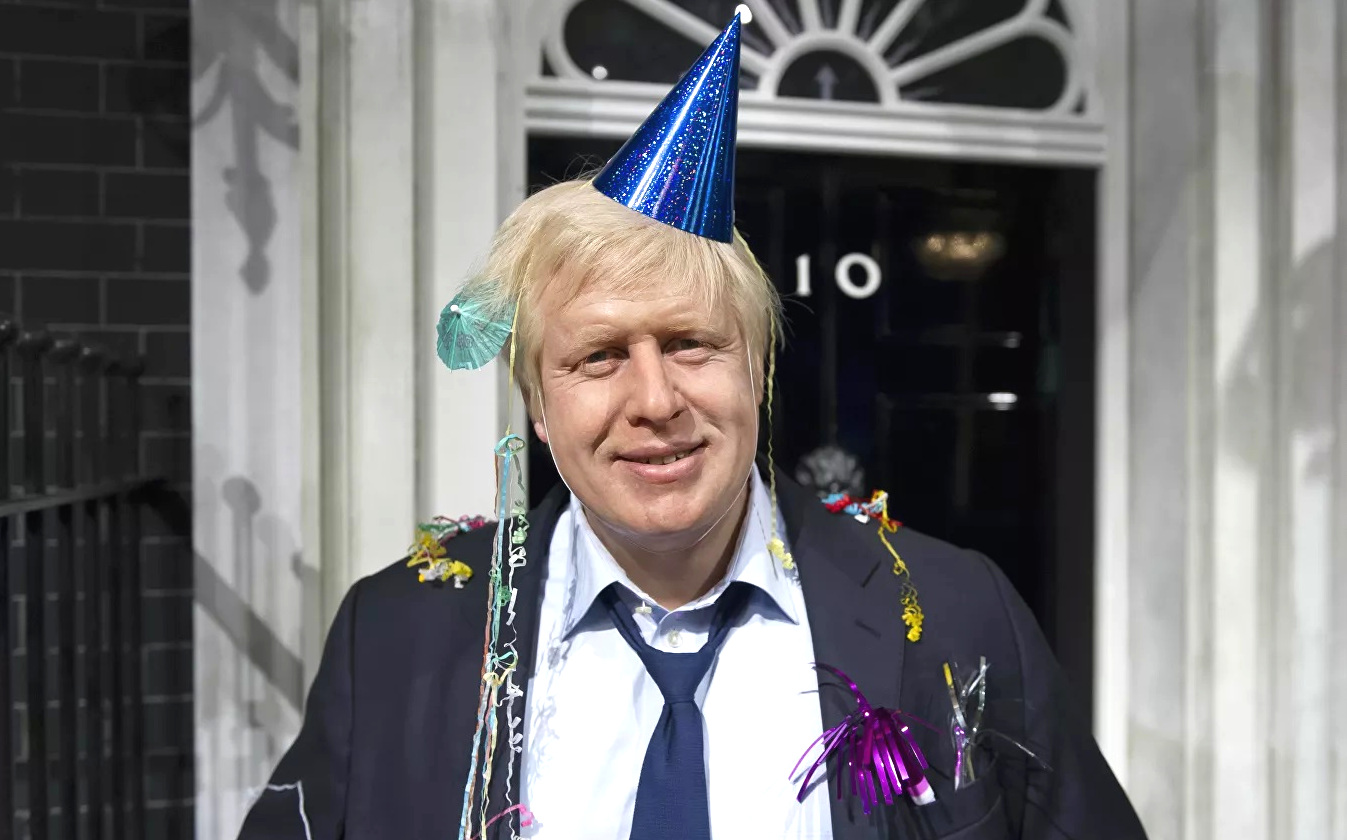 While Boris was partying and clowning, Owen Paterson was squirreling his way toward a big payoff from his second, or is that his first job. We are not sure if Mr Paterson's first job was for Radox, or as an MP, working for the British taxpayer. It makes sense that for some companies, they might sponsor a local candidate, who will then promote their interests. Hence, declaring conflicts of interest is extremely important if we are to root out the rot in politics.
THE BEDWETTERS -MARCH 2020
Chancellor Exchequer

Priti Patel

Home Secretary

Dominic Raab

Foreign Secretary

Michael Gove

Chancellor D. Lancaster

Ben Wallace

Defence Secretary

Matt Hancock

Health & Social Care

Liz Truss

International Trade

Gavin Williamson

Education

Oliver Dowden

Culture

Alok Sharma

MP Reading West

Robert Jenrick

Housing, Local Gov.

Therese Coffey

Work & Pensions

Robert Buckland

Justice

Anne-Marie Trevelyan

International Dev.

Transport

George Eustice

Environment

Brandon Lewis

Northern Ireland

Alister Jack

Scottish Sec. State

Simon Hart

Welsh Sec. State

Baroness Evans

Leader Lords

Amanda Milling

Party Chairman

Jacob Rees-Mogg

Leader Commons

Mark Spencer

Chief Whip

Suella Braverman

Attorney General

Stephen Barclay

Treasury Sec.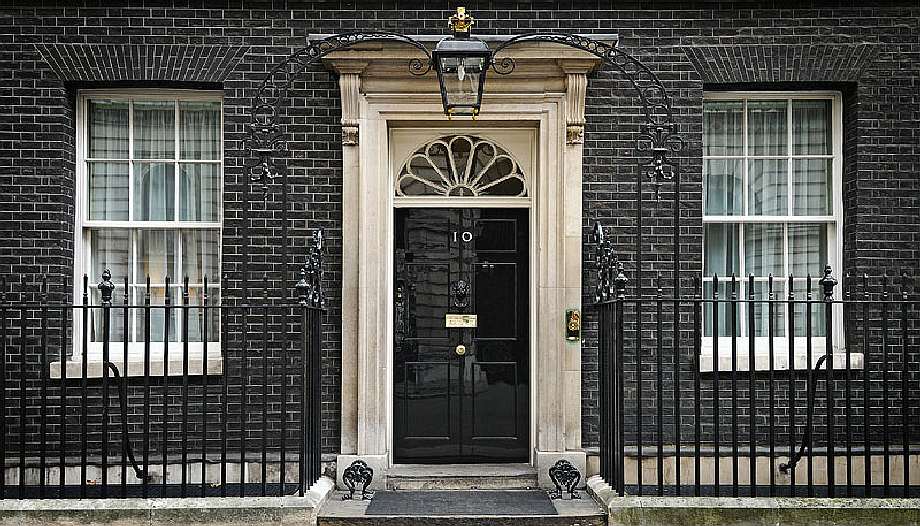 Conservative politics is no different to Labour when the election is over. They all talk of high standards in public office during their campaigns to get elected, with one eye on the gravy train.
Both parties degenerate quite quickly into sleaze, with the temptation of easy money, a second financial interest and retirement benefits, much the same as corrupt councils pandering to laundered drug money, selling our country bit by bit to foreign investors, so they can use rents as clean money, in the process costing the ratepayer more in housing benefits, where local authorities simply will not build affordable homes that locals can afford.
Why?
Because that are in on the gravy train. They want higher rates from executive housing and CIL payments.
Why?
Because their executives and planning officers want to retire with big benefits and pensions.
We simply must close the corruption gap, with digital declarations of interest, cross linked with bank accounts and property ownership.
Political corruption is every bit as damaging as terrorism to the economy.
.....
LINKS & REFERENCE
https://morningstaronline.co.uk/article/f/sleaze-then-and-now-what-changed
https://morningstaronline.co.uk/article/f/sleaze-then-and-now-what-changed
https://www.scotsman.com/news/politics/tory-sleaze-row-what-did-owen-paterson-do-why-tory-mps-are-facing-sleaze-allegations-amid-second-job-fury-3451703
https://www.scotsman.com/news/politics/tory-sleaze-row-what-did-owen-paterson-do-why-tory-mps-are-facing-sleaze-allegations-amid-second-job-fury-3451703