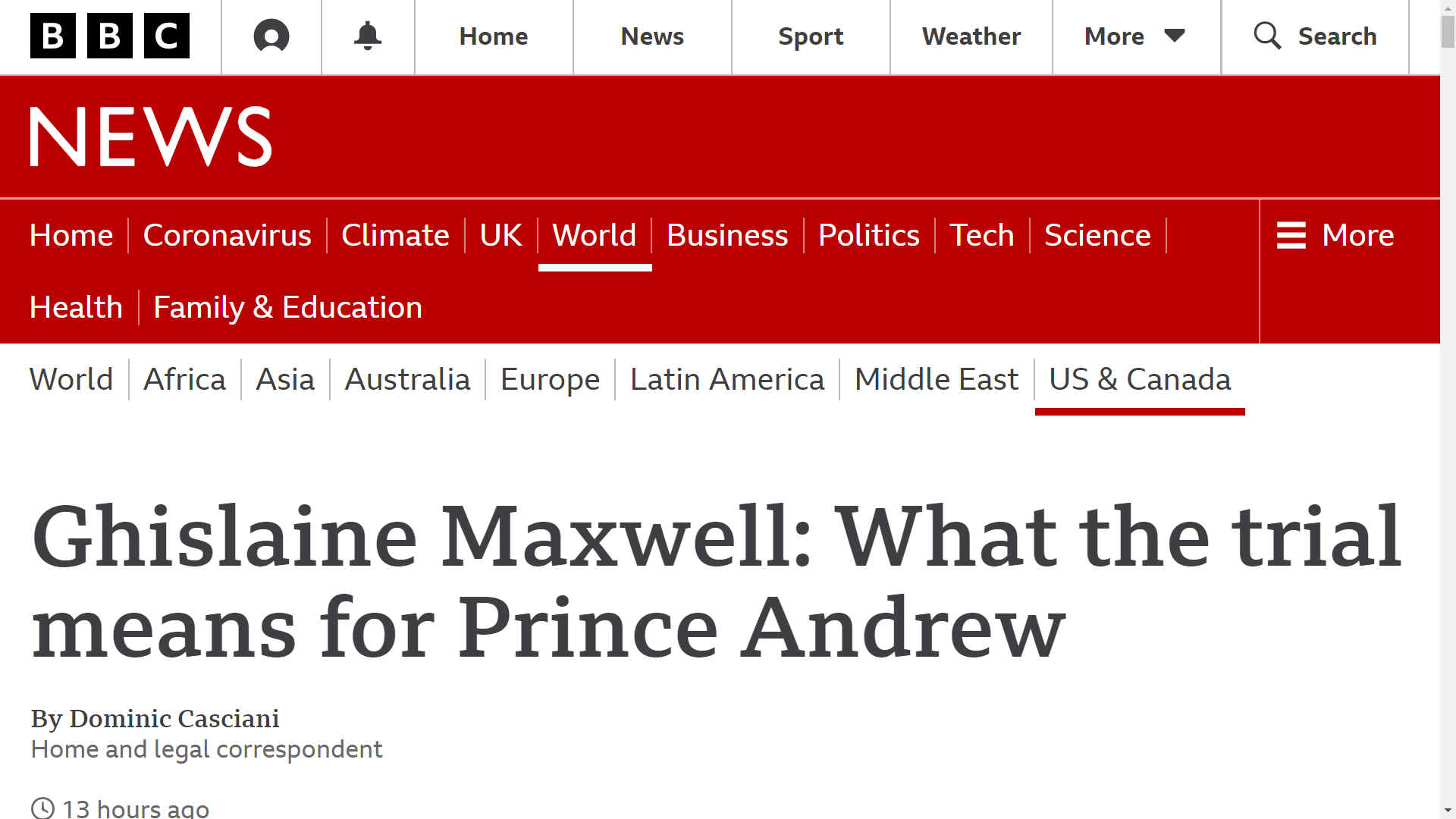 BBC NEWS 30 DECEMBER 2021 - Ghislaine Maxwell: What the trial means for Prince Andrew

Ghislaine Maxwell has been convicted of grooming teenagers for abuse by Jeffrey Epstein. What are the implications for her former friend Prince Andrew?

The guilty verdict comes as lawyers for the senior royal prepare to go to the same federal court in Manhattan, New York, to defend him against a damages claim brought by one of Epstein's victims.

So what does Maxwell's trial mean, if anything, for the prince?

It was Ghislaine Maxwell on trial, no-one else

The most obvious and important thing to bear in mind about Maxwell's conviction is that it applies only to what she did. Nobody else was on trial. The Duke of York is not facing a criminal prosecution in the United States. He's being sued by Virginia Roberts Giuffre, one of Epstein's victims.

In fact, the trial heard no evidence that Prince Andrew was ever allegedly involved in wrongdoing.

But one of his former closest friends is now a convicted abuser
During his 2019 BBC interview, Prince Andrew told Newsnight that his relationship with Epstein was a product of his long-standing friendship with Ghislaine Maxwell.

Specifically, he said he and Epstein first met in 1999 - and his closeness to Maxwell was the only reason he got to know the paedophile financier in the first place. Yet throughout this trial, Maxwell's accusers did not present her as some kind of unwitting helper for Epstein, but a woman who was central to his plans to commit abuse.

If Ghislaine Maxwell had been acquitted, that could have immediately undermined Virginia Roberts Giuffre's claims, because she alleges in court papers that the British socialite "spent years overseeing and managing Epstein's sex trafficking network, and actively recruited underage girls, including [herself]".

And so the conviction means Ms Giuffre's lawyers can go into her case against Prince Andrew saying it's now beyond reasonable doubt that Maxwell played a role in Epstein's abuse. The senior royal's relationship with Ghislaine Maxwell is now as important to the evidence in the damages case as his relationship to Epstein.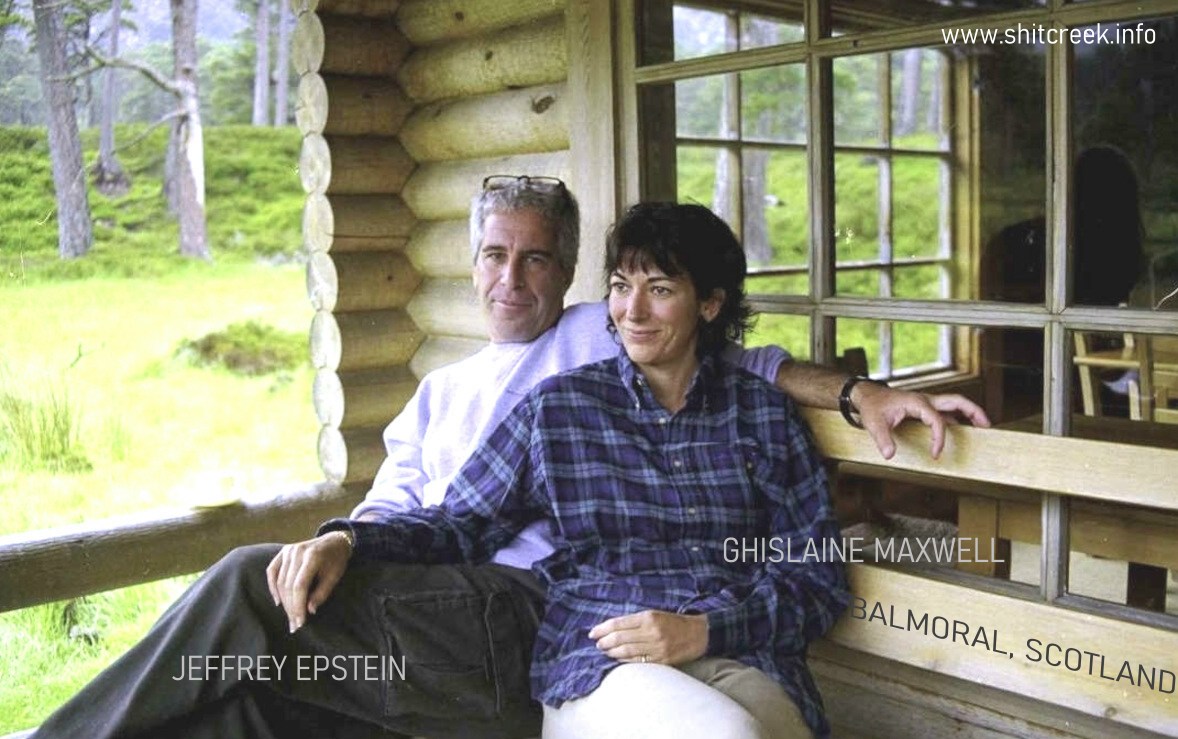 BALMORAL OR IMMORAL - You would be persuaded by this picture, that Epstein and Ms Maxwell, were good friends of the Duke. On the other hand, Prince Andrew was always entertaining big business, in promoting Great Britain Ltd. Much the same as Queen Elizabeth brokered foreign deals on HMY Britannia. There is no suggestion that Her Majesty knew anything of the trafficking that Ghislaine Maxwell was convicted of in 2021.
Epstein wasn't just a casual acquaintance
Ms Giuffre's court filings repeatedly stress that Epstein was close enough to the Duke to attend his 40th birthday party and have contact numbers for him. The Maxwell case has not knocked any of this down.

During the trial, prosecutors disclosed new pictures of Maxwell and Epstein to emphasise how close they were. And one photo shows the pair relaxing at a log cabin within the Queen's enormous private Scottish estate, Balmoral.

The picture is thought to have been taken in 1999 when Prince Andrew reportedly invited the couple to stay at the castle.

While casual acquaintances don't get to stay at one of the most guarded, secure and secluded locations in the UK, it's not proof that the Duke was either involved in any wrongdoing or indeed aware of it.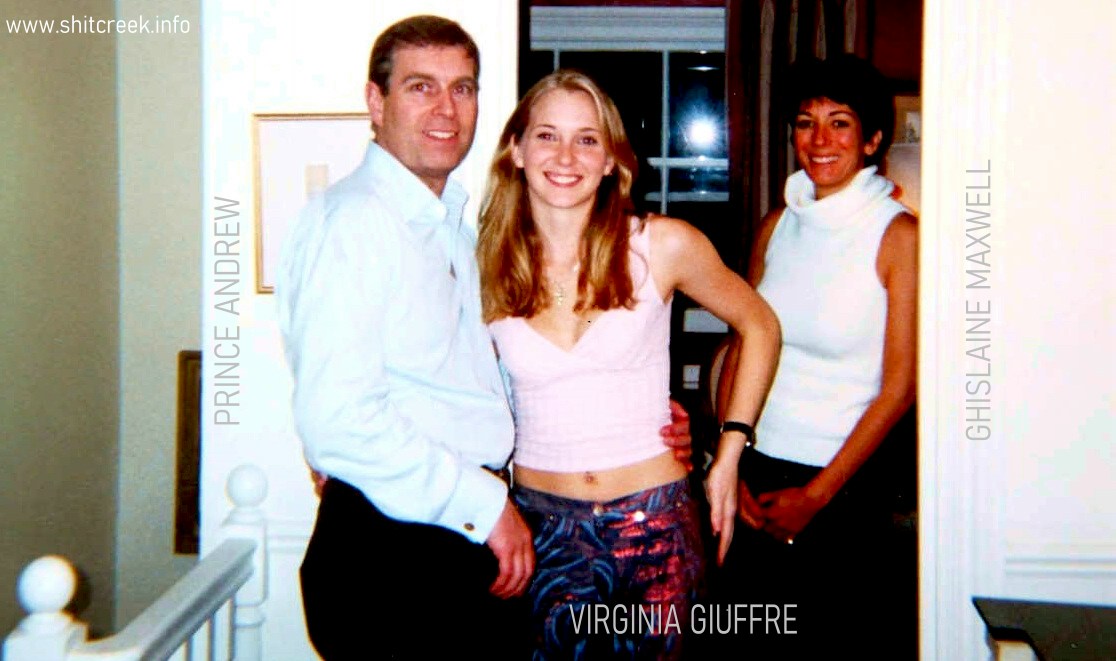 The Prince may not remember the 17 year old Virginia Roberts, but unless this photograph is a fake (doubtful - it must have been checked out) he did meet the young lady at some point - even if only posing at a drinks party, and Ghislaine Maxwell was at this meeting. One question we would ask is how do we know the age of the claimant from this picture? She could easily be 18 or older. Or she may have claimed to be over 18, for Ghislaine to have allowed Virginia to have been photographed with the Duke. No doubt, testimony from Ms Maxwell will clear that up. And where and when was the picture taken, and by whom? You can imagine that with US State laws varying, and this picture looking for all the world like London, where the age of consent is 16, the precise details relating to the taking of this picture are extremely important. It might be worth checking passports, etc. Not that we are saying anything did or did not happen between the Prince and Ms Roberts. For the sake of argument, if some did take place (that the Duke cannot recall) and it was in London, then no crime had been committed. You can marry a girl in Spain and Tahiti at 13 (we think). Hence, any prosecution would need to be very sure of dates and places to begin mounting an investigation. It would not be fair to even interview the Prince, until the facts had been established, for fear of trying to trick him into something he could not possibly remember. We know of a case where penetration had been alleged during a police interview, but the evidence told only of natural marks and a hymen that could not be opened [even] with labial traction. A so-called child specialist gave evidence at trial, that the natural marks could only be explained by penetration. Legal Aid restrictions prevented the defendant in that case from instructing a specialist. Sussex police allowed the jury to hear misleading evidence, and the man was convicted on naturally occurring marks, found in females of all ages. British justice is such that despite other discrepancies being identified, such as a diary being attributed by the trial judge to the defendant, when it belonged to a psychiatric nurse, an appeal has never made it back to the Courts. Europe sent back a claim after 4 years, suggesting the wrongly convicted man had a domestic remedy. On that basis, good luck to anyone facing trial in the UK. At least you have unlimited funds for your legal team in the USA.
Virginia Giuffre featured - but did not appear

One of the witnesses against Maxwell, known only as "Carolyn", told the trial that she had been introduced to Epstein by Virginia Roberts, as she then was.

And a former Epstein employee recalled seeing Ms Giuffre at the financier's estate in Florida. So why did she not give evidence?

Well firstly, she was not named on the indictment as one of the victims of abuse in the Maxwell trial. So there was no legal need for the jury to consider what she has to say.

But she could still have been called. Prosecutors have remained tight-lipped. Some reporters in New York speculate Ms Giuffre was not called because her prominence would have been distracting - or that Maxwell's lawyers would have latched on to alleged inconsistencies in her media accounts.

It's also possible that prosecutors, grappling with differing US state laws concerning age of consent, kept her out to simplify the trial.

But as the New York Times put it, her story loomed over the trial. It looks like her words will now go untested until she potentially gives evidence in her damages case against Prince Andrew.

Maxwell prosecutors allege UK connection

They introduced evidence about Epstein's activities at Maxwell's London home - where Ms Giuffre alleges she was later trafficked to Prince Andrew. A claim the prince strongly denies.

The evidence the jury heard didn't relate to that specific claim.

The witness known only as "Kate" said Maxwell befriended her in 1994 and invited her to tea at her Belgravia home. Maxwell then groomed her into a sexual encounter there with Epstein, she said. Kate was also later flown to the financier's Florida home, where Maxwell was said to have given her a schoolgirl's uniform to wear.

Her evidence was clearly part of an attempt by prosecutors to demonstrate how Maxwell identified women to satisfy Epstein's demands.

But Kate was above the age of consent in the UK and therefore the judge ruled that the jury could not consider her story as evidence of a crime committed by Maxwell - and her lawyers challenged the inclusion of the story in the trial.

More importantly for the Duke, Kate's story did not substantiate any suggestion that Maxwell trafficked young women for Epstein's friends.

While the world has seen the photograph of the Duke with Virginia Roberts, as she then was, in Ghislaine Maxwell's home, he only came up in Kate's London-related evidence in a peripheral way: the court heard how Maxwell would name-drop him and other rich and famous people she knew.

Prince Andrew confirmed to Newsnight he had been in Maxwell's Belgravia home previously - but said he had no recollection of meeting Ms Giuffre or that photograph being taken.

So given Maxwell's trial heard nothing at all linking Prince Andrew to abuse in London, one of Ms Giuffre's most explosive allegations remains unproven.

The trial heard about the 'Lolita Express'

Larry Visoski, Epstein's long-time pilot, told the trial that he had flown Prince Andrew and other celebrities to luxury destinations. The Duke of York had previously told Newsnight he had been on that plane.

Epstein's accusers say that jet was the "Lolita Express" - a means of moving around both his confidantes and the girls groomed into his control.

If the damages case goes ahead, the flight logs may be important evidence for either side, depending on what they reveal about who was flown to where and when.

One of Maxwell's accusers, "Jane", recalled being on the jet with the Duke - but she did not accuse him of wrongdoing.

The jury also acquitted Maxwell of enticing Jane to travel from Florida to Manhattan so that Epstein could have sex with her.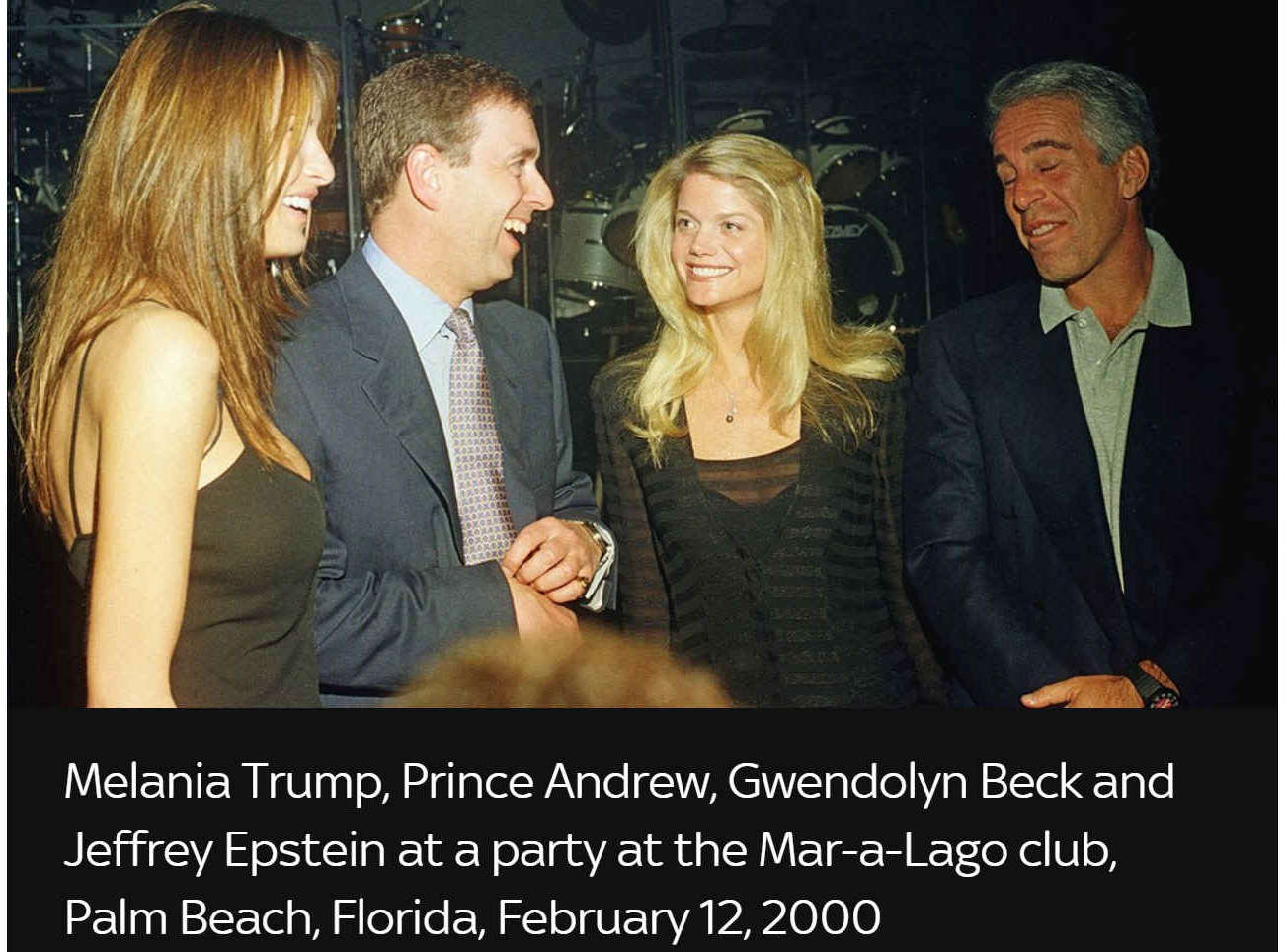 Does Maxwell's conviction have implications for Scotland Yard?

The Metropolitan Police has so far decided, having reviewed material from the US civil courts and media, to take no action over allegations of criminality in the UK relating to Jeffrey Epstein. It's never confirmed whether or not it has looked at Ms Giuffre's allegations against Prince Andrew, in line with its policy of rarely confirming the identity of anyone alive who features in its work.

The question is whether it will be compelled to rethink that position given Maxwell's criminal conviction in a case that included events in London.

Given that Kate's London-related evidence did not cover a crime and related only to the dead financier and Maxwell, it's difficult to see the London force changing its position.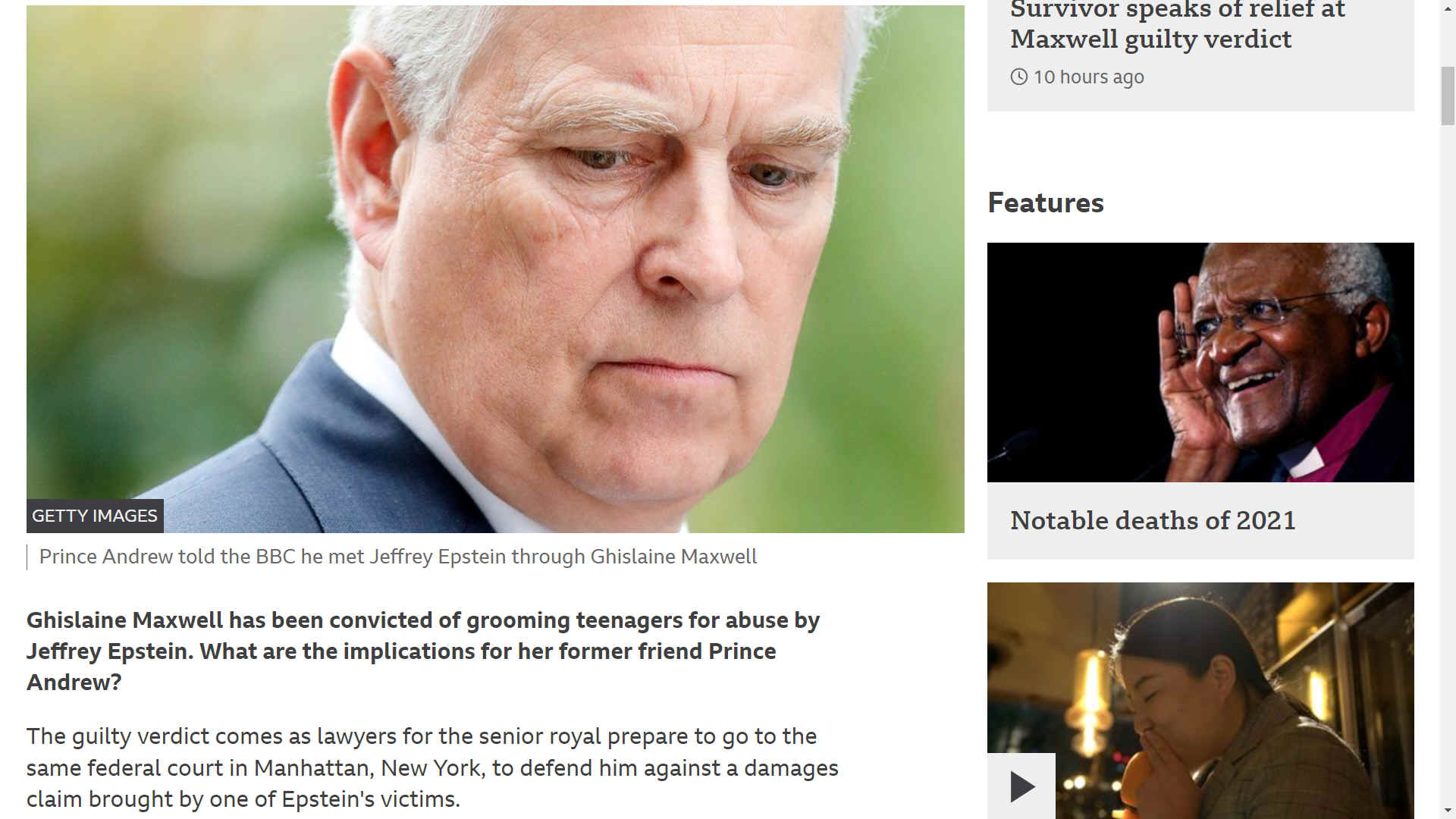 THE TELEGRAPH 30 DECEMBER 2021

Prince Andrew told he will face justice after Ghislaine Maxwell verdict

The Duke of York has been warned that the conviction of Ghislaine Maxwell proves that justice will prevail "whether you're a president or a prince".

Prince Andrew came under fresh pressure as lawyers in the US said that the guilty verdict in the Maxwell case will give succour to the woman who has accused the Duke of sexual assault. One said he should be "quaking in his boots".

The Duke, who denies the claims, hopes that a judge will throw out a civil case being brought against him by Virginia Roberts Giuffre at a hearing scheduled for January 4.

Attempts to paint her as an unreliable witness, however, have been dealt a blow after Maxwell was convicted of sex trafficking underage girls for paedophile Jeffrey Epstein, who died in prison in 2019. Both Epstein and Maxwell were friends of the Duke.

t only did a New York court decide that four other victims were telling the truth, but one of Maxwell's convictions included a reference to Ms Giuffre.

Sigrid McCawley, who represents Ms Giuffre and Maxwell victim Annie Farmer, told The Telegraph: "This verdict told the American public that regardless of power, or privilege, whether you're a president or a prince, you will be held accountable.

"What we saw at the trial is a mention of Prince Andrew and people of his stature. The jury looked at Ghislaine, who has summered at the Queen's homes and lived a life of incredible privilege associating with those types of people, and yet they disregarded all that. I see a real change in the legal landscape."

Ms Giuffre is seeking unspecified damages, claiming the Duke assaulted or raped her on three separate occasions in 2001 when she was 17. The Duke denies her claims and says he has no recollection of meeting her.

After Maxwell was found guilty of five of the six counts she faced, Ms Giuffre, now 38, said: "It's definitely not over."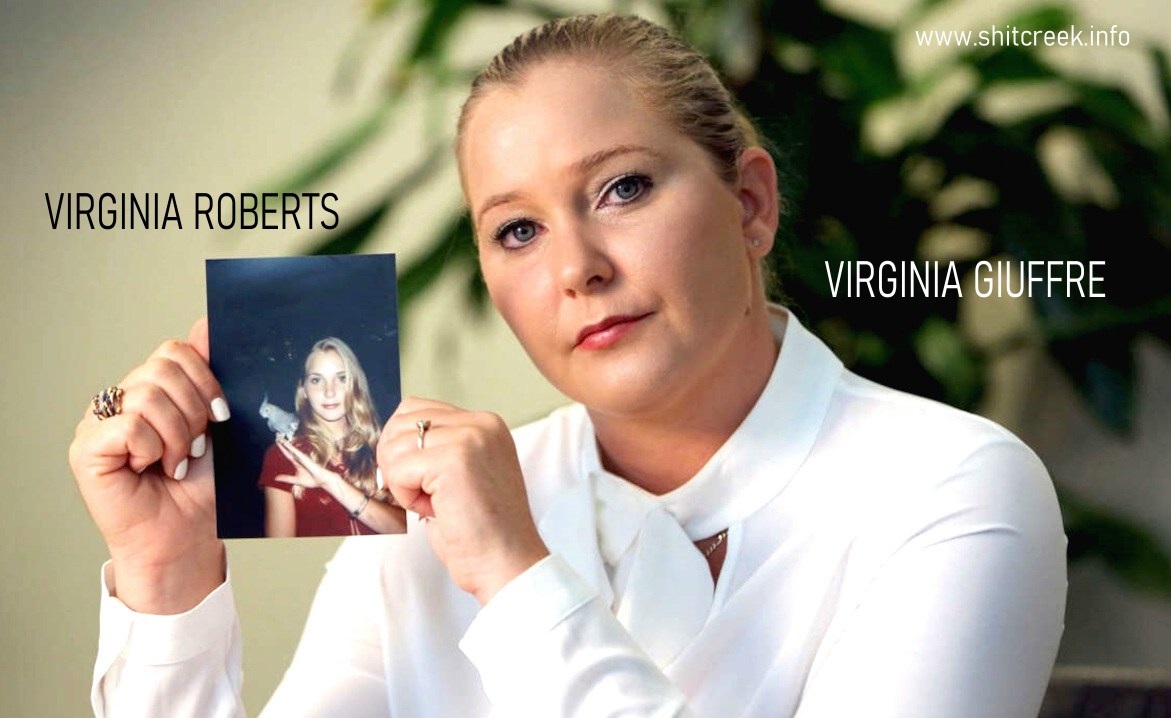 It's hard to tell from a photograph just how old someone is. Also, with the efluxion of time, the memory plays tricks. People can actually be talked into believing that something happened, when in fact it did not. Then over time a claimant can convince themselves that what was suggested to them by a third party, really did happen.
Pressure on the Duke intensifies

The scandal has dogged Prince Andrew for more than a decade, ever since Ms Giuffre's allegations, and the photograph of her with the Duke and Maxwell, were made public.

The accusations have caused great embarrassment to the Royal family and saw the Duke step down from public duties before Ms Giuffre's civil suit was launched in New York in August.

Ian Maxwell, Ghislaine's brother, told The Telegraph on Thursday that his family planned to appeal her guilty verdict on the grounds she was "denied" a fair trial.

"This is a shocking result which reflects the fact that Ghislaine has been denied the right to a fair trial, starting with the appalling conditions in which she has been held for over 18 months and which seriously impacted her ability to participate in her own defence," he said.

Lawyers for the victims said Maxwell, 60, should not be the last defendant brought before a jury over the Epstein scandal, amid speculation that other high-profile associates whose names were found in his so-called "little black book" might now face questions.

While Ms Giuffre was not a witness in Maxwell's trial, she loomed large over proceedings, with almost 250 mentions of her and multiple photographs shown to the jury.

Legal experts also noted that the required burden of proof in a criminal trial was higher than in a civil case.

Bradley Simon, a former federal prosecutor who now works as a defence attorney in New York, said: "Every case rests on its own facts. The jury verdict, however, will surely embolden the Plaintiff's attorneys in the case against Prince Andrew."

Duke's technical objections 'aren't going to fly'

The comments from Ms Giuffre's lawyer heap pressure on the FBI to re-examine the claims against the Duke.

Federal prosecutors in New York formally requested through the British Government to speak with the Duke last year as part of their criminal investigations into both Epstein and Maxwell. The Duke's lawyers responded by saying that they offered his help as a witness on at least three occasions in 2020.

Despite his long and close friendship with Maxwell, the Duke is understood to have been reassured by his UK-based team that the guilty verdict will make "no difference" to his own case and has nothing to do with him.

Andrew Brettler, the Duke's lead counsel, has asked Lewis Kaplan, the judge, to halt proceedings on the basis that Ms Giuffre lives in Australia and not Colorado, as her lawsuit suggests, which would invalidate her claim under federal court law.

However, a source close to Ms Giuffre insisted that her team was well aware of her living arrangements, branding it "pretty desperate stuff" that showed a "lack of confidence" in their other arguments.

Lisa Bloom, a Los Angeles-based lawyer who represented eight of Epstein's victims, said that in the wake of Maxwell's conviction, the Duke's technical objections "aren't going to fly".

She added: "He should be quaking in his boots because this shows that a jury is willing to come back with a guilty verdict even if the accusers are not perfect, as no human being is."

'If Ghislaine flips, she'll flip now'

Scotland Yard confirmed that it was still liaising with prosecutors in the US regarding the Epstein investigation, but was not currently taking any action.

Meanwhile, a former Southern District of New York (SDNY) prosecutor told The Telegraph that Maxwell had a limited time to decide if she wanted to "flip" on other former associates of Epstein.

If she wants to receive a reduced sentence, she will have to reach out to SDNY prosecutors before they submit a report to the judge ahead of the sentencing.

The former prosecutor, who asked that his name not be published, said it was likely his former colleagues would look favourably on such a request if she has any information on other individuals.

He said: "Certainly, she could still flip. That'll help with regards to the sentence. It's still possible. If she flips, she'll flip now.

"With a guilty verdict, the best way to help herself is to co-operate. It would benefit the prosecution and it benefits her prior to sentencing because they put it in the sentencing report. It's a point system."

Epstein and Maxwell's little black book was admitted in evidence during the trial and contains the names of some 300 Britons.

There are 16 separate telephone numbers for the Duke, including a mobile phone number, one marked "Palace ex-directory", one for Balmoral – the Queen's private retreat in Scotland, where the Duke invited Epstein – and one marked "Sand", which appears to be Sandringham, the other royal retreat where he spent time.

Tony Blair, the former prime minister, is recorded once, while Lord Peter Mandelson of Foy has 10 numbers, including one marked "direct line", one marked "home" and one marked "country home".

Earl Spencer, the brother of Diana, Princess of Wales, also features.

There is no suggestion that those named were involved in any wrongdoing.

Maxwell faces up to 65 years behind bars on the sex trafficking charges and four others. A date has yet to be set for her sentencing.
Prince Andrew & the Epstein Scandal: The Newsnight Interview - BBC News - 4,840,669 views - 17 Nov 2019

In a Newsnight special, Emily Maitlis interviews the Duke of York as he speaks for the first time about his relationship with convicted paedophile Jeffrey Epstein and allegations which have been made against him over his own conduct.

The Duke of York speaks to Emily Maitlis about his friendship with Jeffrey Epstein and the allegations against him. In a world exclusive interview, Newsnight's Emily Maitlis speaks to Prince Andrew, the Duke of York at Buckingham Palace.

For the first time, the Duke addresses in his own words the details of his relationship with convicted sex offender Jeffrey Epstein, who took his own life while awaiting trial on sex-trafficking charges.

In 2015, Prince Andrew was named in court papers as part of a US civil case against Epstein. The Prince, who is the Queen's third child, also answers questions about the allegations made against him by one of Epstein's victims, and discusses the impact of the scandal on the Royal family and his work.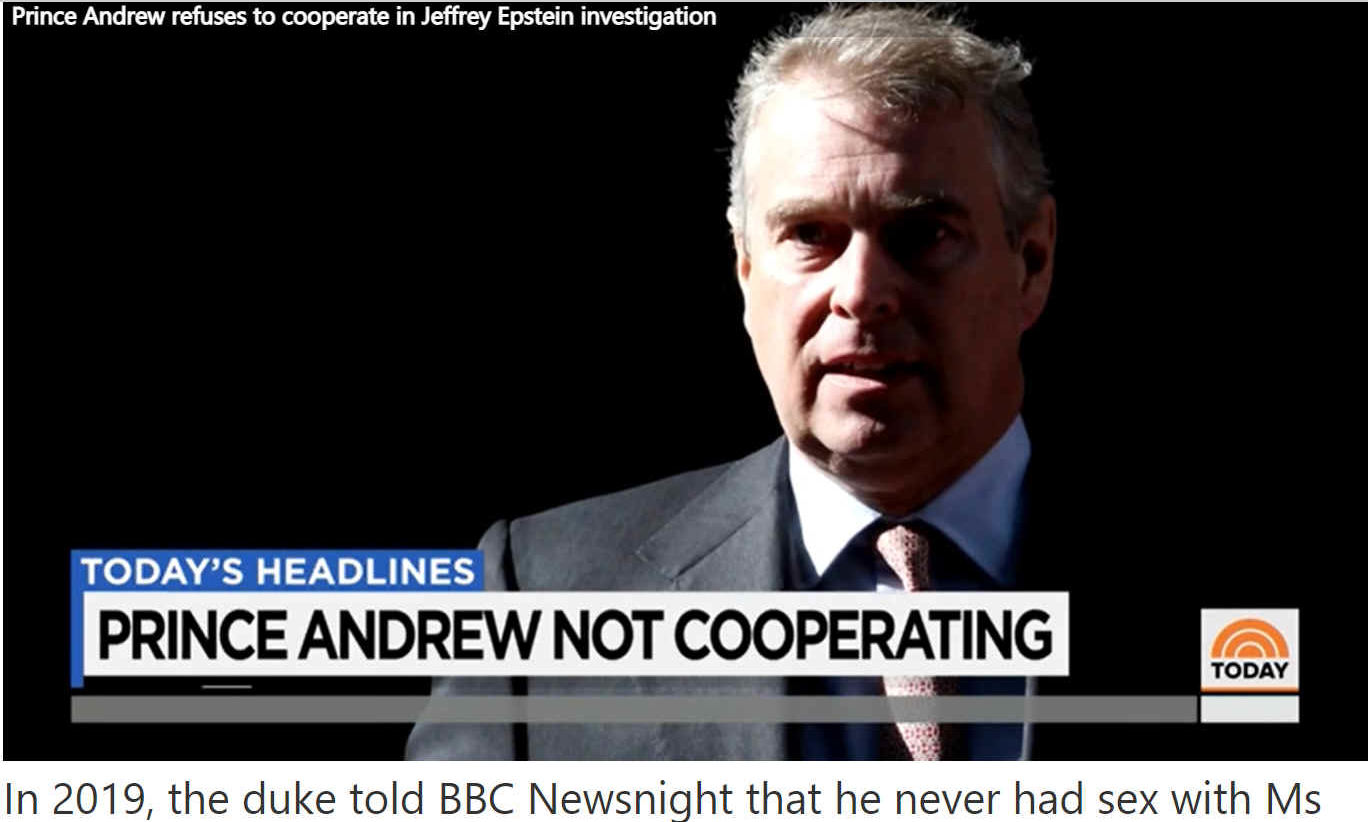 ASSOCIATED PRESS 9 AUGUST 2019 - Epstein accuser takes legal action against Duke of York over alleged assault

One of Jeffrey Epstein's long-time accusers is taking legal action against the Duke of York, saying he sexually assaulted her when she was 17 years old.

Lawyers for Virginia Giuffre filed the lawsuit against Prince Andrew in Manhattan federal court.

In a statement, Ms Giuffre said the lawsuit was brought under the Child Victims Act to allege she was trafficked to him and sexually abused by him.

"I am holding Prince Andrew accountable for what he did to me," she said.

"The powerful and rich are not exempt from being held responsible for their actions. I hope that other victims will see that it is possible not to live in silence and fear, but to reclaim one's life by speaking out and demanding justice."

"I did not come to this decision lightly," she added. "As a mother and a wife, my family comes first — and I know that this action will subject me to further attacks by Prince Andrew and his surrogates — but I knew if I did not pursue this action, I would be letting them and victims everywhere down."

In 2019, the duke told BBC Newsnight that he never had sex with Ms Giuffre, saying: "It didn't happen."

He said he has "no recollection" of ever meeting her and told an interviewer there are "a number of things that are wrong" about Ms Giuffre's account, which alleges the encounter occurred in 2001.

"I can absolutely categorically tell you it never happened," Andrew said.

According to the lawsuit, the duke abused Ms Giuffre on multiple occasions when she was under the age of 18.

It said that on one occasion, the prince sexually abused her in London at the home of Ghislaine Maxwell.

On another occasion, the duke assaulted her in Epstein's New York mansion, the lawsuit claimed.

Maxwell, 59, has pleaded not guilty to sex trafficking charges in Manhattan federal court, where she faces trial in November.

Epstein, 66, took his own life in a federal jail in Manhattan in August 2019, a month after he was arrested on sex trafficking charges.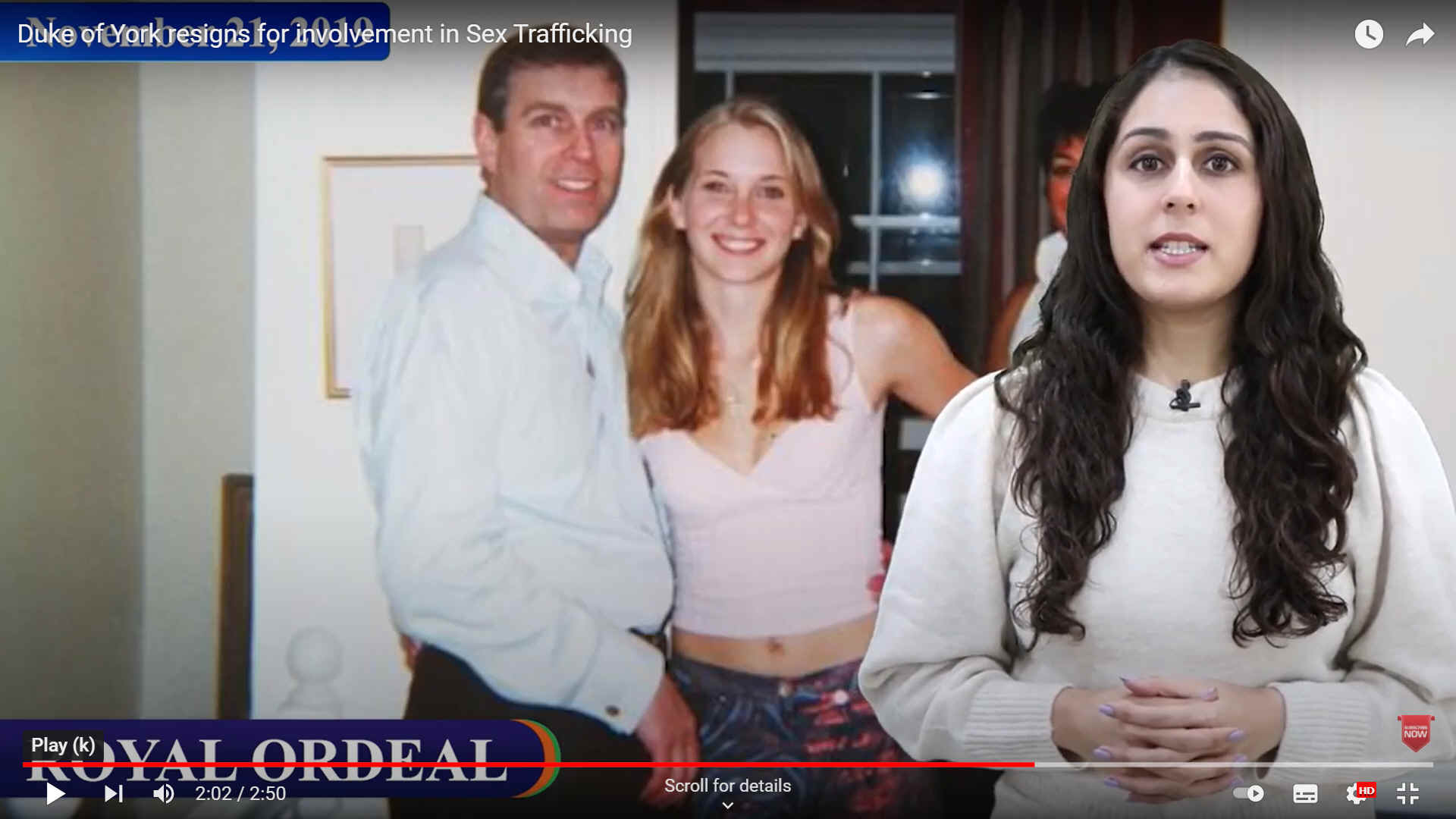 Crimes committed by a nation against it's own citizens are dealt with by the International Criminal Court, as per the Rome Statute. This is where the State concerned refuses to accept they are acting illegally. Nobody is above the law, including royalty by birth.


10 DECEMBER 2021 - CHARITY WATCHDOG INVESTIGATION PRINCE CHARLES'S SCOTTISH VILLAGE - A charity watchdog has launched an investigation into financial transactions used to bail out the Prince of Wales's struggling eco-village in Scotland. The Office of the Scottish Charity Regulator (OSCR) is already examining fundraising practices at the Prince's Foundation, following allegations that the Prince of Wales' closest former aide co-ordinated with "fixers" over honours nominations for a Saudi billionaire donor.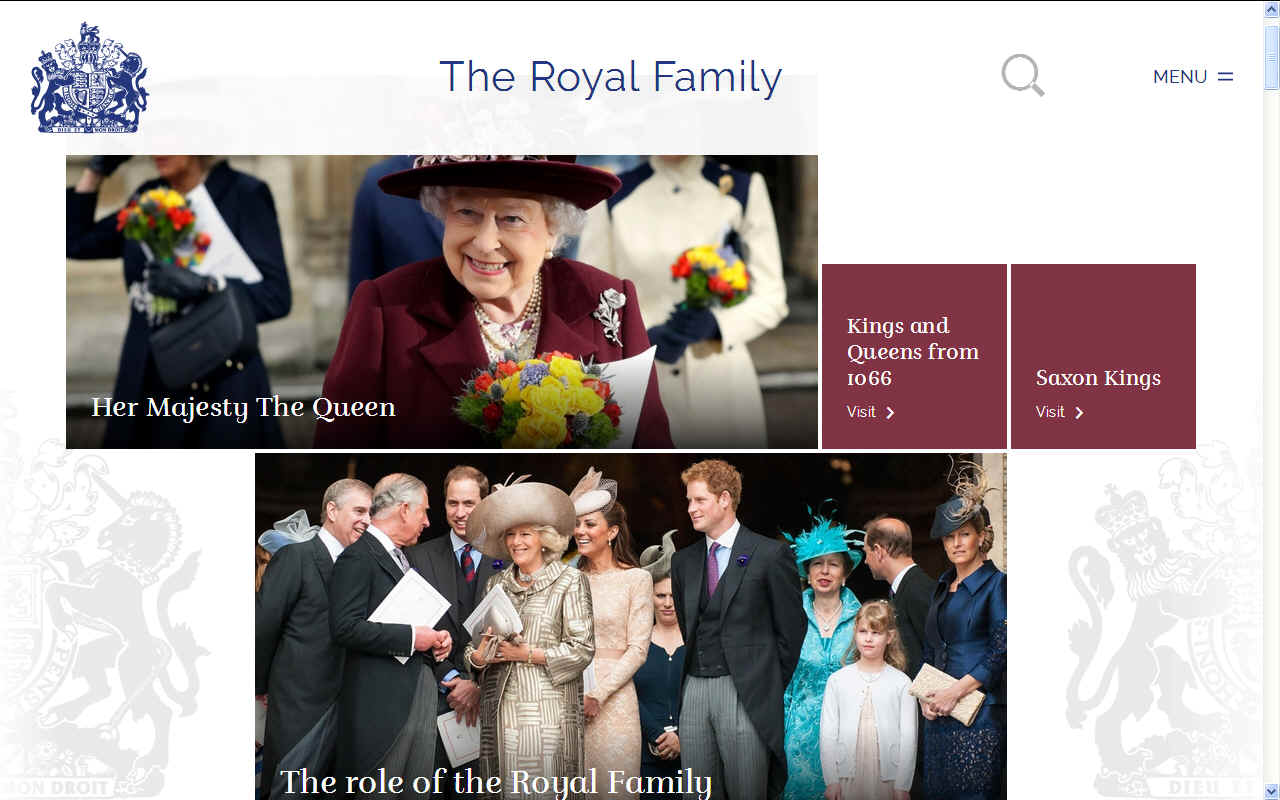 NOW IS THE TIME FOR CHANGE - Under the present system where the Head of State is a royal, and there is no written constitution, politicians like David Cameron and Boris Johnson can lie with impunity - even to Queen Elizabeth - and not face penalties. Police officers can shoot unarmed civilians and not be sent to prison, and planning officers can deceive the Secretaries of State and High Court judges, and not be prosecuted. In effect, it is alleged that there is little justice in England, Northern Ireland, Scotland and Wales. We aver that such machinations are costing the ordinary taxpayer, Treasury and the Crown (being the state) significant sums of money, while adding to the UK's carbon footprint. Hence, the country is not being run effectively by the at present; defective administration, not to serve its citizens, but to sustain and profit itself. Unlike the US Constitution of 1791 that exists to serve the people.
LINKS & REFERENCE
https://www.msn.com/en-gb/news/courts/epstein-accuser-takes-legal-action-against-duke-of-york-over-alleged-assault/ar-AAN7T69
https://www.msn.com/en-gb/news/courts/andrew-s-legal-team-stonewalling-lawyers-of-his-accuser/ar-AAN9XYk
https://www.msn.com/en-gb/news/courts/prince-andrew-s-legal-team-accused-of-being-totally-uncooperative-over-sexual-assault-allegations/ar-AANalqM
https://www.msn.com/en-gb/news/uknews/sorry-prince-andrew-but-you-can-t-stay-in-balmoral-forever/ar-AANbRpM
https://www.msn.com/en-gb/news/uknews/met-police-to-review-jeffrey-epstein-allegations-amid-prince-andrew-lawsuit/ar-AANeqs9
https://www.msn.com/en-gb/news/uknews/prince-andrew-s-1-5m-loan-paid-off-by-firms-linked-to-tory-donor-report/ar-AAQMCd7?
https://www.msn.com/en-gb/news/world/virginia-giuffre-s-lawyer-suggests-calling-meghan-markle-to-testify-in-prince-andrew-case/ar-AAS3f5u
https://www.msn.com/en-gb/entertainment/celebrity/prince-andrew-told-he-will-face-justice-after-ghislaine-maxwell-verdict/ar-AASi1eJ
https://www.bbc.co.uk/news/world-us-canada-59780323
https://www.msn.com/en-gb/entertainment/celebrity/prince-andrew-told-he-will-face-justice-after-ghislaine-maxwell-verdict/ar-AASi1eJ
https://www.bbc.co.uk/news/world-us-canada-59780323
https://www.msn.com/en-gb/news/world/virginia-giuffre-s-lawyer-suggests-calling-meghan-markle-to-testify-in-prince-andrew-case/ar-AAS3f5u
https://www.msn.com/en-gb/news/courts/epstein-accuser-takes-legal-action-against-duke-of-york-over-alleged-assault/ar-AAN7T69
https://www.msn.com/en-gb/news/courts/andrew-s-legal-team-stonewalling-lawyers-of-his-accuser/ar-AAN9XYk
https://www.msn.com/en-gb/news/courts/prince-andrew-s-legal-team-accused-of-being-totally-uncooperative-over-sexual-assault-allegations/ar-AANalqM
https://www.msn.com/en-gb/news/uknews/sorry-prince-andrew-but-you-can-t-stay-in-balmoral-forever/ar-AANbRpM
https://www.msn.com/en-gb/news/uknews/met-police-to-review-jeffrey-epstein-allegations-amid-prince-andrew-lawsuit/ar-AANeqs9
https://www.msn.com/en-gb/news/uknews/prince-andrew-s-1-5m-loan-paid-off-by-firms-linked-to-tory-donor-report/ar-AAQMCd7
Please use our A-Z INDEX to navigate this site