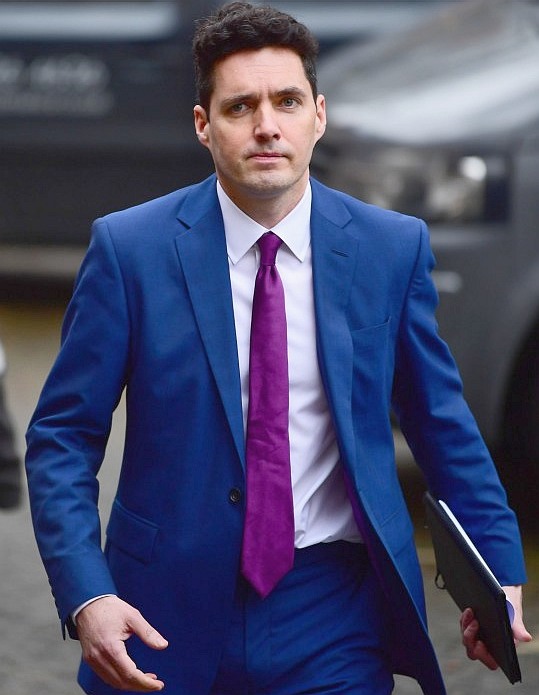 HUW MERRIMAN - The Conservatives MP for Battle, Bexhill and Herstmonceux
BT MONOPOLY - TRANSPORT COMMITTEE - CONSERVATIVE ASSOCIATION - WEALDEN COUNCILLOR
A GOVERNMENT UP SHIT CREEK WITHOUT A PADDLE
Huw Merriman is the local Member of Parliament for Bexhill, Battle and Herstmonceux, and has been for many years, so must know about the appalling state of the A271 road, especially so, as he is Chair of the transport committee. Yet, there are no plans to improve the B class road, masquerading as an A road, despite an increase in traffic to connect traffic from housing over-developments in Hailsham and Bexhill. Equally, there is a lack of infrastructure for electric vehicles like cars that need to park to charge, so need charging points - but where are they? And hydrogen for fuel cell powered HGVs is virtually non-existent. So what is the Transport Committee doing about it?
The local MP was copied in on (snail) postal correspondence between a resident in Herstmonceux, who alleges that for three years he has been given the run around by BT, pretending that they do not own, hence control, OpenReach:
Huw Merriman MP
29 – 31 Sea Road
Bexhill on Sea
East Sussex
TN40 1EE 27 August 2021

Dear Mr Merriman,

BT and Open Reach – Monopoly – Herstmonceux Broadband Dysfunctionality

I am writing to you as my local MP, where telecommunications in .......... (for others using TalkTalk - network provided by BT's OpenReach), falls way below the standard one should be entitled to in our digital age.

Please find enclosed copy of my letters to BT Group plc., and OpenReach Ltd., dated 14 August 2021, and my letter to Ofcom of even date.

The problem as I see it is that BT have a monopoly situation, and despite Ofcom suggesting the network provider and service provider should be divorced, to ensure independence. There has been no severance and BT ultimately controls OpenReach. Hence a monopoly exists, where I have no choice in service provider. All service providers rely on BT's network. The lack of competition means they can get away with substandard connections, leaving the consumer high and dry.
BT/OpenReach have engineered a business practice designed to disguise their failures to correct long term faults, by opening and closing complaints that are not fixed, but makes it look as though they are doing something. There is no effective remedy for the end user of limited means in the UK. For example, litigation is beyond the means of the ordinary man. ....................................

For all these reasons, I am asking you if you would consider exploring the possibility of asking a question in the House, as to what is being done for those in the country who are at the mercy of ruthless business practices. Also, if there is merit in bringing this situation to the attention of Oliver Dowden MP Secretary State (Digital) and/or Nadhim Zahawi MP Under Sec. State (Business), such as to engage the ministers with the relevant responsible portfolios.
Yours sincerely,
The same letter was copied to Mr Merriman by email dated 31st August 2021, including .pdf scans of the copy correspondence. As of 29th September 2021, there has been no reply to the complainant, making serious allegations as to ruthless business practices that may amount to fraud. Not even to confirm which other Ministers might be responsible, or interested.
Yet, interim, Mr Merriman has been quoted as the Chair of the Transport Select Committee:
"that the problem comes from the industry itself.

Speaking to the Today programme (28 September 2021), Conservative MP Huw Merriman said deploying soldiers was "not ideal" and that they would be better used elsewhere.

He added: "Let's just remember here, the Government doesn't drive the drivers to the forecourt."

"This is a private industry, I remember back in 2016 asking them what they were going to do to fix their industry, why is it that only one percent of all drivers are women, why is it that only two per cent of all drivers are under 25, why is the average age 55.

"Let's now hear from the industry about what they're going to do to get their own industry in order rather than just constantly asking the Government to step in."

Mr Merriman went on to say that he "does not agree" with the idea that Brexit is responsible for the crisis, adding that Germany and Poland are seeing a shortage of drivers despite remaining in the bloc."
It is understood that Mr Merriman is legally trained. It is understood that he was a Wealden District Councillor at one point in his career. By the way Huw, energy cannot be regarded as a 'Private Industry' where the interests of the public and the country as a whole are concerned, and the right to life. That is when an industry should be governed by strict rules and statute, with harsh penalties for failures, or even forfeiture of assets by the State, to ensure continuity of supplies. Energy is a National issue, where Privatisation is allowable, only if the companies concerned behave themselves.
Declarations of interests is also of concern, where MPs who have investments in fossil fuels and/or electricity utilities, or vehicles companies, should not be allowed onto committees where they may exert influence to foster personal gains.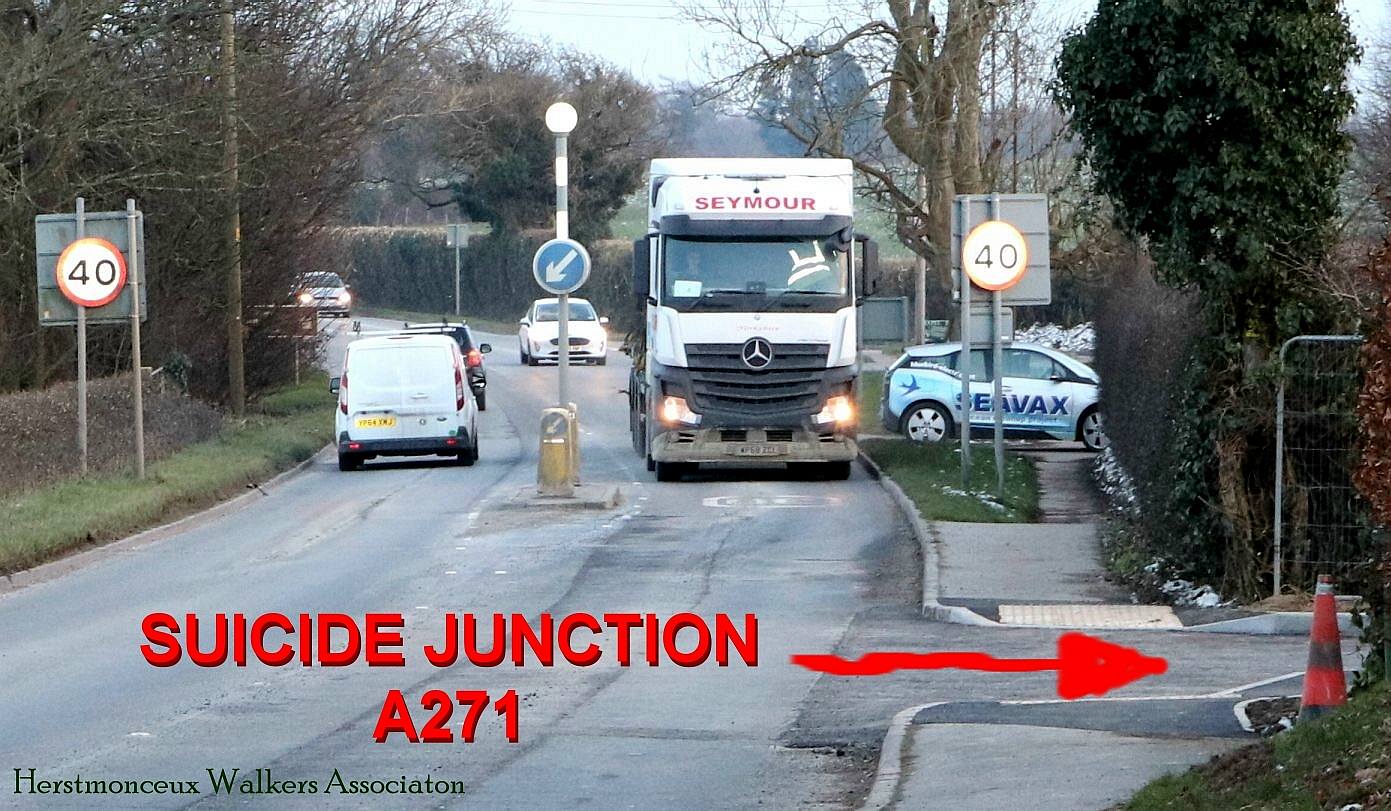 FEB 11 2021 - A large Mercedes truck approaches Suicide Junction, passing by the football grounds, into the 30 mph speed zone, up Death Hill. The average speed at approach is well over 40 mph in both directions. Being on a transport committee, we imagine that Mr Merriman will be particularly concerned about potentially dangerous junction, overloading of the A271's limited infrastructure and potholes that are prevalent in along this stretch of country road in Sussex.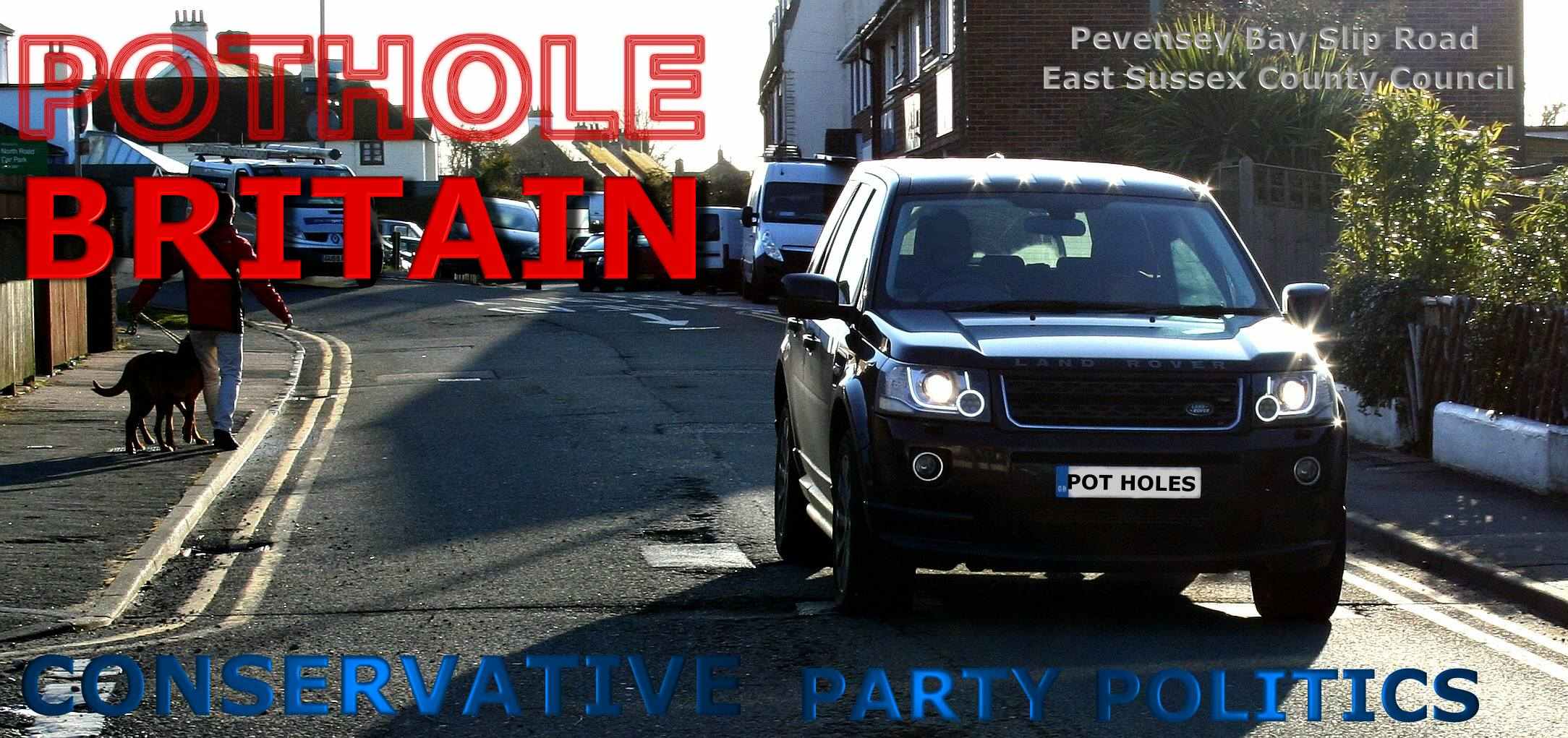 DOWNRIGHT DANGEROUS - We pay our taxes but get no value for all our hard earned pounds. Don't forget that our income is taxed along with just about everything we buy. Even buying a house is subject to stamp duty and dying also costs money with death duties. Shit! How are they getting away with bleeding the electorate dry like this and not even providing roads without potholes. We've got no chance with Covid-19 and the dysfunctional NHS.

Merriman has been the chair of the Transport Select Committee since 29 January 2020. He had previously been a member of the committee since September 2017.
Communications as to transport issues have also been disregarded and not been acknowledged. We wonder as to the Code of Conduct, with reference to correspondence and the special duty to constituents, even if inconvenient to career prospects.
MPs CODE OF CONDUCT

The Code of Conduct sets out the standards of behaviour and rules of conduct that apply to MPs in all aspects of their public life. It doesn't regulate what MPs do in their purely private and personal lives. MPs who are ministers must also adhere to the Ministerial Code.

The Guide to the Rules relating to the Conduct of Members is published in the same document as the Code of Conduct and provides detailed guidance on your obligations, including the requirements to disclose financial and other interests and to avoid paid advocacy.

If you need advice on the Code of Conduct or the Guide to the Rules, you can contact the office of the Parliamentary Commissioner for Standards.

The Parliamentary Commissioner for Standards is responsible for investigating breaches of the Code of Conduct, and considers complaints about MPs—whether from other MPs or the public. If the Commissioner finds a relatively minor breach of the rules and the MP agrees to apologise and take any action necessary to put matters right, the Commissioner may uphold the complaint and confirm that it has been rectified.
If the Commissioner finds a more serious breach of the rules or identifies an issue of wider concern, those findings are reported to the Committee on Standards—a cross-party select committee of MPs that also includes lay members. The Committee on Standards then recommends to the House what action, if any, should be taken.

The Parliamentary Commissioner for Standards may not investigate complaints about:

- policy matters

- an MP's views or opinions

- an MP's handling of or decision about a case, including their handling of correspondence, whether or not anyone involved is a constituent of the MP - unless the MP's conduct significantly damages the reputation of the House as a whole or of its Members more generally

The Parliamentary Commissioner for Standards also considers reports of investigations into alleged bullying, harassment or sexual harassment by MPs, under the Independent Complaints and Grievance Scheme. The Commissioner may resolve these informally, using a range of remedies, or in more serious cases may submit a report to the Committee on Standards.


CONTACT HUW

29-31 Sea Road
Bexhill on Sea
East Sussex
TN40 1EE

01424 736861
huw.merriman.mp@parliament.uk
Human Rights Act 1998 - Public authorities
Section 6 - Acts of public authorities.
6. - (1) It is unlawful for a public authority to act in a way which is incompatible with a Convention right.

(2) Subsection (1) does not apply to an act if-

(a) as the result of one or more provisions of primary legislation, the authority could not have acted differently; or

(b) in the case of one or more provisions of, or made under, primary legislation which cannot be read or given effect in a way which is compatible with the Convention rights, the authority was acting so as to give effect to or enforce those provisions.

(3) In this section "public authority" includes-

(a) a court or tribunal, and

(b) any person certain of whose functions are functions of a public nature,

When taken in the context of an inferior communications service, the internet and telephone services have been held to be a basic human right. To fail to provide a service that is equal to the services of other users, is discriminatory. A violation of Article 14 of the Human Rights Act 1998.
In the event that any agency fails to act to preserve the rights of the complainant, it falls to the Courts to intervene in exceptional circumstances. But that would not look good for BT, OpenReach or the Ombudsman, who it appears does not at the time of writing, comprehend company law, ownership and control.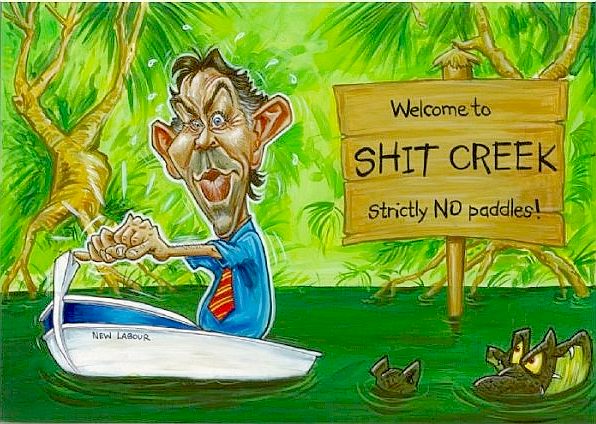 TONY BLAIR - Mistakes can be forgiven, attacking another country based on bogus intelligence is unforgivable. It is trying to justify what amounts to murder with bullshit.

CABINET MPS -MARCH 2020
Chancellor Exchequer

Priti Patel

Home Secretary

Dominic Raab

Foreign Secretary

Michael Gove

Chancellor D. Lancaster

Ben Wallace

Defence Secretary

Matt Hancock

Health & Social Care

Liz Truss

International Trade

Gavin Williamson

Education

Oliver Dowden

Culture

Alok Sharma

MP Reading West

Robert Jenrick

Housing, Local Gov.

Therese Coffey

Work & Pensions

Robert Buckland

Justice

Anne-Marie Trevelyan

International Dev.

Transport

George Eustice

Environment

Brandon Lewis

Northern Ireland

Alister Jack

Scottish Sec. State

Simon Hart

Welsh Sec. State

Baroness Evans

Leader Lords

Amanda Milling

Party Chairman

Jacob Rees-Mogg

Leader Commons

Mark Spencer

Chief Whip

Suella Braverman

Attorney General

Stephen Barclay

Treasury Sec.
CONSERVATIVE MPS 2017-2020
Boris Johnson - Prime Minister

MP Uxbridge & South Ruislip

MP for Richmond, Yorkshire

MP Welwyn Hatfield

Philip Hammond

MP Runnymede & Weybridge

Alok Sharma

MP Reading West

Damian Green

MP for Ashford

Gavin Williamson

MP South Staffordshire

Liam Fox

MP North Somerset

David Lidlington

MP for Aylesbury

Baroness Evans

MP Bowes Park Haringey

Jeremy Hunt

MP South West Surrey

Justine Greening

MP for Putney

Chris Grayling

MP Epsom & Ewell

Karen Bradley

MP Staffordshire Moorlands

Michael Gove

MP Surrey Heath

David Gauke

MP South West Hertfordshire

Sajid Javid

MP for Bromsgrove

James Brokenshire

MP Old Bexley & Sidcup

Alun Cairns

MP Vale of Glamorgan

David Mundell MP

Dumfriesshire Clydes & Tweeddale

Patrick McLoughlin

MP Derbyshire Dales

Greg Clark

MP Tunbridge Wells

Penny Mordaunt

MP Portsmouth North

Andrea Leadsom

MP South Northamptonshire

Jeremy Wright

MP Kenilworth & Southam

Liz Truss

MP South West Norfolk

Brandon Lewis

MP Great Yarmouth

MP

Nus Ghani

MP Wealden

Huw Merriman

MP Battle

Steve Double

MP St Austell & Newquay

Sarah Newton

MP Truro & Falmouth

Rebecca Pow

MP Taunton Deane

Jacob Rees-Mogg

MP Somerset

Gavin Williamson

MP Staffordshire

Thérèse Coffey

MP Suffolk Coastal

Caroline Ansell

MP Eastbourne

.

David Davis

MP Haltemprice & Howden

Claire Perry

MP for Devizes

Amber Rudd

MP Hastings & Rye

.

Theresa May - former PM

MP for Maindenhead

David Cameron

Former Prime Minister

John Major

Former Prime Minister

Margaret Thatcher

Former Prime Minister
LINKS & REFERENCE
https://www.msn.com/en-gb/money/other/fuel-industry-needs-to-get-their-own-house-in-order-rather-than-constantly-asking-the-government-to-step-in/ar-AAOTXbB
https://www.huwmerriman.org.uk