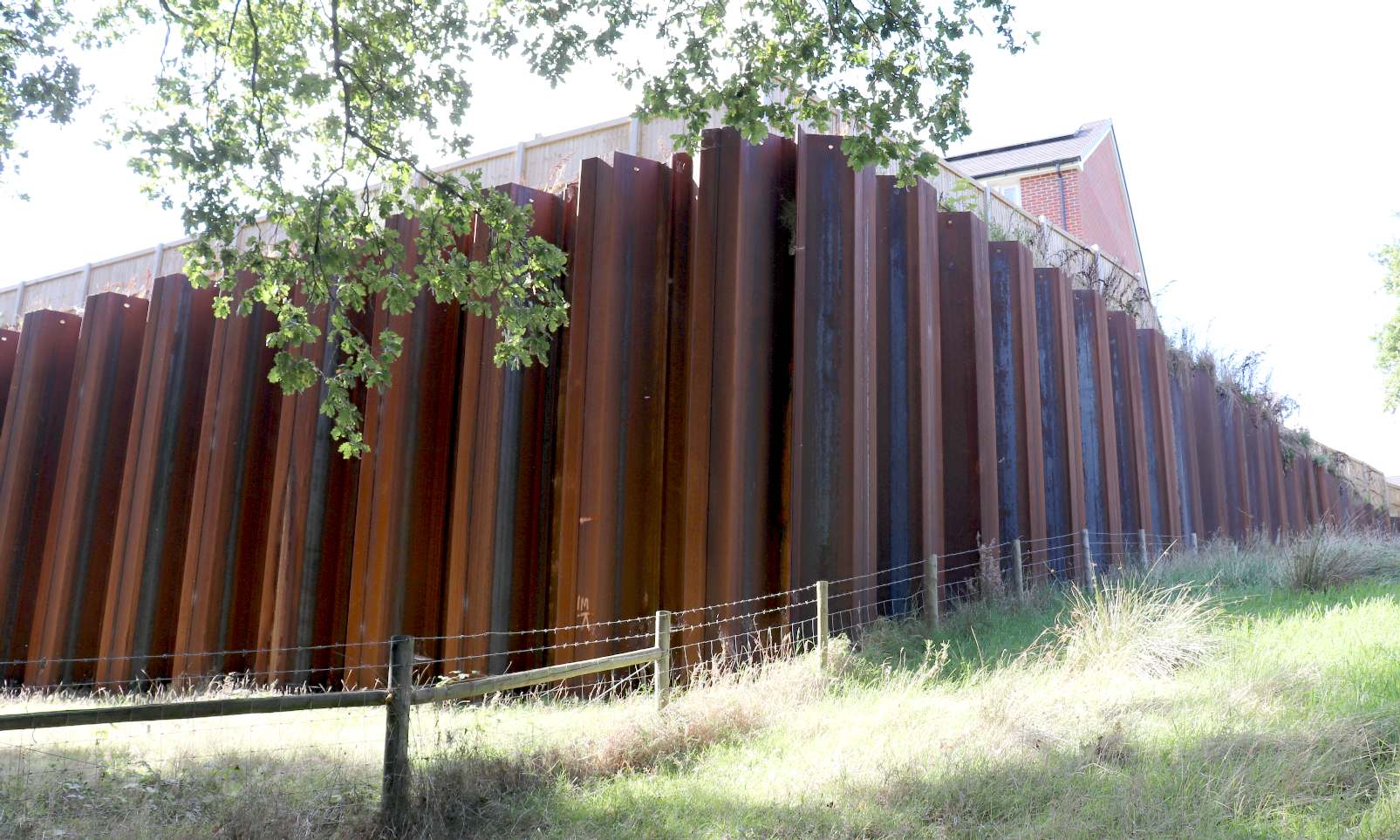 THE BROWN CLIFFS OF HERSTMONCEUX - Unlike Dover, with their beautiful white cliffs, in Wealden they like the colour brown so much they gave planning permission to build this artificial edifice in the country - taking with it the natural beauty of the countryside for walkers - and - or so it seems, polluting the watercourse downstream. Shit! We wonder if they still use brown envelopes to deliver perks to those in the decision making pipeline. We bet you'll not find a poor planning officer in this region. You might in other regions where the idiotic permissions don't flow quite so freely. In Wealden water flows uphill and shit is pumped from one place to another.
This is the arse end of Oak Way, Elm Close and Hawthorn Lane. All part of the Woodland View development along Hailsham Road (A271) just past the village hall, heading to Magham Down. We think you'd have to be nuts to buy a house standing on anything quite so ugly. But, people are buying, or buying to let.
All it took was thirty pieces of silver for Judas Iscariot to betray Jesus Christ. How much did the Parish council benefit by and from what source? Who else has sold out to developers for money?
It's all about the money, or is it. There are many reasons why people sell out their own community. It might not be their community, or they may have grown to dislike their neighbours, and fancy one last pot-shot as they leave the area.
However it works, there will always be those looking to profit from the pain of others, regardless of the harm they are doing in conservation terms and global warming. In such cases killing wildlife or helping developers to build eyesores - would not phase them.
A case in point is the alleged granting of rights to Latimer Developments and/or Clarion Group, to run surface water from the proposed 70 houses in the field below, through a pond that is only half owned by Alison Deshayes.
This pond leads to another pond, then to a stream. The ponds support wildlife, including ducks, moorhens and at least one heron. The heron feeds on the fish. The Ducks feed on pondweed and the fish feed on other fauna. Surface water pollution from 70 houses, running through these ponds is sure to have a deleterious effect on the fish and pondweed, contrary to the Conservation of Habitats & Species Regulations 2017.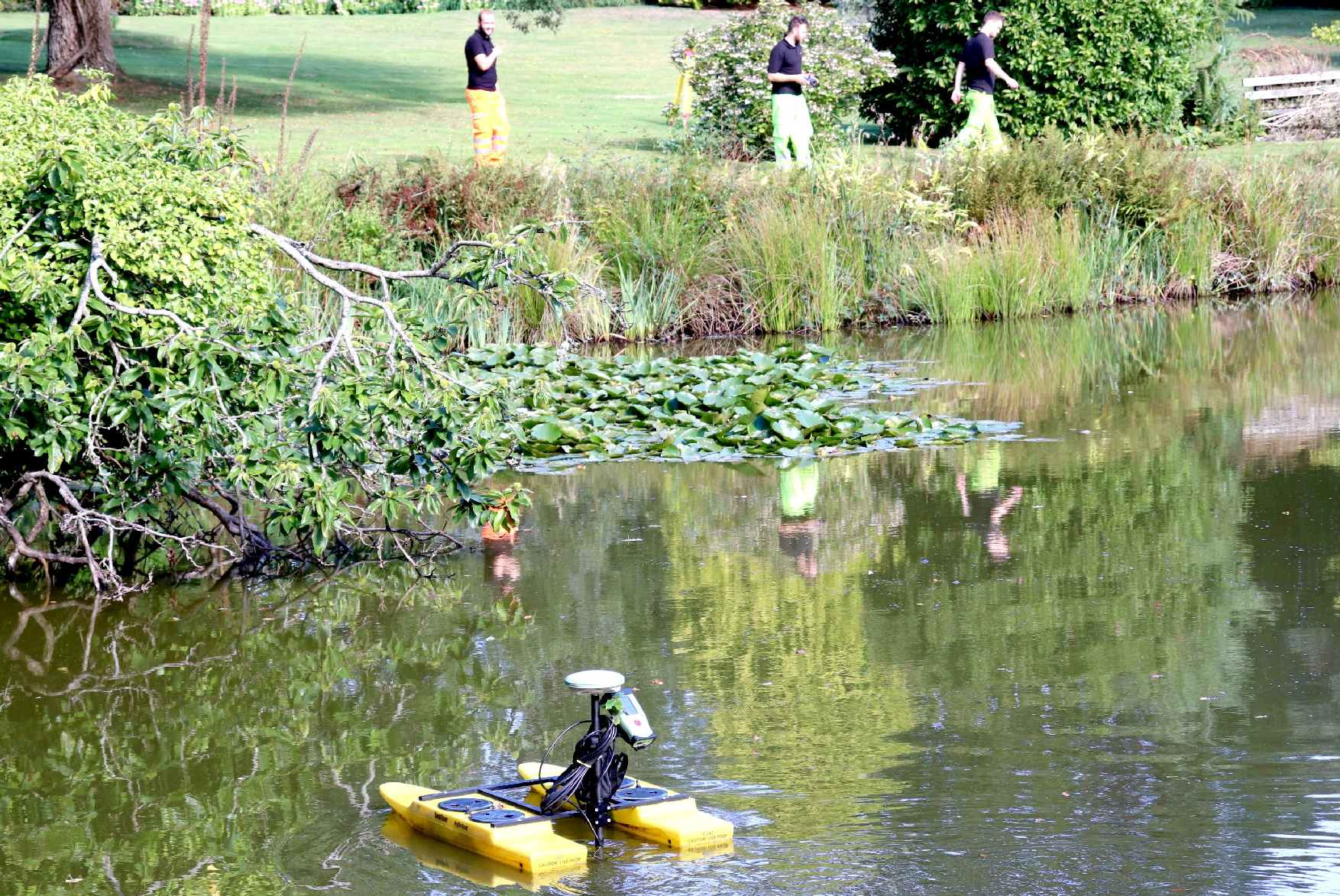 MK Surveys, working a drone during a survey of the pond on Wednesday 9th September 2020. In undertaking this work, they frightened away the ducks and heron. The pond is (or was) well stocked with fish.
Nobody has yet undertaken a Wildlife Survey, hence the decision to grant planning permission may well be ultra-vires, in that the process was procedurally flawed. Yet, MK Surveys were (apparently) instructed by Alison Deshayes to survey the pond she only owns half of, for pipes. Presumably, inlet and outlet pipes. A sum of £70,000 thousand pounds has been bandied about as the possible payoff to top up her inheritance.
Strangely enough, there was a meeting between the developers and all three pond owners, one of which was Peter Townley (father of the present 1/3rd owner, Alison Deshayes), when all three of the pond owning parties stated that they were dead against any use of the pond. Then Peter Townley passed away and probate was granted to Mrs Deshayes in January 2020. It appears then, that Mrs Deshayes has gone against the stated wishes of her father at the tri-party meeting. We wonder what might have been said in any Will?
Southern Water has already frightened off a badger from the sewage holding area, and there is another badger in Lime Park. Or maybe it is the one they disturbed with their bulldozers earlier this year. It is understood Southern Water, or the Developers denied that there was a badger in evidence. Convenient myopia or what!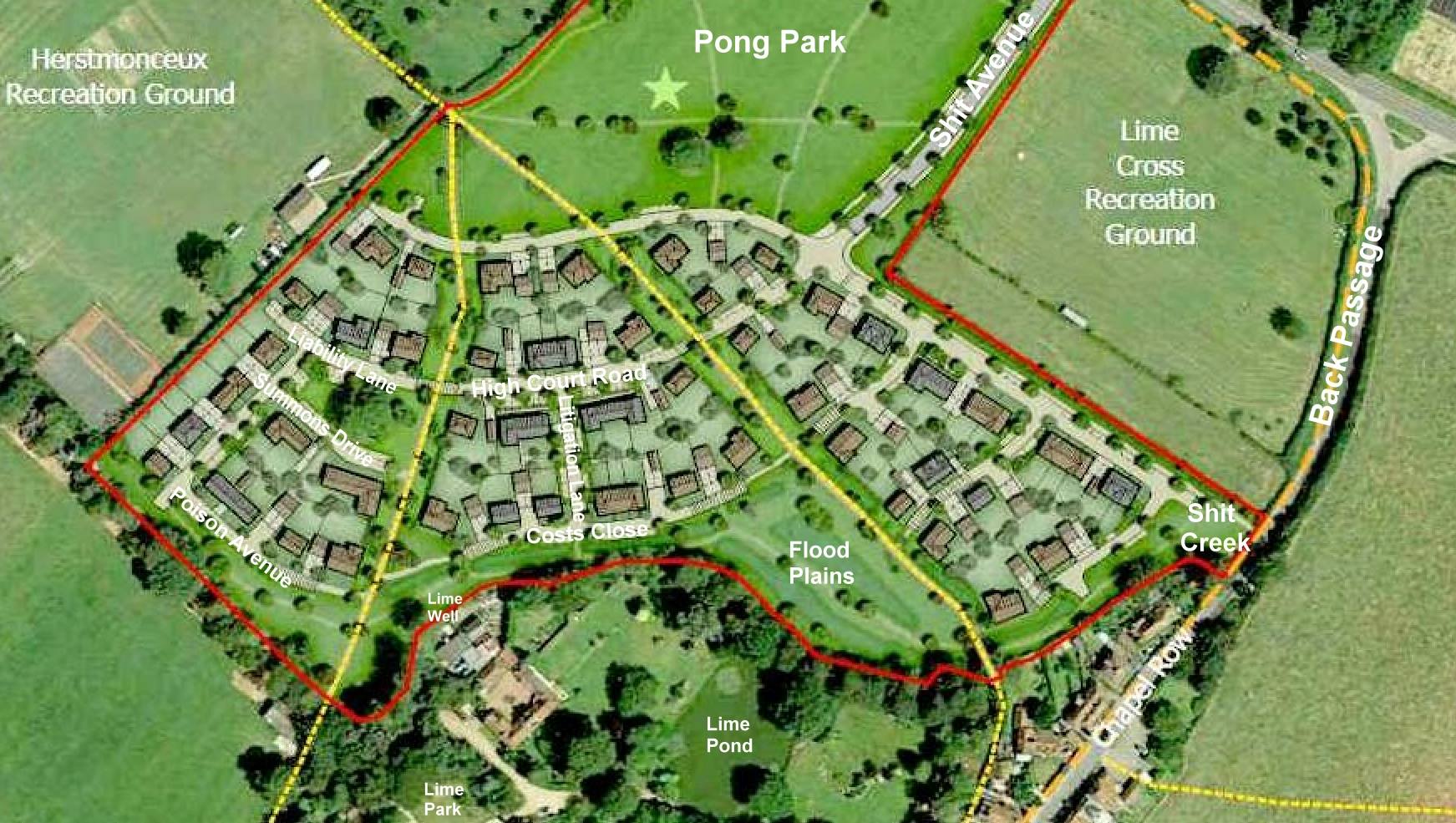 COUNTRYSIDE ABOMINATION & HUMAN RIGHTS VIOLATIONS - If you buy one of these (proposed) houses, not only will you be adding to global warming, but you could be letting yourself in for many years of litigation, not least of which is the potential to be charged under groundwater contamination laws. At least 40% of the houses shown are in a direct line to poison the only working well in the village - Lime Well - in the lower left of the picture. The developers will also fall foul of the Human Rights Act 1998, for interfering with the peaceful enjoyment of a water supply.