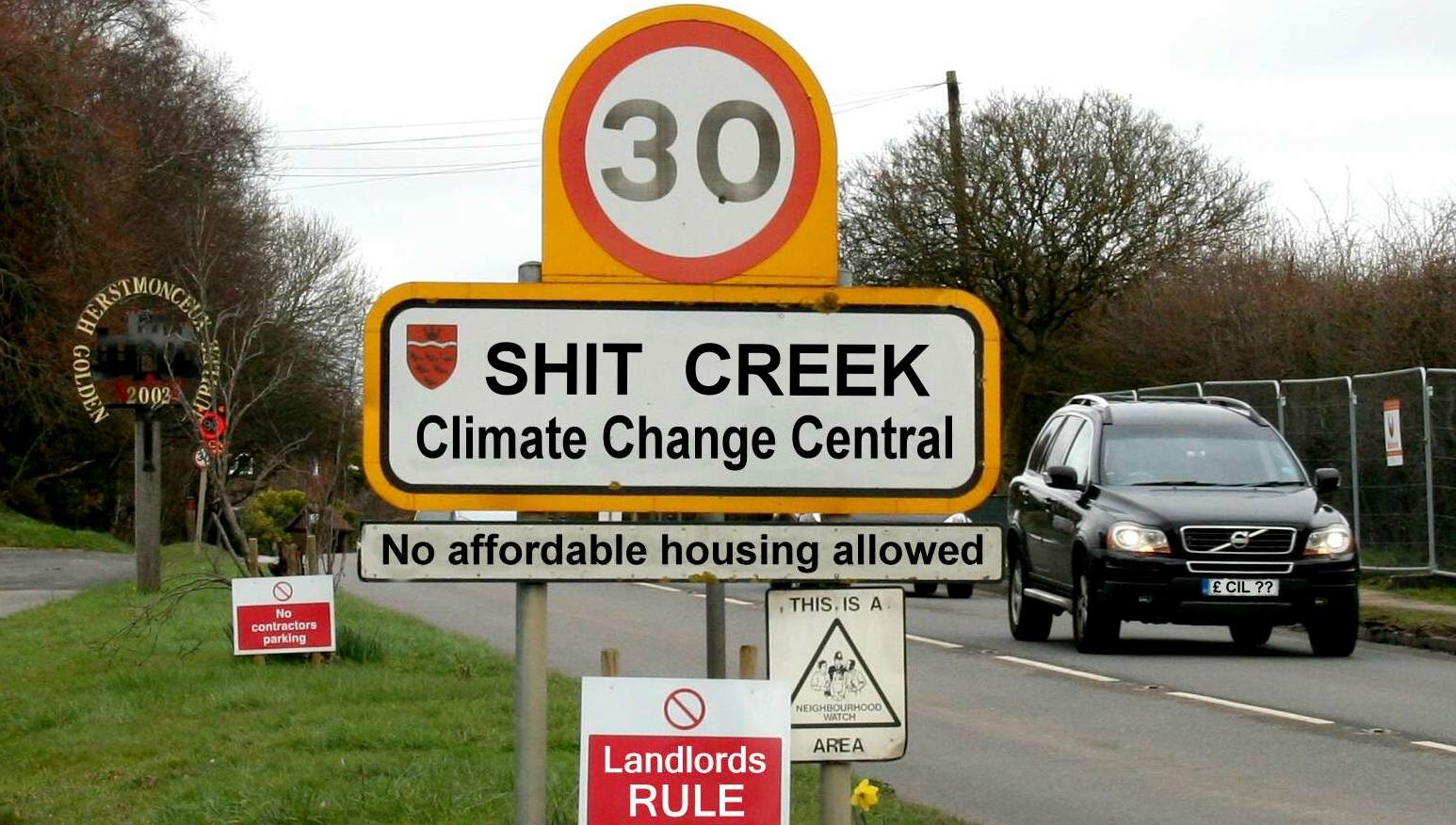 TELL THE TRUTH - The village of Herstmonceux is rapidly becoming a service deprived suburb of Hailsham, without transport to secondary schools, or affordable housing for the locals. It is a climate change nightmare, where the controlling Councillors appear only to be looking for CIL tax payments to prop up all of their unsustainable planning decisions over the years. It is a veritable breeding ground for more financial slavery via exploitation by wealthy landlords, regardless of the consequences for planet earth.
WHAT OR WHERE IS SHIT CREEK?
Shit Creeks exist in many locations around the world where there are problems. The popular phrase means an extremely bad situation: "Up shit creek without a paddle."
But in some cases it actually involves real shit, as in human faeces and sewage - and run-off pollution.
One case in point, a real live issue in 2020, a Shit Creek in the making, is part of a village in Sussex at present called Herstmonceux, but rapidly gaining a reputation for over development that is unsustainable, such that a name change to reflect what is happening, is perhaps on the cards.
Yup, Wealden took a dump all over the locals, who objected most strongly to a proposal for 70 additional houses by Tim Watson, during a packed session at the village hall in 2016.
The village was fine when it was (relatively) stable in terms of the numbers of residences in relation to the ratio of services. Herstmonceux had a small school, pharmacy and a doctor's practice and even a fire station - all in proportion to the population, but even then there were parking and traffic congestion problems along Gardner Street, where the A271 was not designed to carry the increase of traffic as Wealden's (lackluster) planners loaded other villages and towns with more and more housing. More importantly, the sewage system was borderline, having had problems with spillages.
Can you imagine the chaos with 70 more homes on this stretch of potholed road and more poop passing from Chapel Row to Victoria Road?
Did you know that the Secretary of State recently rejected Wealden's Local Plan? That is how poor Wealden's planning executives are rated. Shit!
Clearly, council planners had not heard about the climate emergency, and clearly the overpaid planning officers decided they could ignore 'United Nations' directives as to circular economics, such as to justify their exorbitant salaries.
They decided to overload this small community with housing estates, the objective being to raise taxes - no matter what the environmental cost. Or what shit might follow from their poor short-term decision making. See Maggie Thatcher's demise as to selling us short.
It's all about the Community Infrastructure Levy (CIL) payments. But this council has no intention of using CIL payments to provide an infrastructure for the locations they are raking in the cash from - or we'd already have better service roads. It's just more shit, the taxpayer has to suffer from incompetent local authorities to furnish their overly generous pensions. Sugar to them, shit for the taxpayer.
Deservedly so, we agree with the name Pothole Politics, Wealden is an example of the worst local authorities in England.
If new development is not zero carbon, we are creating deserts elsewhere, melting ice caps and killing species. The mindset of developers and planners in a so-called enlightened country - tells us that planet earth is neck-deep in moral shit. What will they be doing in lesser informed States?
Wealden had not heard about the Climate Change Act 2008, nor the developers: Gleeson, Thakeham, and Clarion, apparently. Because their full application fails to address climate change, by not including solar water heaters, PV panels, wind turbines or charging points for electric vehicles. In fact, nothing to quell rising temperatures or provide energy self-sufficiency.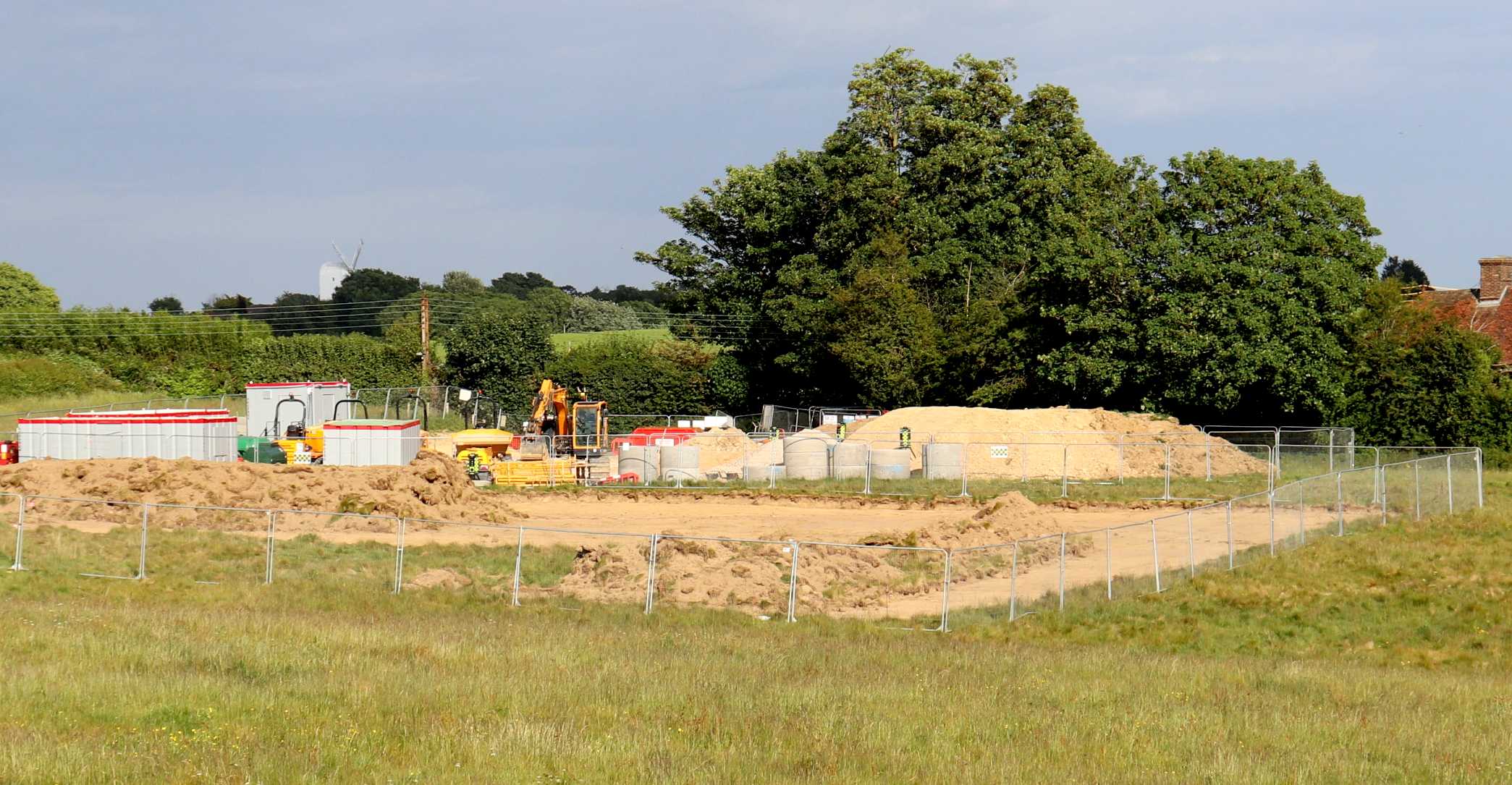 MAY 2020 - Southern Water getting stuck into their newest shit pumping station in Herstmonceux, Sussex.
DRAINAGE & POLLUTION
Enter the drainage and pollution problems. This unfortunate sequence of events began when Tim Watson, a former estate agent, decided to apply for planning permission in 2015. He had purchased a field that had been enjoyed by walkers for over a hundred years, where the field had only had two registered footpaths, but another half dozen unregistered paths. Applying for consent to erase the local facility was hardly the social thing to do in our view. Where was his community spirit we wonder?
The field had been deemed unsuitable for housing and was outside the village framework. But then the Parish Council decided to give Mr Watson planning consent for 70 houses, 30 of which were to be affordable. The term affordable, being questionable in real income terms.
The problem being that the development would produce around 140 turds a day minimum and who knows how much urine, but more likely many more dumps as each new home may house a family of three or four, coupled with other gray waste water, and the local works down the hill could not cope with that much shit.
Equally, water run off from 70 houses would create a pollution problem for water courses downstream, killing the wildlife. And lastly, the only surviving well in the village, would be poisoned by pesticides from the gardens of the proposed new houses - in contravention of the Groundwater Regulations 2009.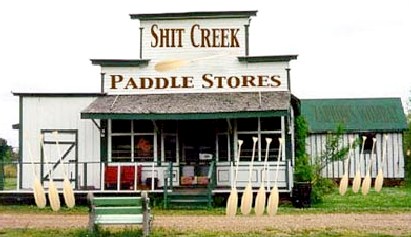 CLIMATE CHANGE
It appears from the plans that the proposed new housing is bereft of climate mitigation features, hence adding to global warming. Making Herstmonceux and Wealden Councillors guilty of crimes against the planet, in addition to the creation of sewage and ground pollution problems. They are going to need some pretty big paddles in the years ahead, to try and escape the smell from their past misdeeds. Of which there are plenty, that they'd rather you did not know about.
NO BOND AGAINST CLAIMS
Concerned locals asked for a bond in case of claims against pollution. Wealden refused. Meaning that any person buying one of the proposed houses near Shit Creek, will be personally liable, or would have to sue Wealden for negligence in the event of a claim, but they will blame the developers - and the developers might no longer exist once they've sold all the houses they may have built. Concerns as to groundwater pollution may even invalidate any house insurance, once the insurers are apprised as to the risks. So, buyer beware. There are hidden pitfalls.
Before buying anything in this location, we would suggest seeking the advice of potential insurers, and perhaps taking independent legal advice on the subject. If we hear from the developers as to these issues, rest assured we will share any useful information or rebuttals. It may be that after all there is an unpublished contingency plan.
The users of the well that stands to be contaminated, have nothing in writing from the developers as to settling claims. Whereas, the Environment Agency confirm that there is a risk from houses - especially from those within a 100 meter radius.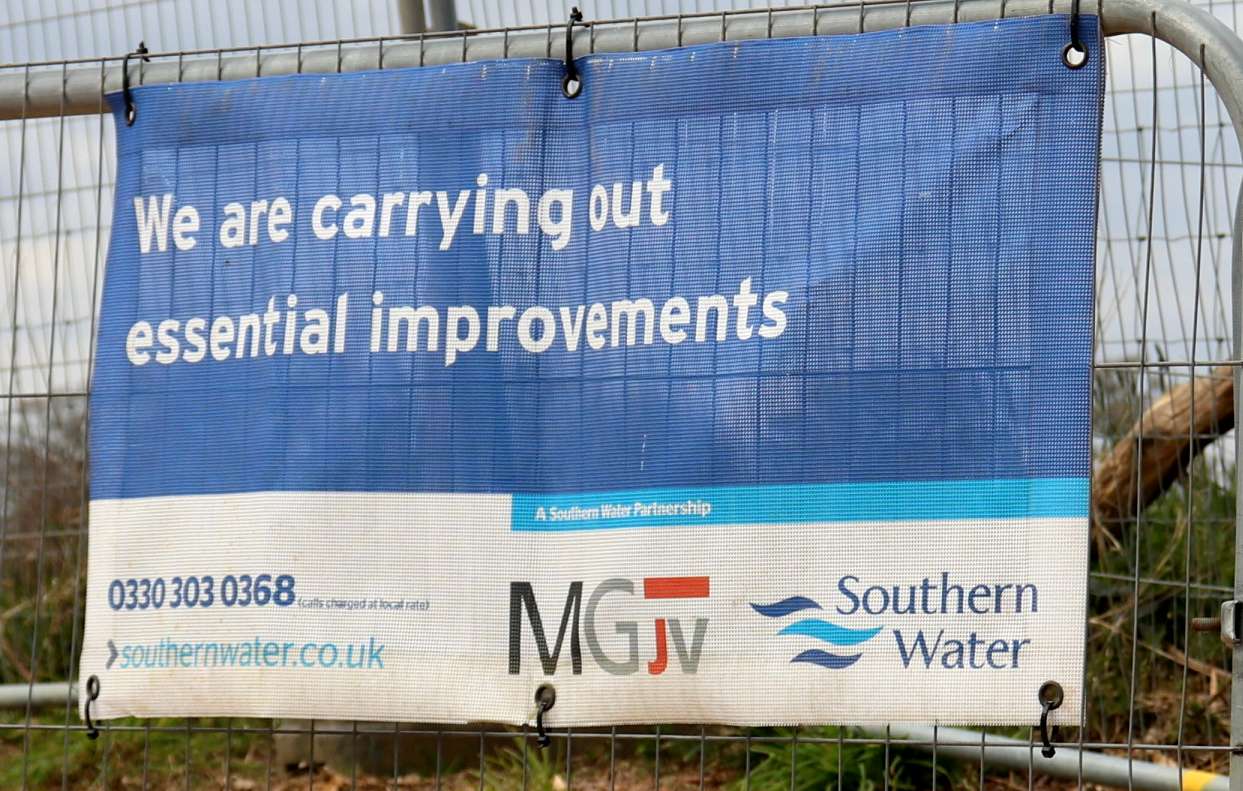 ARE THEY SURE? - Southern Water say these are essential improvements. But are they? Many concerned residents are of the opinion that the village was already overloaded. Meaning that these works are more profiteering from over-development of the countryside. It's hot enough already without raising the temperature of planet earth more!
SOUTHERN WATER
The contractors for sewage disposal, is Southern Water. Of course they are used to dealing with shit. Shit is their bread and butter. They appear not to care about pumping shit from one location to another, despite the un-sustainability of such proposals. They just want their slice of the brown cake and to make sewage charges for another pooh palace. It's all about profits.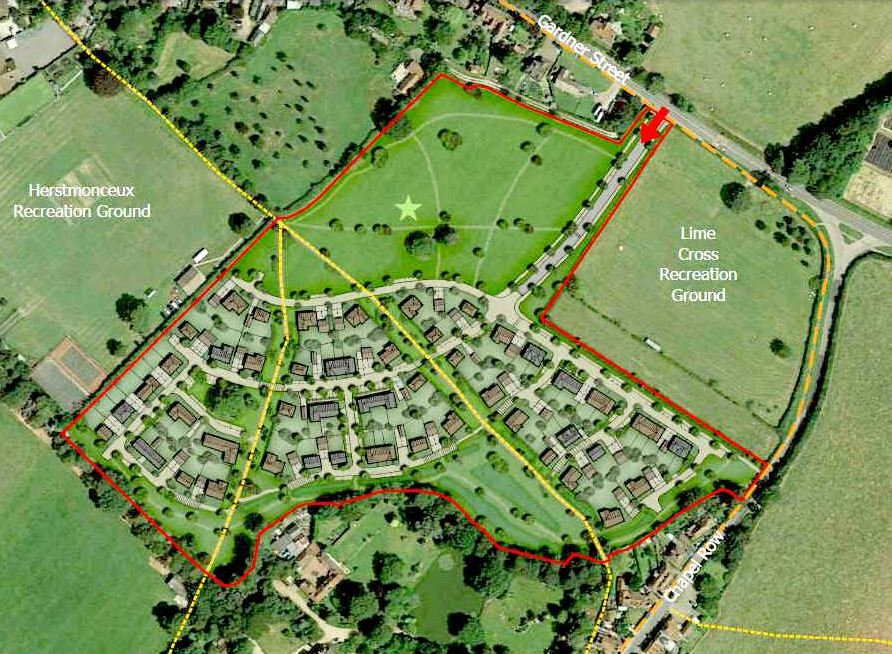 COUNTRYSIDE ABOMINATION - If you buy one of these (proposed) houses, not only will you be adding to global warming, but you could be letting yourself in for many years of litigation, not least of which is the potential to be charged under groundwater contamination laws. At lest 40% of the houses shown are in a direct line to poison the only working well in the village - in the lower left of the picture.
GROUNDWATER CONTAMINATION
Groundwater contamination is a situation which arises when groundwater becomes polluted by substances of human origin. Since groundwater is generally regarded as safe to drink, groundwater contamination can become a serious issue, as people may drink the water, not realizing that it has become dangerous to consume. There are a number of potential sources of groundwater contamination, making regular testing of groundwater supplies critical to ensure that the water is still clean.
Groundwater is water which is stored underground. It forms when water from lakes, rivers, streams, snow melt, and rain trickles underground, becoming trapped there. When a deposit of groundwater is large enough to sustain human consumption, it becomes known as an aquifer. There are two primary types of aquifers: confined and unconfined. In a confined aquifer, the groundwater is surrounded by an envelope of impermeable rock, while an unconfined aquifer is surrounded by permeable materials, putting it at risk of contamination.
Chemicals, road salt, bacteria, viruses, medications, fertilizer, and fuel can all cause groundwater contamination. Some common sources of contamination include: leaking storage tanks, the use of chemicals in farms, landfills, poorly controlled hazardous waste sites, and septic systems. Groundwater contamination can also occur when factories dump materials into surrounding waterways, and when polluted runoff from storm drains reaches the aquifer.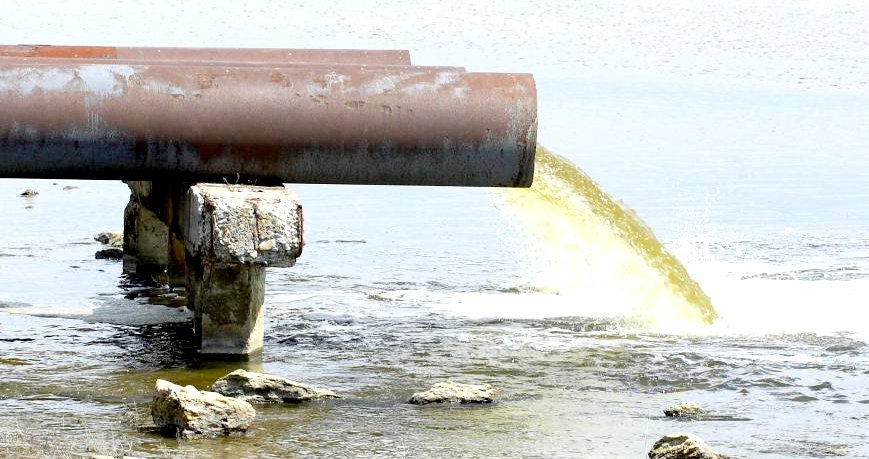 Many nations have strict laws concerning the release of pollutants, to prevent groundwater contamination and other environmental problems associated with pollution. However, regular inspection of the thousands of potential sources of pollution is simply not possible, and nations rely on individual citizens and companies to exercise caution when it comes to handling and disposing of materials which could cause groundwater contamination.
Once the aquifer is contaminated, it is very difficult to clean up. Sometimes, the water can be cleaned with filtration systems, but in other cases, it may be rendered useless. Since much of the world's supply of drinking water comes from groundwater, this makes groundwater contamination a serious problem. Especially in a community which cannot afford to ship in clean sources of water, people may be forced to drink the contaminated groundwater, because there is no alternative.

The issue of groundwater contamination is one reason why artesian wells are so popular. Artesian wells are wells which have been sunk into confined aquifers, accessing water which is locked safely inside a layer of impermeable rock. The water from such wells tends to be pure, and sometimes very flavorful, thanks to the dissolved minerals from the surrounding rock.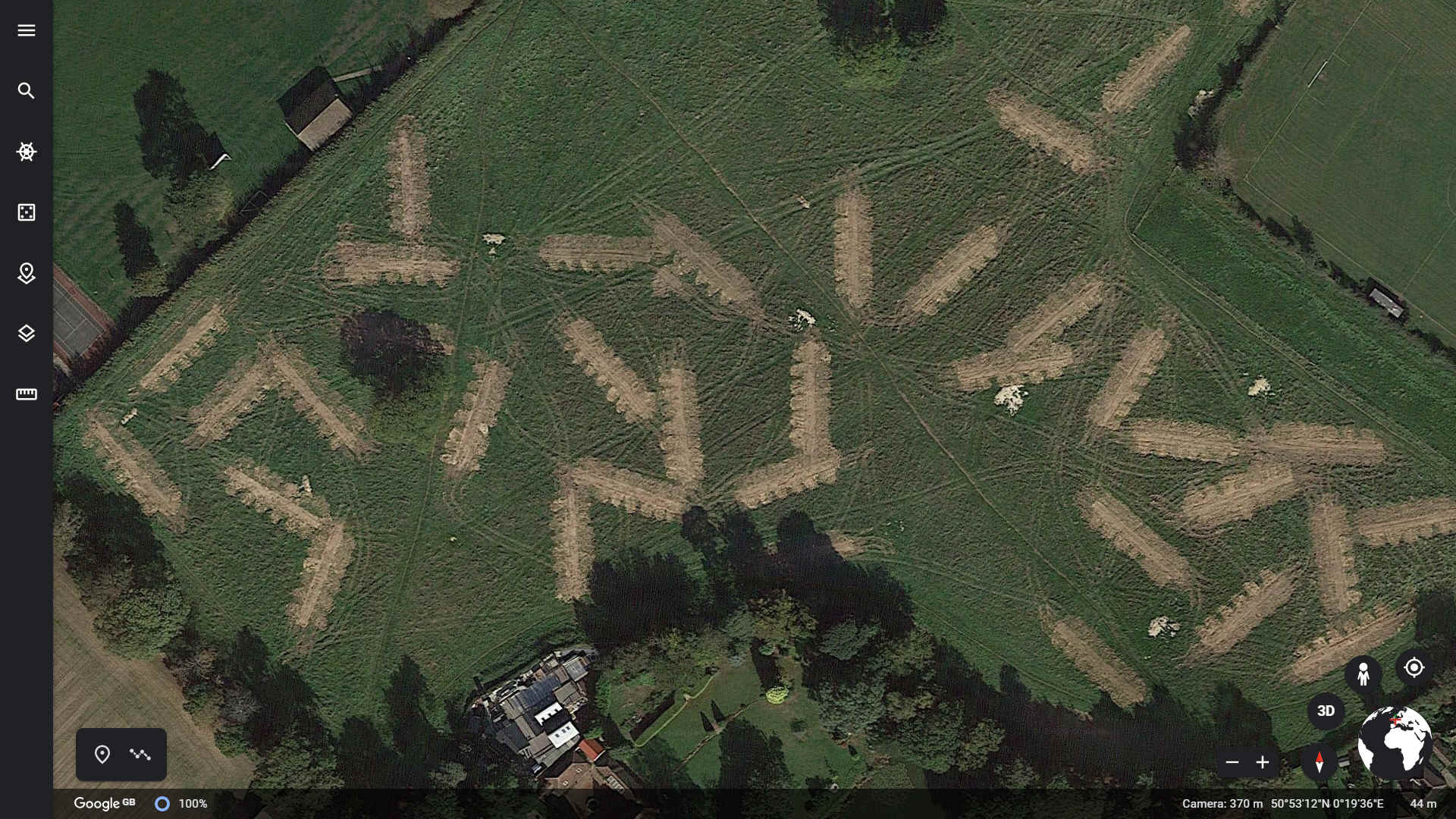 SOAKAGE TROUGHS - The developers dug a number of trenches to conduct soakage tests. Note that they steered clear of the well area. Indeed, bore holes sunk in this location were not deep enough to be conclusive. We conclude this was a deliberate omission on the part of the developers. They did not want to know, for if they knew, they would have to stop the proposed development. However, the Courts have held that such avoidance is no excuse.
GREEDY DEVELOPERS
Many residents agree that villages like Herstmonceux in Sussex are run by corrupt, kleptocratic quangos with hidden agendas and undeclared interests. This includes Council's like Wealden and supposed law enforcement agencies like Sussex police, working with other agencies and the Courts, sometimes including secret societies like the Masons. All making a rather sticky pudding that is difficult to unravel.
Most people will never know how much of a police state we actually are. Only those that challenge the system become targets to be got rid of, in ways that nobody on the outside could guess at.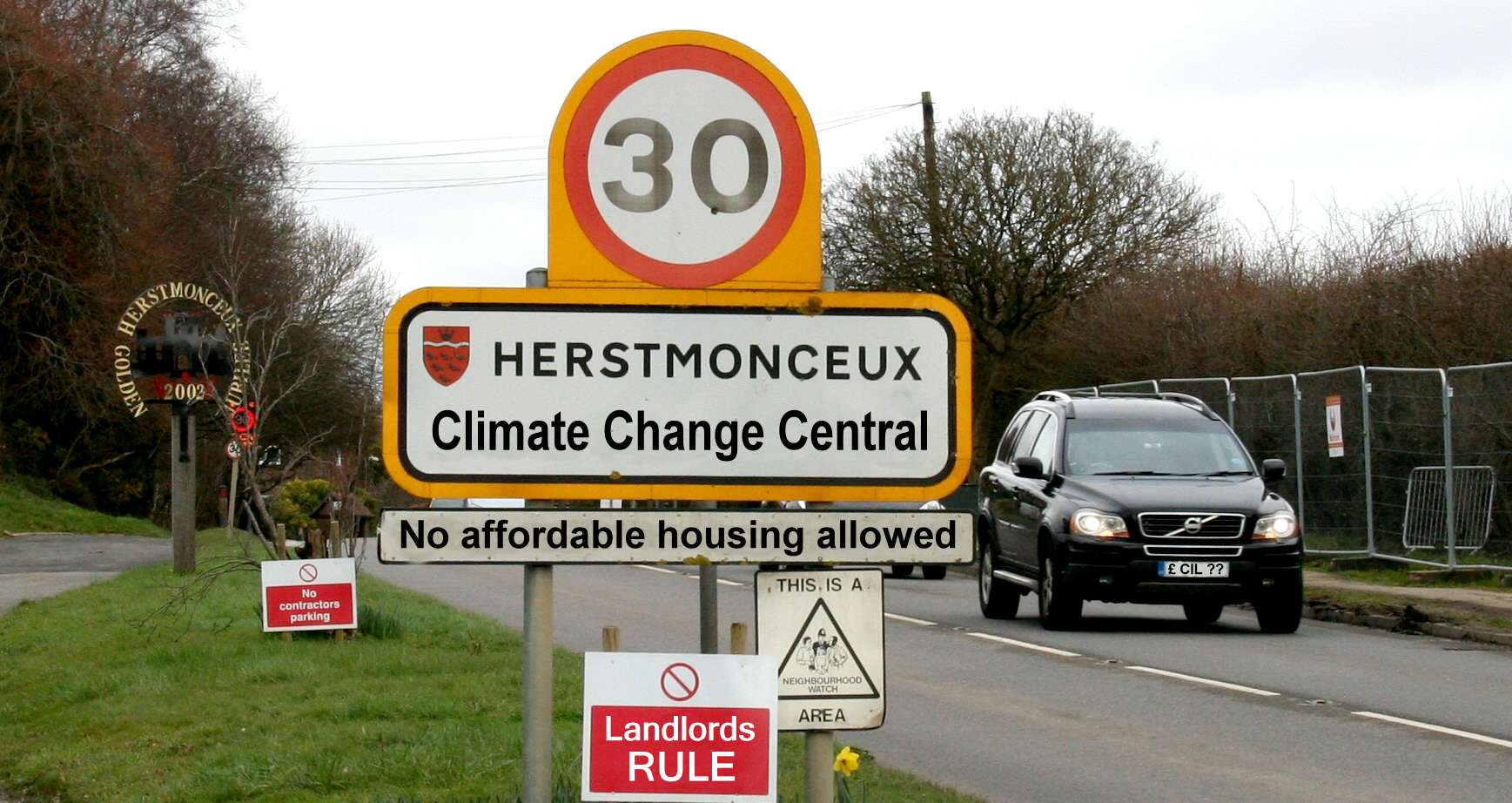 REPEAT OFFENDERS - It's no wonder that Extinction Rebellion is gathering such momentum with councils all over England carrying on as if there was no crisis. The carbon footprint for Herstmonceux village has rocketed because of all the failings of the members of Wealden to tackle climate change and set a good example. Wealden's councillors have granted planning permission for hundreds of houses without solar panels or electric vehicle charging points. If this example by every town and village in the United Kingdom, then our country would be one of the worst polluters in the world on a per square kilometer basis. The councillors you voted for are partly responsible for killing hundreds of species. It makes us want to glue ourselves to something. Peacefully mind you. This village is a contender for the Greenhouse Gas award 2020/21.
The Wealden district encompasses some of the most beautiful countryside and sea views in the United Kingdom. There is though an acute shortage of genuinely affordable housing and the area produces a good deal of greenhouse gases leading to temperature rises that will affect many other regions on earth and raise sea levels with dire consequences.
Services in the area are below standard as may benefit the local economy, the roads in particular are potholed beyond belief and hardly able to cope with traffic flow, without any rebate in terms of Road Fund License contributions and the obvious Breach of Contract. There are very few electric vehicle charging points and no infrastructure plan for EVs making local taxes appear extortionate in relation to returns. Planning for a sustainable future is virtually non-existent. Why then are we being forced to pay so much Council Tax if all our councils are doing is adding to Global Warming? Traditional brick built houses are not the solution. Timber units would create a carbon lock allied to sustainable planting of trees, by way of example. Hence, tree planting should be a priority. The solutions are simple, but they are beyond the average Councillor and Town Planner who can't see beyond their wallets. We need climate action now!
Crime in the district is a problem more for the organised nature of the police that allow councils to operate in a closed shop fashion bereft of transparency. The police themselves work the same way despite the new Crime Commissioners that are supposed to tackle white collar corruption. Corruption is unsustainable in United Nations terms and a practice that should be addressed according to SDG16.
The Injustice Alliance is a group dedicated to unearthing perverse decision making, and making corrupt officials accountable for their actions. This includes law enforcement officials who are either on the payroll or for other reasons fail to investigate crime.
The politics of the nation shape what happens locally, nationally and internationally. Political will is very important when it comes to implementing climate change policies and providing affordable housing in the quest for a Circular Economy. The political parties are answerable to the electorate, where for example, the present Conservative Government is not living up to its election promises on climate change or the delivery of affordable housing. This leaves the door open for Labour or Liberal policies to shine with a Green hue.
A circular economy is one that is equitable - and for that reason sustainable. The "Circular Economy" is a United Nations objective and a European Commission target that is endorsed by most other nations around the world. The fact that we are exiting Europe with Brexit high on the political agenda, does not diminish the duty we owe to protect the natural world from human waste. Just as importantly, we need to provide affordable housing for future generations and aim towards a society where not so many people can exploit the system for personal gain. That is not to say that businesses should not make a profit. Profits are needed for forward investment, provided that they are not the fruit of immoral earnings. Here we are talking about financial slavery and the modern poverty trap created by the renting society UK politicians have engineered in the United Kingdom.
These are the important issues that we hope to bring into focus for the benefit of all the citizens of the United Kingdom so that they may continue to enjoy the Wealden landscape as much as we would like to enjoy other areas of the British countryside.